Winter Instant Pot Recipes
If you're looking for some of the Best Winter Instant Pot Recipes that you need to have handy for those cold nights, you're going to love this delicious list!
Now that the cooler weather is here, it's time to start thinking about hearty meals and ways to fill your tummy as quickly and easily as possible.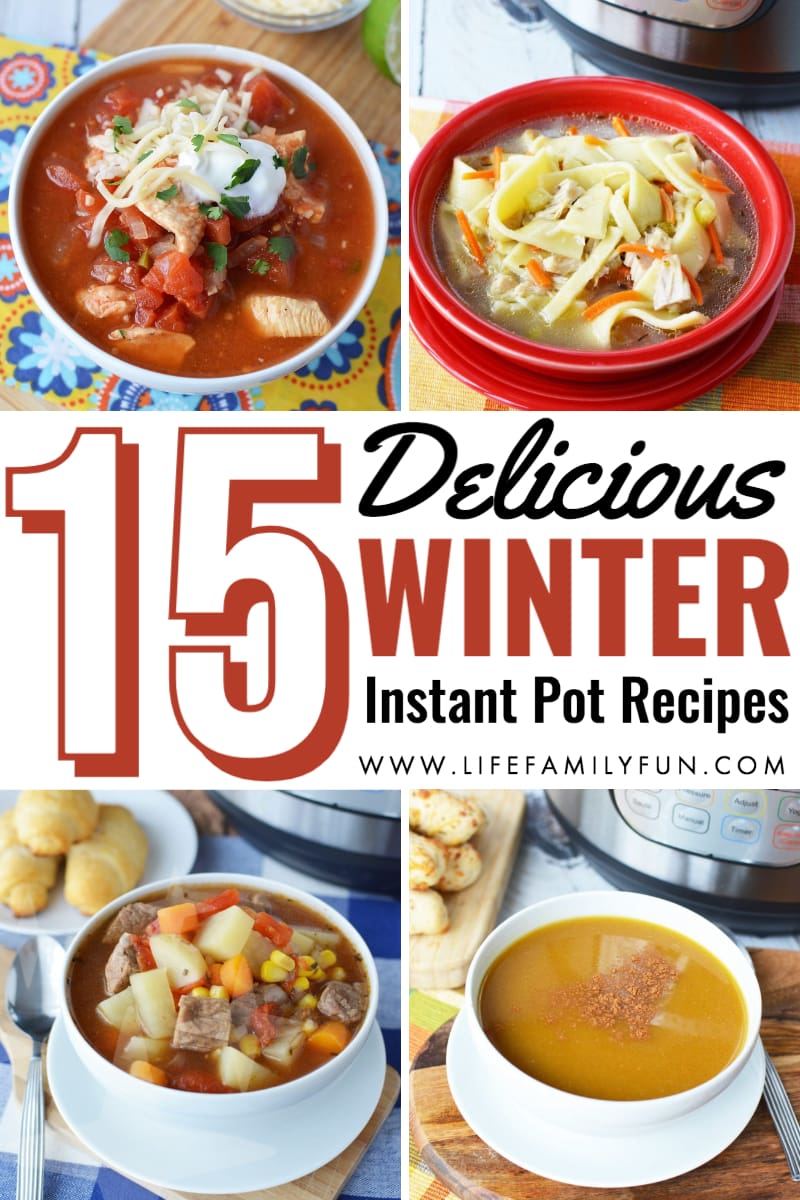 Why I Love My Instant Pot
I'm a huge fan of cooking in my Instant Pot for two main reasons. Being able to cut down on my cooking time by over 70% is not only a sanity-saver, but it's also a huge time-saver as well.
All the recipes come out perfectly every single time. I've yet to make something that I didn't love so I find great comfort knowing that when I cook in my Instant Pot, it's going to be something that my family and I l love.
Here are some of my favorite Winter Instant Pot recipes that I'm certain you're going to love as well.
Winter Instant Pot Recipes
These are some of the best winter Instant Pot recipes that you need to cook up!
If you have 10 minutes of time, you have enough time to make this winter Instant Pot soup!
Perfect for a chilly day, this hearty stew recipe is delicious.
What I love about this squash soup is that it's a little bit sweet making it the perfect way to end a long winter day.
Hearty and delicious, you just can't go wrong with this yummy Instant Pot soup.
Get ready for a hearty bowl of chili that you're going to love!
Have you ever tried white chicken chili before? It's seriously so good!
Packed full of meatballs, this is one soup that you are going to want to make over and over again.
Just wait until you try this recipe. You're gonna be hooked!
Make certain to watch the video on how to make this Instant Pot soup recipe!
None of these recipes will take you very long to do at all but they'll remain with your tastebuds all day!
Instant Pot Desserts
While we're on the subject of Instant Pot recipes, make certain to also check out some of these great Instant Pot desserts as well. Every good dish needs a delicious dessert to follow!
Instant Pot Pumpkin Pie With Graham Cracker Crust
Instant Pot Blueberry Coffee Cake
Instant Pot Cheesecake With A Graham Cracker Crust
Do you have a favorite Winter Instant Pot recipe from the list above?
I think it's safe to say that we can all agree on the fact that once winter arrives, we just crave those hearty meals! I know that I dream about all the delicious dishes that I can whip up quickly in my Instant Pot!