Spanish tapas are a variety of small, flavorful dishes typically served as an appetizer or snack in Spain. They include a wide range of ingredients and have captivated food lovers worldwide with their vibrant flavors.
25 Easy Spanish Tapas Recipe
1. Champinones Al Ajillo – Spanish Garlic Mushrooms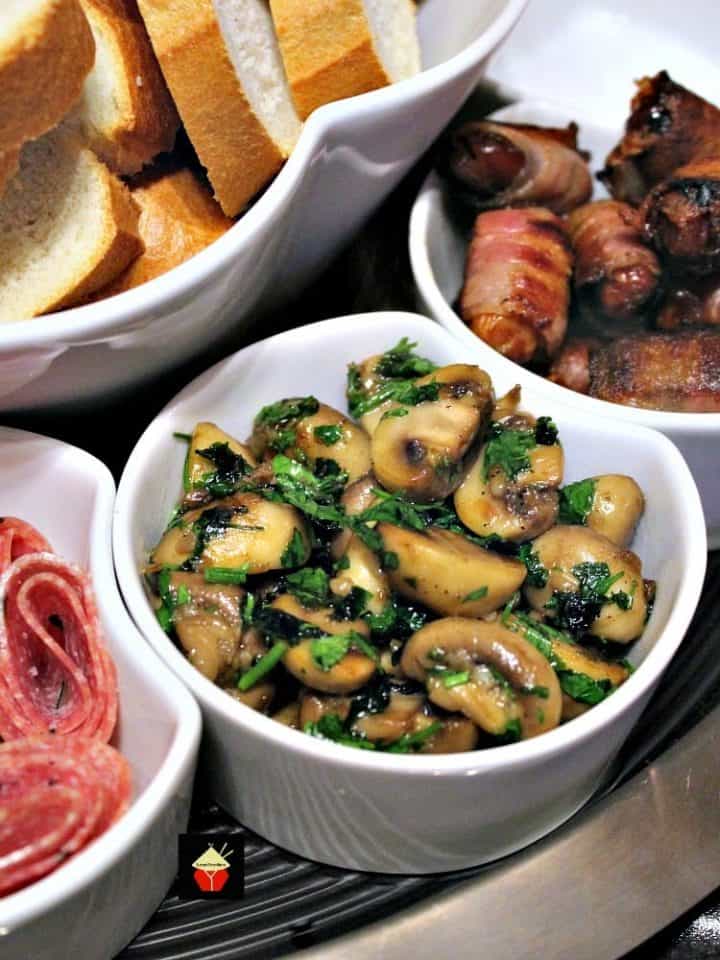 These mushrooms are packed with flavor and are quick and easy to make for your next dinner party. One of the keys to success in the preparation of these Spanish garlic mushrooms from Love Foodies is to use dry sherry in your cooking.
Don't worry, the alcohol is cooked off, so it's still a kid-friendly dish. But the slightly sweet flavor makes for a fantastic taste combination with the mushrooms.
2. Simple Patatas Bravas
No tapas spread is complete without this Spanish classic. Patatas Bravas are one of my favorite tapas dishes, and this recipe from Minimalist Baker is easy to follow and includes a fantastic sauce to go with the potatoes. What sets these potatoes apart from regular potato offerings is the spicy tomato sauce they're served with.
3. Croquetas de Jamon – Spanish Ham Croquettes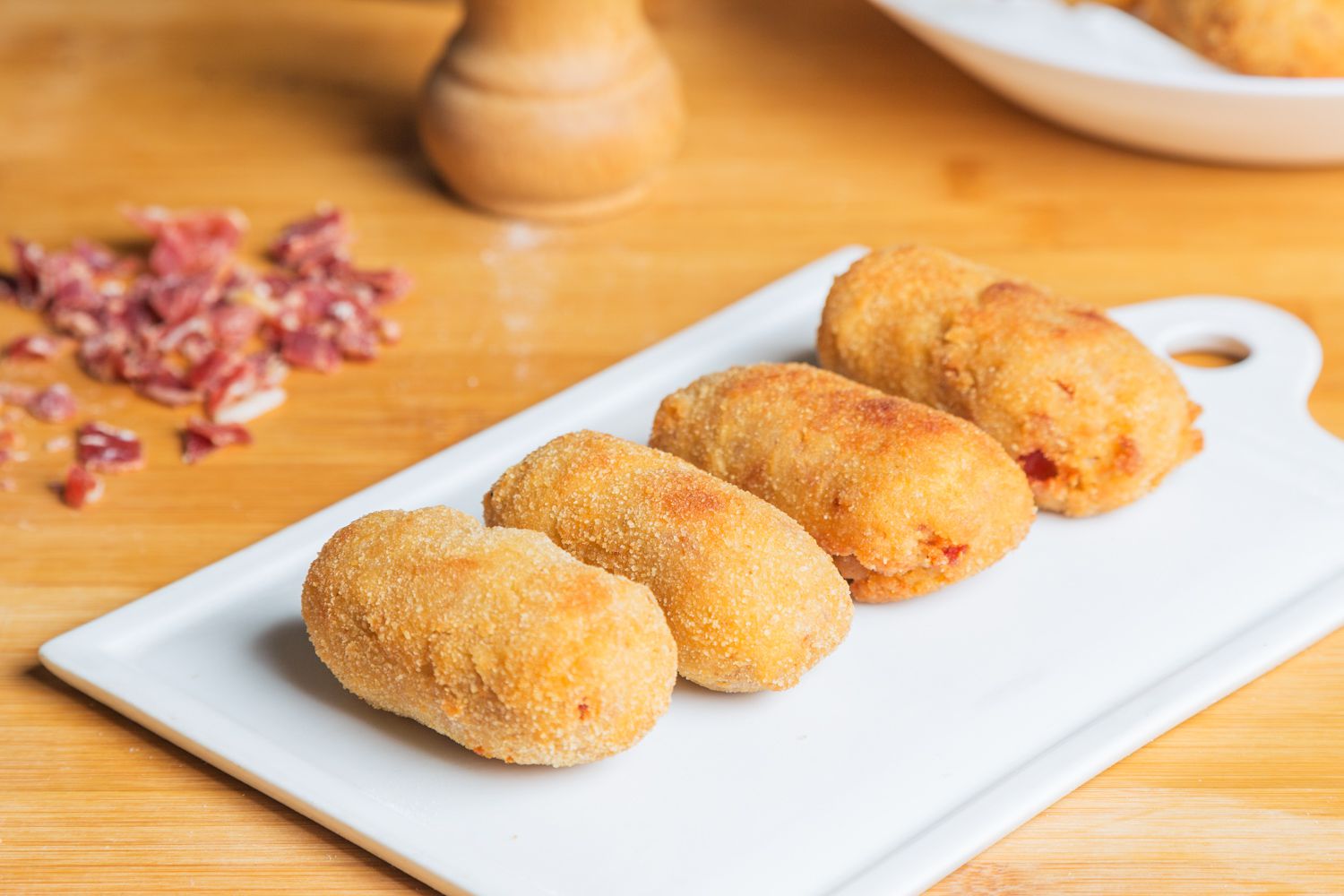 These are another staple on tapas menus and are a great kid-friendly dish. They are small, lightly breaded, and fried fritters that have cured ham and béchamel inside. With this recipe from The Spruce Eats, you'll have a plate ready to serve in forty minutes.
4. Mojo Picante – Spanish Red Pepper Sauce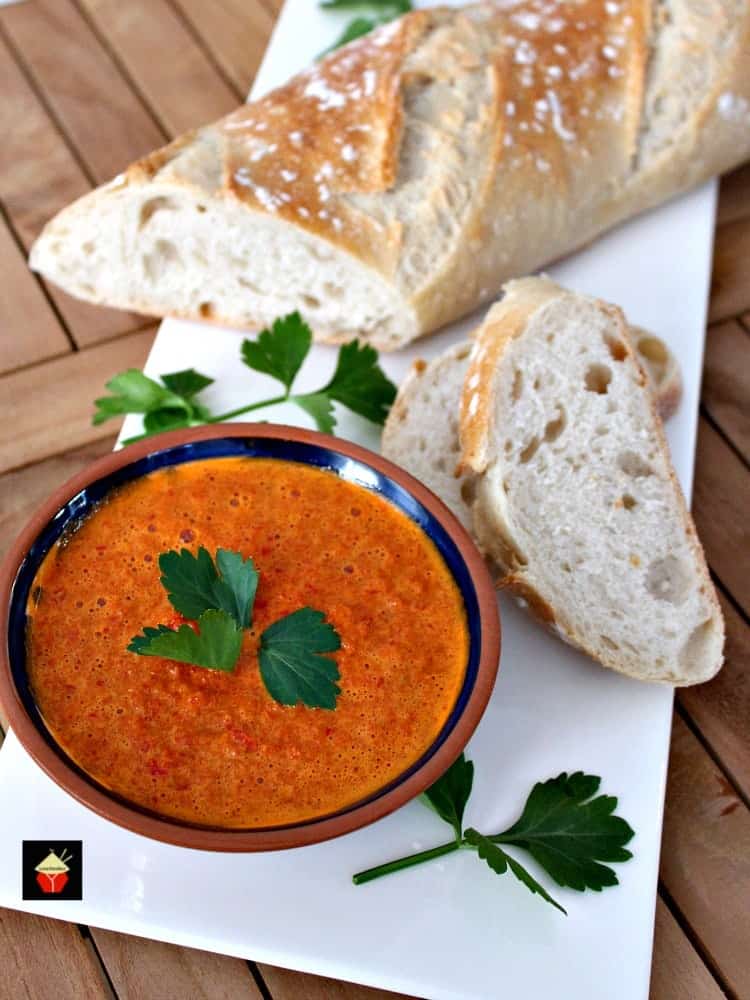 Any good party spread will feature some delicious sauces and condiments, so to keep with the theme of your main dishes, add this Mojo Picante sauce from Love Foodies to your table. It's a popular sauce in the Canary Islands and goes well with chicken, pork, and seafood dishes.
5. Chorizo al Vino Tinto – Spanish Chorizo in Red Wine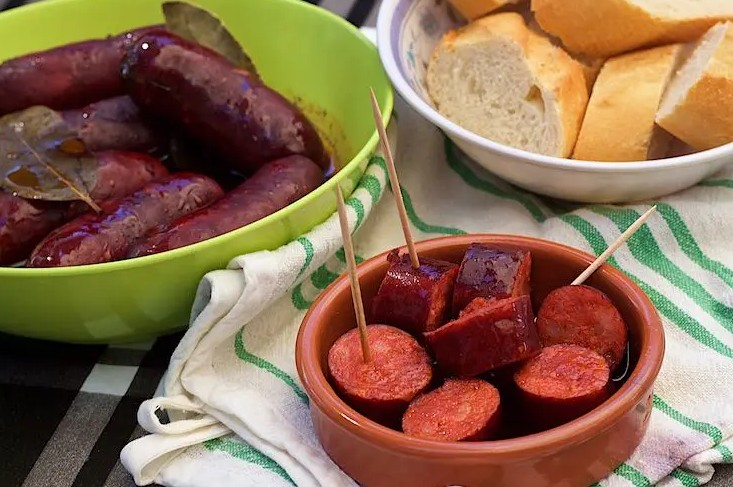 This dish is so easy to make and uses just two main ingredients. They are great for an appetizer spread of tapas and are full of flavor. This recipe from The Tasty Chilli takes just twenty minutes to cook and will impress any meat-lover this holiday season.
6. Gambas al Ajillo – Spanish Garlic Shrimp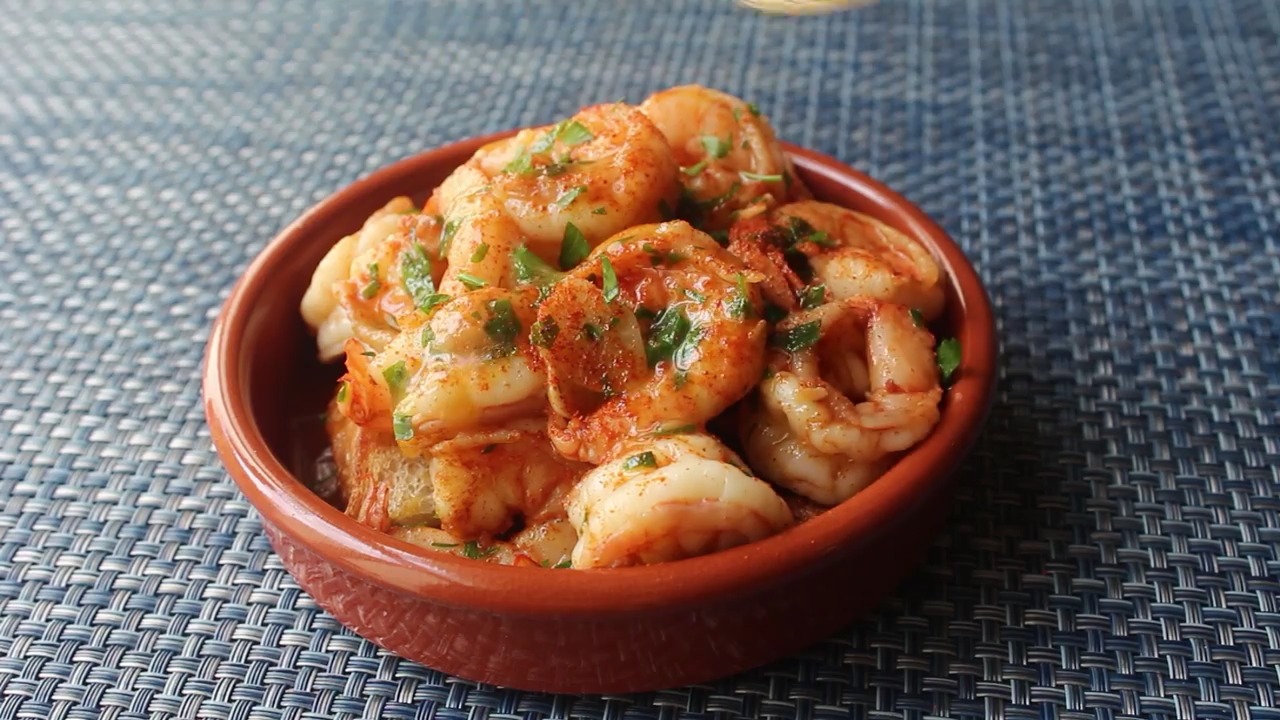 Any tapas restaurant in Spain will serve this dish which consists of shrimp cooked in garlic-infused olive oil. Add paprika and sherry as shown in this recipe from All Recipes, and you'll have the perfect smoky yet sweet dish. It's best served over toasted bread, and you can add cayenne and parsley on top for even more flavor and color.
7. Churros with Hot Chocolate
No Spanish tapas party is complete without dessert, and what better to serve for kids and adults alike than churros with a hot chocolate sauce? The Happy Foodie has an easy-to-follow guide to Spanish churros that will give you the perfect sweet treat for the end of your meal.
8. Spanish Chorizo Stuffed Mushrooms
This is another incredibly popular dish throughout Spain, and the secret to this recipe from Spanish Sabores is the mushroom filling. These aren't just plain mushrooms; they come with a filling of chorizo and garlicky breadcrumbs, which are then baked in the oven to create the perfect Spanish tapas.
9. Spanish Cheese Board
Creating boards and spreads of food has become very popular with party hosts over the last few years. This Spanish cheese board is ideal for a holiday drinks party and is loaded with delicious flavors. With a wide variety of cheeses, grapes, nuts, and olives on the board, there'll be something for everyone with this recipe from My Kitchen Love.
10. Tomato and Butter Bean Dip
This recipe from Fresh Off The Grid is a fantastic adaptation of a classic Spanish tapas dish. It contains white beans, tomato paste, shallots, garlic, olive oil, and paprika, which are stewed together and served warm. Serve with a loaf of crusty bread or chips to dip, and it will make the perfect appetizer for your guests.
11. Chicken Pintxo
This Spanish tapas dish is served on skewers, so it makes for the perfect party food. It's a fun dish that can be eaten in a few bites and will be a crowd-pleaser. This recipe from Jeanette's Healthy Living is served with an incredible red chimichurri sauce on top.
12. Bacon Wrapped Dates with Goat Cheese and Pecans
Bacon is a holiday party essential, and these dates help to create a decadent dish that your guests will love. The Cookie Rookie offers this bitesize appetizer that combines four delicious flavors to delight your tastebuds.
13. Pan con Tomate
Pan con Tomate, or bread with tomato, is a classic Spanish dish, that takes old bread and transforms it into a tasty side dish or base for an open sandwich. Caroline's Cooking shows you how easy this bread is to make and uses just five ingredients in her recipe.
14. Smoky Spanish Meatballs
Another staple in any tapas restaurant, these meatballs are sure to please the kids in your family this winter. This recipe from Whole Food Bellies is adapted to reduce the spice levels of the dish, making it perfect for everyone in your family.
15. Fried Calamari with Spanish Paprika and Lemon
Calamari can be found on most Spanish restaurant menus, and this dish from Side Chef seasons them with paprika and lemon. Follow the instructions here to make flawlessly fried little rings of squid, and your guests will think you've spent hours in the kitchen preparing them!
16. Pulpo Gallego – Spanish Octopus with Paprika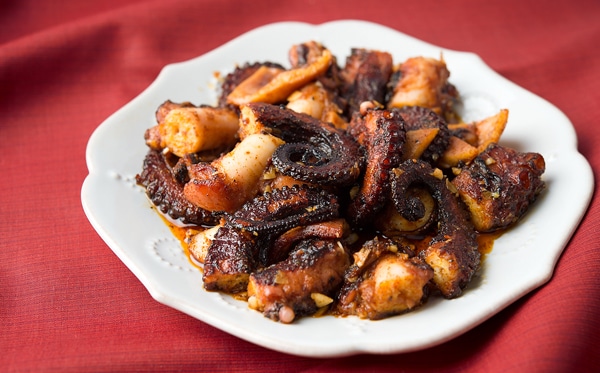 For a unique delicacy that is bound to impress your visitors, consider preparing this Spanish octopus with paprika. This recipe from Honest Food creates an octopus salad that's perfect for all year round, thanks to the warming taste of the paprika and garlic in the dish.
17. Spanish Potato Salad
This side dish is a favorite with the Spanish and is made with potatoes, carrots, cooked peas, boiled eggs, tuna, and mayonnaise. The Bossy Kitchen shows you how to create this hearty potato salad, that you'll enjoy eating for leftovers after your party guests leave.
18. Pinchos Morunos – Spanish Pork Skewers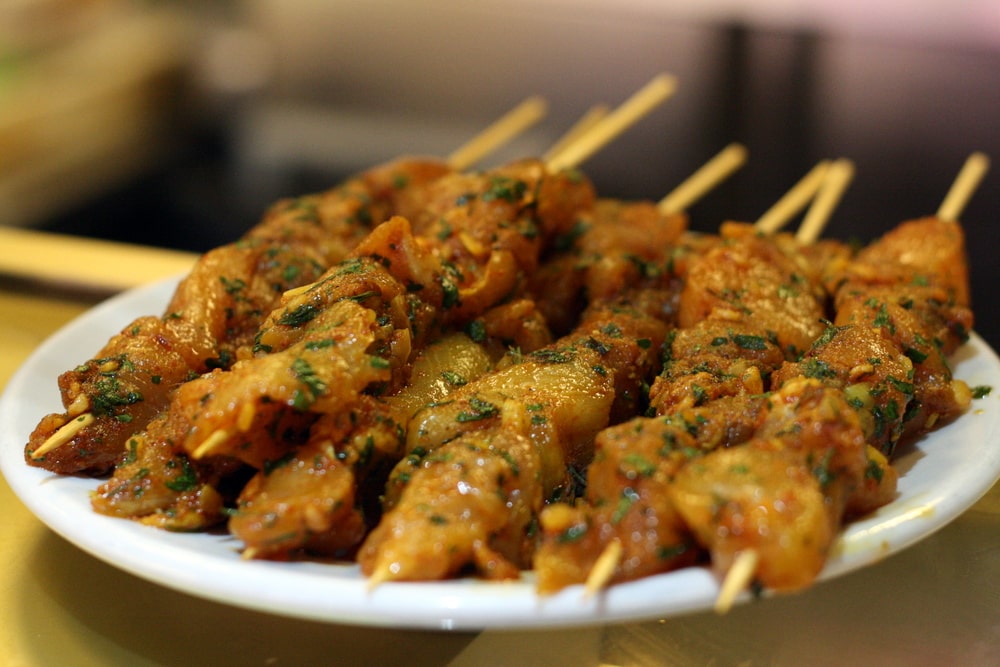 For another skewer option to add to your table of tapas, pinchos morunos add some spice and excitement to any table. The marinade in this recipe from Spanish Sabores uses many different spices, and these skewers are great for serving at a winter holiday party or during a summer barbeque.
19. Blistered Padrón Peppers
For a colorful addition to your meal, add these bright green peppers to your table. They can be a little difficult to find at the local farmer's markets and grocery stores, but this recipe from What's Gaby Cooking makes it well worth the hunt!
20. Fried Baby Artichokes
Baby artichokes are pale-colored on the inside, and with a soft and fuzzy texture, they are extremely delicious. This recipe from Steamy Kitchen adds more greens to your table and is perfect for serving alongside some of the meat dishes on this list.
21. Spanish Marinated Carrots
Another great vegetable option to serve alongside any meat is a dish of carrots. These Spanish marinated carrots from Tara's Multicultural Table are immersed in sherry vinegar, garlic, and spices for an easy yet delicious side dish.
22. Homemade Olive Tapenade Recipe
For another great option that combines perfectly with a cocktail drinks party, consider serving this olive tapenade from Culinary Hill alongside fresh, crusty bread. Ensure you make extra to enjoy the next day for lunch in your sandwiches!
23. Spanish Omelet
For a more substantial dish that could be satisfying as a breakfast, brunch, or lunch option, cook this Spanish omelet from The Spruce Eats. It takes just fifteen minutes of prep time and thirty minutes to cook and makes at least six servings. It's a potato-based omelet that you can even make into a sandwich filling by placing it between two slices of bread.
24. Pan Fried Spanish Cauliflower
This vegetarian dish is a good option for the non-meat eaters at your holiday party. It uses one medium head of cauliflower and coats it in breadcrumbs to make a light and crispy appetizer.
You can even prepare it a few hours in advance of your gathering. Then just crisp them up again in the oven before serving. Just a Little Bit of Bacon has a recipe that uses just six ingredients to make this delicious side dish or appetizer.
25. Pollo al Ajillo – Chicken Wings with Garlic and Paprika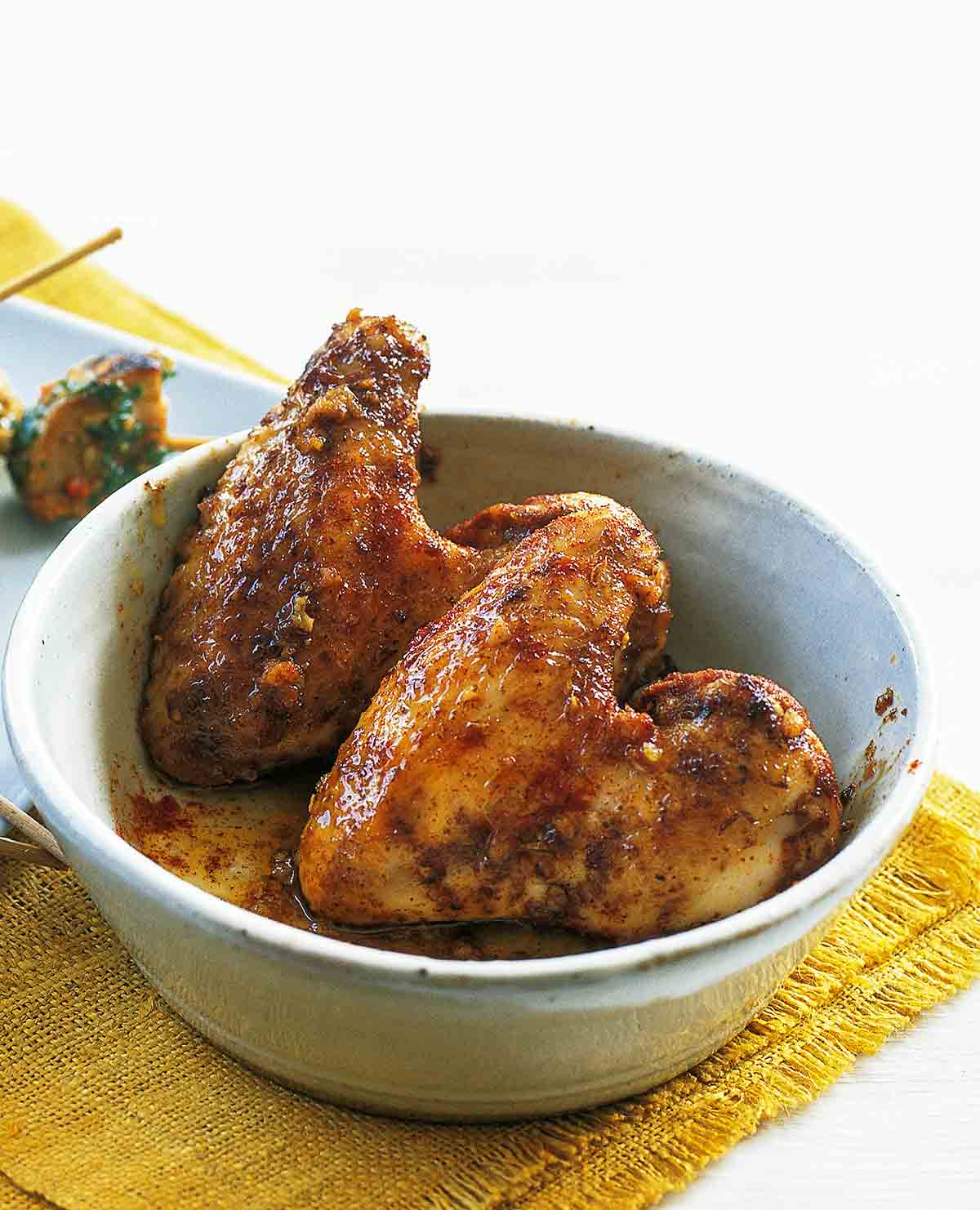 For a family favorite option that kids and teens will love, cook these chicken wings with garlic and paprika from Leite's Culinaria. They are a little bit messy, so serve them with napkins at a buffet.