How To Start A Blog Using WordPress Easily
Starting a blog doesn't have to cost a whole lot of money. What if I tell you that the investment for your self-hosted WordPress blog can start out as little as $2.95 a month for hosting plus the cost of your domain name which is around $15 a year.
Note, this article does not discuss the differences of whether or not you should use free WordPress.com or Blogger. I do not recommend using the free blogging platforms. You are limited to many things when using these, but that is another topic of discussion. This article simply is going to help you get started with a Self Hosted WordPress Blog.
Before I go any further, I have to disclose to you that this post will include recommendations of products and services that I use and may include affiliate links. What this means is that I will make a small commission or referral fee from them if you make a purchase. These affiliate links are just one of the many simple ways I monetize my blog and helps me afford to keep my blog up and running.
It is not difficult to start a blog. If I can do it, anyone can! Did I mention how much I absolutely love my job?  I get to write and share with my readers about things I enjoy doing while getting paid! Here are just a few destinations my family and I have traveled too this 2017 year for the blog. It's pretty exciting!
Some of our fun family adventures this year have included:
Disney Wonder Cruise with Disney Social Media Moms Celebration
Four Day Family Vacation in Gulf Shores, Alabama
Wyndham Lake Buena Vista Hotel in Disney Springs
King & Prince Resort in St Simons Island
So, wouldn't you like to get paid doing the things you love like baking, traveling, or sharing great reviews on products you already use and love? Not to mention all the amazing local entertainment and attractions that your family might be invited too. It is a pretty awesome deal, isn't it? Well, you can have this too. It starts with a self hosted WordPress blog. This is just the beginning. Now, I am not going to make promises to you and success doesn't happen immediately. It takes a lot of work and commitment on your part. But you got this!
Purchase Your Blog Domain Name
First thing is first. You must pick a domain name. Your domain is going to be the name of your blog. For example, the name of my blog is Southern Family Lifestyle. You choose what speaks to you and what you are about. You want it to be good, catchy, and unique. A domain is the foundation of a blog. You do have to pay for a domain, but you can grab your domain for as little at $15 for the whole year! I recommend Siteground for my hosting and domain purchase. I like to keep it all in the same place.
Set up your Hosting Using SiteGround
When you are starting out, I would recommend the Start Up hosting plan with Siteground. If your blog takes off quickly and you find your page views surpass the Start Up plan of 10,000 monthly visitors, then you can always upgrade your hosting plan later. There are other companies out there that offer hosting as well, but Siteground is my first choice.
After you purchase your domain and hosting plan, you will need to visit your CPanel. This is where you will install the WordPress to your website.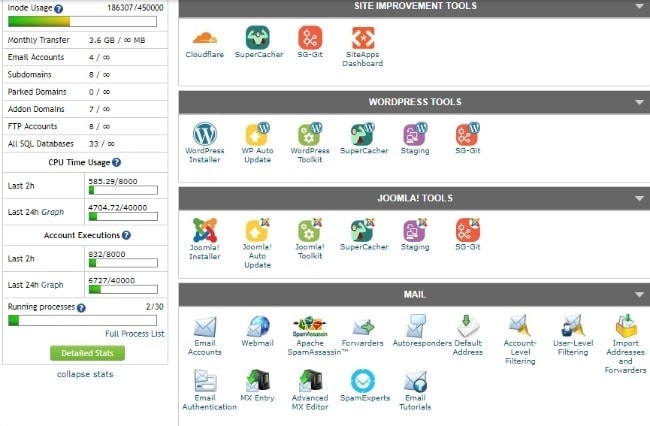 The support at Siteground is wonderful. If you are confused once you have purchased your host and domain and don't know where to go from there, reach out to their support team. They are super helpful.
Learn WordPress
Probably for me in the beginning, the hardest part about starting a blog is learning all the ins and outs of WordPress. There is a lot of information about how to start a blog, but not all that much on the process of getting your content up and going. There are plenty of free training videos available on YouTube that will help you navigate WordPress. Your dashboard will look like this. This is your hub where you will create content.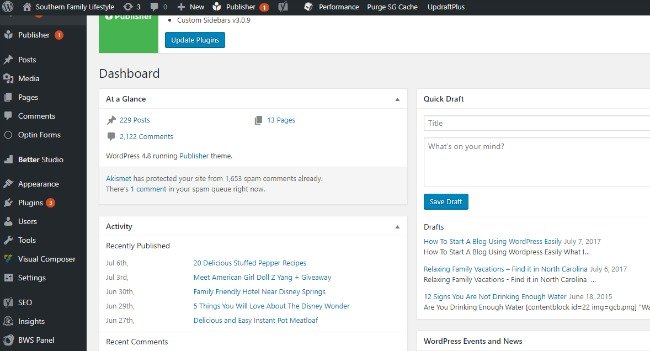 Here are a few tips for getting your blog going on WordPress:
Choose a theme layout. WordPress offers some great free themes in your Dashboard but I recommend purchasing a theme. Some recommend Restored 316 themes.
Most theme developers come with six month to one year support. Make sure you choose a theme that is WordPress Self Hosted compatible. There is usually always a manual that comes with your theme purchase that provides explicit instructions on how to install it.
Once your theme is picked out and WordPress is installed, you will begin adding content to your site. In your dashboard, you will want to find where it says "Posts" (not Pages). This is where your blog and the magic happens. I would recommend you start creating new content that you want on your blog immediately. Because let's face it; you can't really make money off a blog if you have nothing on it. Decide what your niche will be, but write what you enjoy. For example, my blog is a lifestyle blog and I love to write about family, food, and travel.
Also another great tip I want to share with you. Make sure to use great photos for your blog, especially your featured images. I recommend using original photos but if you can't just yet, there are great places to purchase photos for very minimum costs. I usually use StockFresh for my stock photo images.
I know this is just the beginning for starting your self hosted WordPress Blog. I just don't want you to feel overwhelmed. Starting a brand new blog can be a very scary and overwhelming thing. I have a secret Facebook support group for bloggers who want to make their blogs awesome. If you would like to join, go here 
Blogging is a great way to make extra money especially if you are a stay at home mom, dad, full time college student, or retired etc.  It can also become the most rewarding full time jobs you will ever have!  I know it has for me.
Now, get to writing!