Fun Outdoor Activities in Sandy Springs
This article is sponsored by VisitSandySprings.org. All opinions are our own.
Finding fun outdoor activities that you can do together as a family is a great way to bond. From kayaking and nature hikes, to fishing and more, getting out and experiencing the beauty of nature lets us get back to what really matters. Simple things like a beautiful sunset, rippling water, and slower-paced time together as a family are what it's all about. My family made some incredible memories exploring the outdoors in Sandy Springs, Georgia, and it was one of the best trips we've ever taken.
Exploring the Outdoors and All It Has to Offer
Due north of Atlanta and just a few miles south of Roswell, you'll find Sandy Springs. This beautiful area is home to acres and acres of natural beauty, including 22 miles of the Chattahoochee River, 3 trail units of the Chattahoochee River National Recreation Area, Morgan Falls Overlook Park, and Big Trees Forest Preserve.
Almost everywhere you look, you'll see Mother Nature's handiwork on full display.
1. Kayaking On the Chattahoochee
My family and I took a trip to the area for a day of kayaking at Morgan Falls Overlook Park and down the Chattahoochee River. It's one of the best ways you can see the beauty of the area.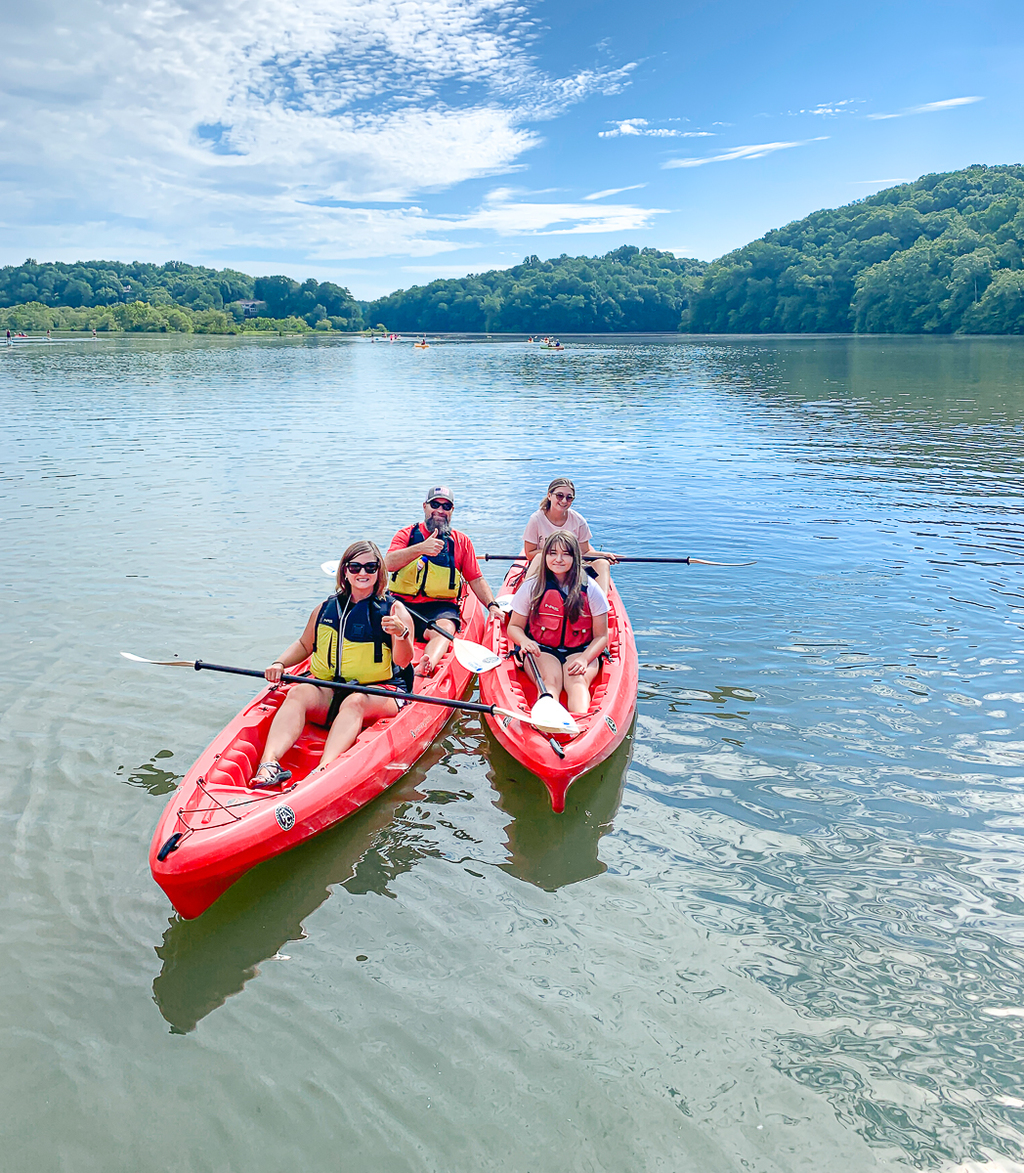 Paddling down the river gives you a unique view of the surrounding wilderness, as well as an up-close and personal view of the water. My family and I enjoyed our leisurely paddle down the river, watching the birds and fish, and taking in the views along the way.
We rented our kayaks from the High Country Outfitters Paddle Shack, a seasonal rental location located at the park. In addition to kayaks, High Country Outfitters rents paddleboards, and has a small supply of outerwear and accessories available for purchase.
Our experience was excellent, we got our gear quickly, and the staff was exceptionally nice, both of which made the start of the day quite enjoyable.
2. Morgan Falls Overlook Park and Surrounding Area
Head to Morgan Falls Overlook Park to get the best of the best in outdoor beauty and activities. This beautiful riverside park makes exploring the outdoors a true joy. Situated on the Chattahoochee River in Sandy Springs, this gorgeous park offers sweeping views of the surrounding area, as well as all the outdoor activities you could ask for.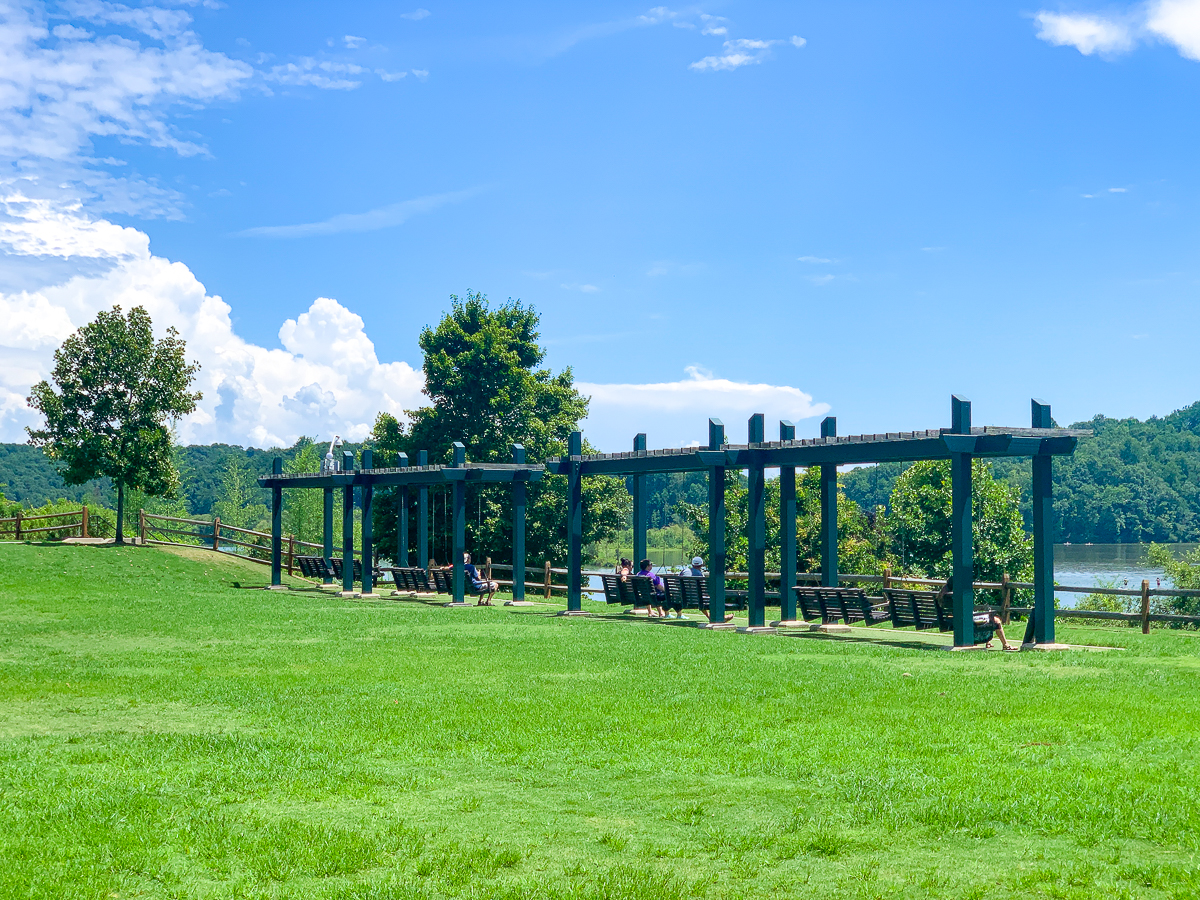 Enjoy a picnic in the park, let the kids work off some extra energy at the beautifully designed playground, go for a walk down any of the available hiking trails, or head out on the river for paddleboarding, fishing, and more.
This is the perfect area to bring your four-legged family members, as well. The hiking trails in the area are all pet friendly, and Morgan Falls River Park, just a half-mile from Morgan Falls Overlook Park, even has a fully-fenced dog park for your pooch to enjoy. The Paddle Shack also allows your polite dog to ride along on your kayak or SUP adventures!
3. Get Out on the Chattahoochee
We loved our kayaking trip, but there's so much more to do on the river. This gorgeous, winding river has some of the best trout fishing in the Southeastern United States. Book a guided trip with River Through Atlanta to learn all the ins and outs of Fly Fishing on the Chattahoochee.
In addition, paddleboarding, rafting, floating, and other outdoor fun on the water can be found on the river as it winds its way along the Western and Northern borders of Sandy Springs. If you prefer a lazy day of floating down the river, Nantahala Outdoor Center offers tube, raft and inflatable kayak rentals at their outpost at Powers Island in Sandy Springs.
4. Explore the History of the Area
History buffs will love the Sandy Springs area, as well. While visiting Morgan Falls Overlook Park, lovers of history will learn about how Native Americans used the Chattahoochee River and the Chattahoochee River Valley for centuries before European settlement.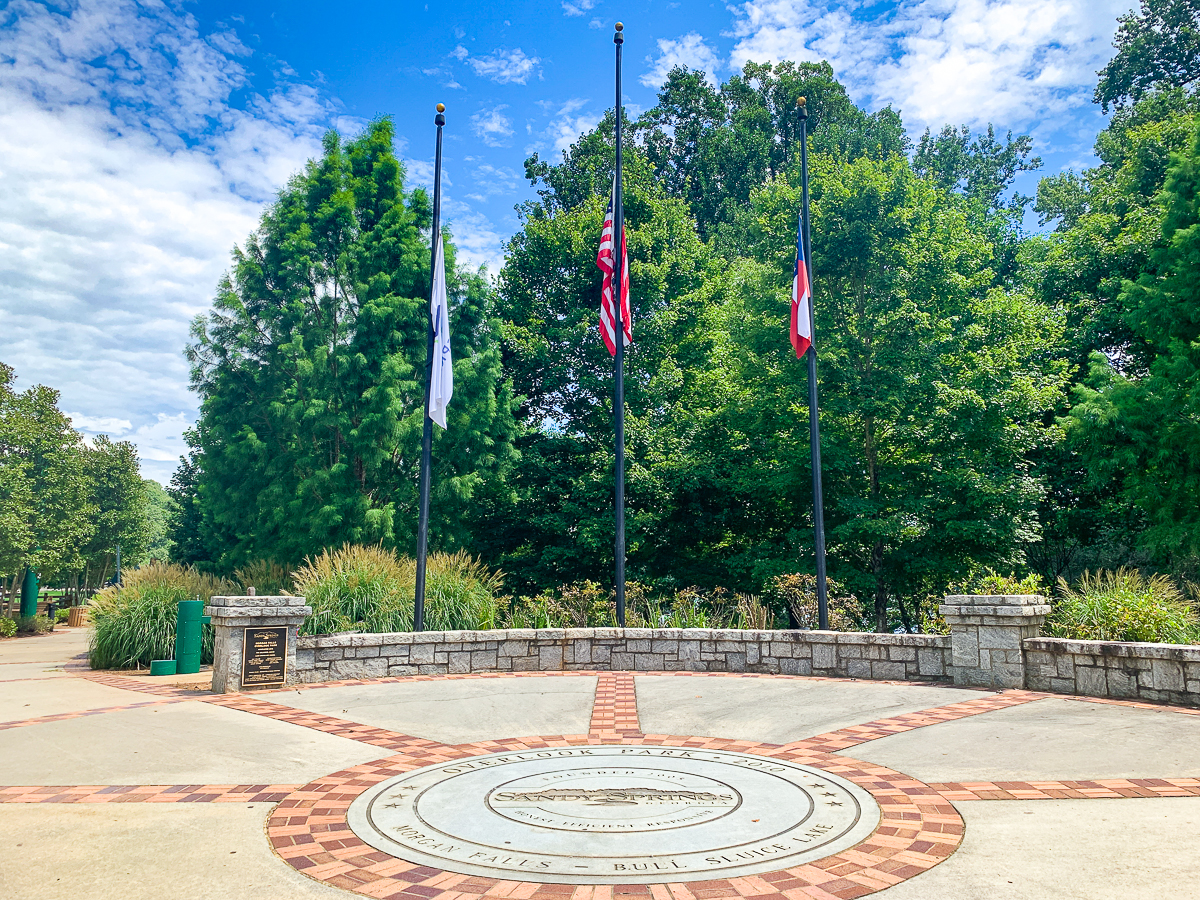 They'll even see the stone chimney that was once part of the Powers family's pioneering homestead, a spot which was, in fact, the current Morgan Falls Overlook Park.
5. Bird Watching
Birdwatchers will enjoy the area, as well. Exploring the outdoors of Sandy Springs comes with its share of birdlife to observe. The Chattahoochee River is home to over 240 species of birds. From the Tufted Titmouse and Downy Woodpecker, to the Great Blue Heron and Osprey, birdlife is bountiful in the area, making it a dream for birdwatchers.
6. Chattahoochee National Recreation Area
For outdoor lovers who just want to escape into nature and enjoy some fresh air, the Chattahoochee National Recreation Area offers a bounty of flora and fauna to take in. Whether you watch from a bench, a hiking trail, or from the water, this area of Sandy Springs is exploding with natural beauty just waiting to be explored.
Exploring the Outdoors, History, and More in Sandy Springs
Sandy Springs is full of natural beauty, history, and fun! Whether you kayak or paddleboard, hike, bike, or run, birdwatch, or take your four-legged pal to the park, Sandy Springs is an area that makes exploring the outdoors a fun adventure every time.
If you're looking for a wonderful outdoor experience to have with your family, head to Sandy Springs and take advantage of the many opportunities to get out and explore the great outdoors. Just a short drive north of Atlanta, it's a great spot for a weekend adventure for anyone in the state, and an excellent break for those who are road-tripping through the area.
Other related Sandy Springs, Georgia articles: