Slow Cooker Pinto Beans
This Slow Cooker Pinto Beans with ham bone recipe is simple, hearty and delicious! This recipe with some homemade cornbread is certainly a southern favorite in our house.
It's a great meal for families that is hearty and delicious, and also provides a warmth in your tummy that keeps you staying full longer throughout the night. There's nothing worse than eating a meal and feeling hungry less than an hour later!
During these long winter months, it's not possible to run out of awesome slow cooker recipes. I was shocked at how much I really actually loved these Pinto Beans made in the crockpot and can't wait to share it with all of you.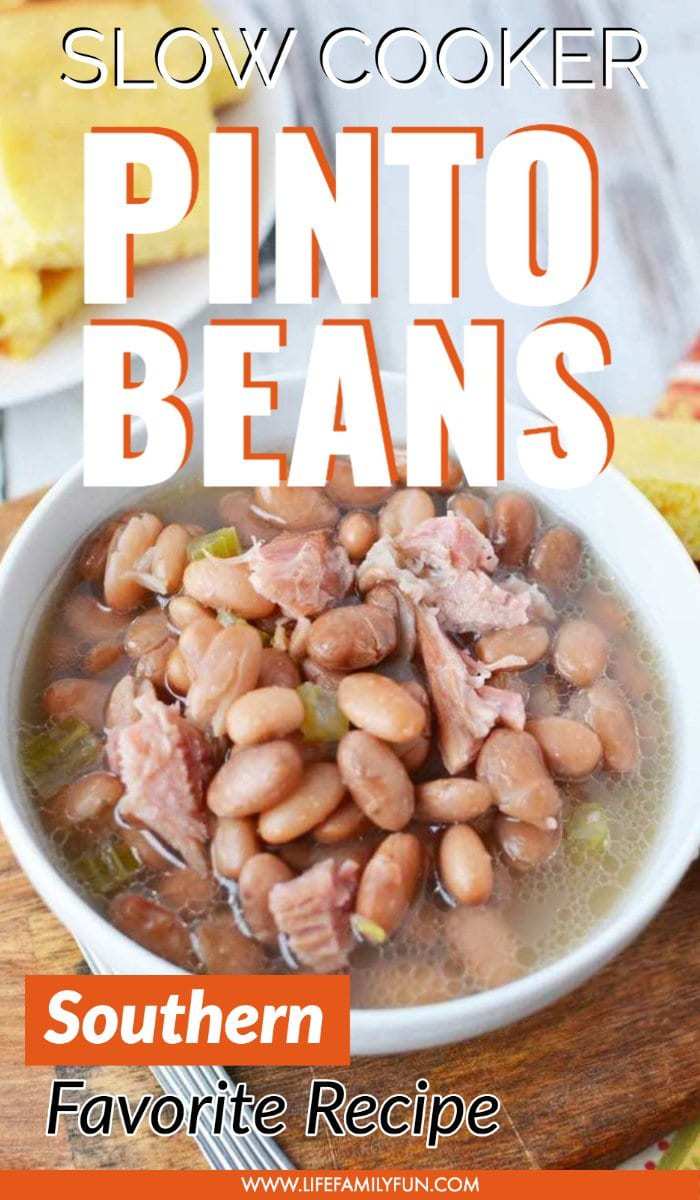 What goes with pinto beans?
Oh, so many things go with pinto beans! They make a terrific side dish for any recipe, including my Instant Pot Beef Brisket and Instant Pot Ham.
If you've been looking for a hearty meal that takes minimal effort, this Pinto Beans and Ham Bone recipe is perfect! You'll even have enough time left over to whip up a batch of cornbread or two!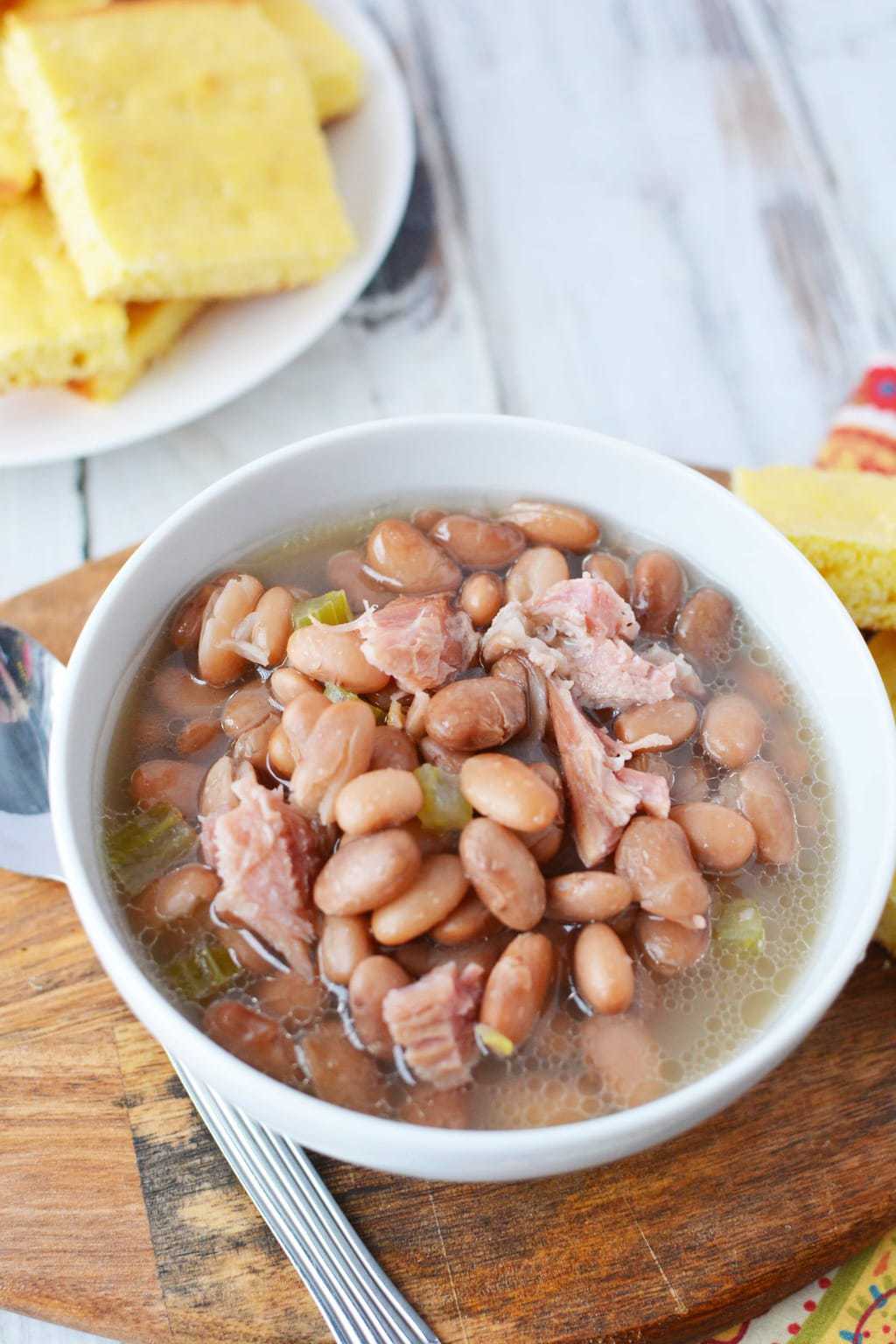 Are pinto beans a good source of protein?
While it's no secret that beans are a great source of protein, pinto beans is such a great addition to soups for that added boost of nutrition. Anytime I can sneak in a few more healthy bites for my family to enjoy, I'm 100% on board to make that happen.
Related Article: Are Pinto Beans A Complete Protein
What I really do love most about this dish is that it has an amazing and unique flavor that seems to only get better as it's continued to be eaten. How is it possible for a soup to improve after each and every bite? That parts a mystery but you can bet that I'll continue trying bowl after bowl to figure it out.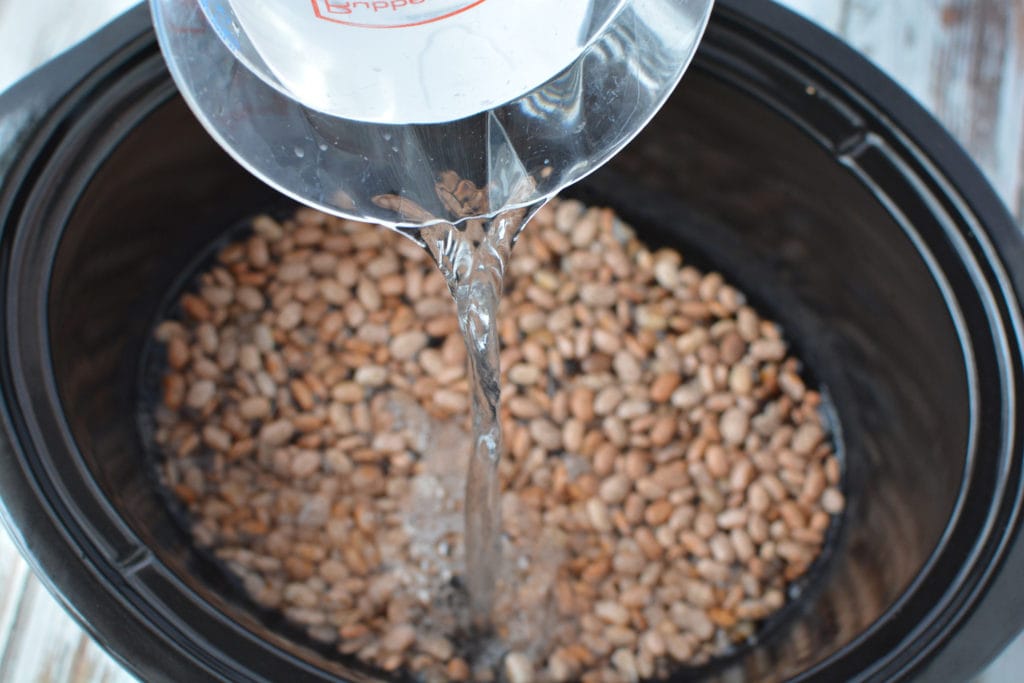 Do the pinto beans need to be soaked overnight?
Yes. In order for the beans to be ready to be added into this Slow Cooker Pinto Bean recipe, the pinto beans do have to be soaked in water overnight. This extra soaking will give you the most tender beans! Once the beans have been soaked, you can discard the water and get started on the other steps of the recipe.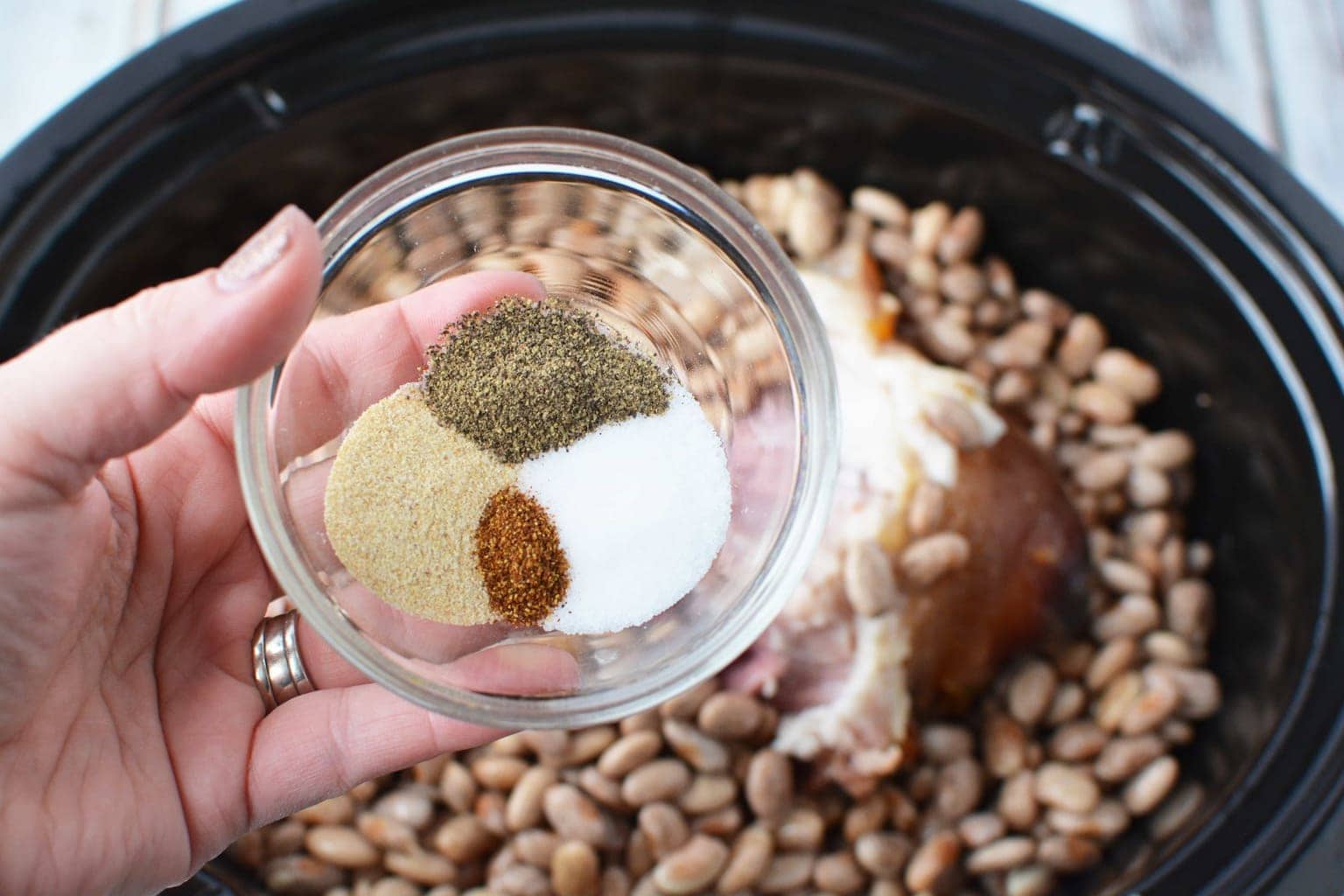 What other vegetables can you add to this slow cooker pinto beans recipe?
Honestly, that choice is up to you! While the recipe below is written as a suggestion, you hold the key to making the final decision. You can spice it up and add jalapenos or keep it mellow without. Whatever you and your taste buds want, you can make it happen.
How long do you cook the pinto beans and ham hock in the slow cooker or crock-pot?
After you have drained the beans, add them to the crockpot with the ham bone, celery, seasoning, and water. You'll want to cook the ham hock in the slow cooker for 6-8 hours to be sure it's perfectly flavorful and tender. My mom would say to cook them overnight on low but I find that the pinto beans are overcooked and mushy.
Can you use canned pinto beans in the slow cooker?
Yes, you most definitely can. You may need to adjust your cooking time and make sure to drain the liquid off of the canned pinto beans. I personally prefer to use dry Pinto Beans because they have much less sodium and are much more flavorful!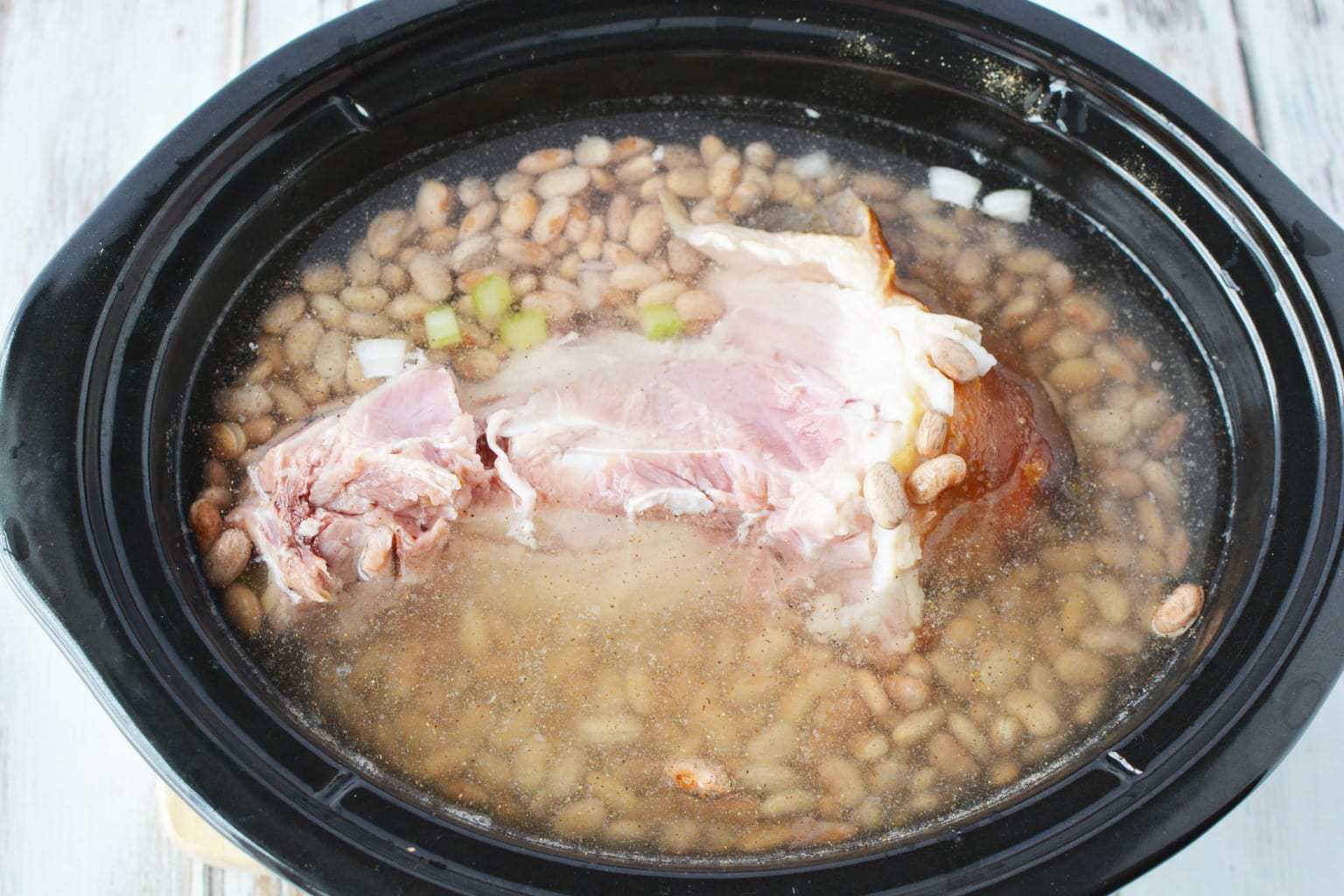 This recipe is one recipe that you'll actually crave! Perfect for a chilly day, or just when you have the hankering for a delicious and hearty meal!
You may also like this Cast Iron Skillet cowboy Pinto Beans Recipe: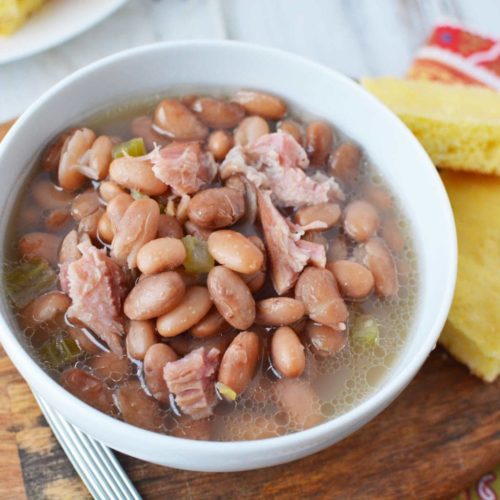 Print
Slow Cooker Pinto Beans
This Slow Cooker Pinto Beans with Ham Bone recipe is a southern favorite! Pair with some homemade cornbread and you will have a hearty and delicious meal!
Calories 717kcal
Ingredients
1 lb dry pinto beans
ham bone
8 cups water
1 cup chopped celery
1/2 cup chopped onion
1 teaspoon salt
1/2 tbsp garlic powder
1/2 teaspoon pepper
1/4 teaspoon cayenne pepper
Instructions
Place beans in slow cooker and fill with water. Soak beans overnight.

Drain beans and discard liquid.

Return beans to crock

Add ham bone, celery, onion, and spices and 8 cups of water.

Heat on high for 5 hours. Before serving, remove ham from bone and serve with cornbread.
Notes
*Nutrition facts are calculated by a third party actual values may vary.
Nutrition
Calories: 717kcal | Carbohydrates: 134g | Protein: 43g | Fat: 3g | Saturated Fat: 1g | Sodium: 2517mg | Potassium: 2415mg | Fiber: 44g | Sugar: 7g | Vitamin A: 641IU | Vitamin C: 13mg | Calcium: 327mg | Iron: 10mg