This is a sponsored post by Collective Bias, Inc. and its advertiser. All opinions are mine alone. #powerfulfusionclean #collectivebias
DIY Kitchen Chore Chart For Kids
I love a clean home but the kitchen is the most important part of the home in which I would like to always stay the cleanest.  We are in our kitchen alot! We gather together, we eat, we cook, we do homework, all in the kitchen. I'm a busy mom working and going to school full time so I need a little help from my kids with the chores. Our days can be quite a bit hectic and crazy. The kitchen is the first thing you see when you walk in the door!
I give each of my children equal responsibilities to help me keep a clean kitchen. Motivating them is another thing. My two youngest daughters, ages 9 and 11, need something visually to help motivate them to get their chores done. What better way than a chore chart!  I've seen chore charts in all different shapes and sizes. So I made a super cute & easy DIY Kitchen Chore Chart myself and I wanted to share with you how I made it:
Items Needed:
Baking Pans
Black Chalk Paint
Small buttons
Magnets
Ribbon
Chalk Paint Marker bec
Paint Brushes
Instructions:
First, you will need to paint the baking pans with the chalkboard paint and let it dry. I used a sponge paint brush first and went back over it with a regular paint brush.  It does require a second coat so I would let it dry for atleast 24 hours.
Second, you will drill two holes in the top of the baking pans to secure the hanging for later.
Third, you will need to write on the pins/buttons the various chores you have selected.
After the paint has dried, secure the buttons on the board with magnets.
Finally, using the chalk paint marker, draw two columns:  "To Do" and "Done" with his or her name on the top.
That's it! Super easy and they turned out super cute! What do you think?
Chores I selected for my nine and eleven year old includes sweeping, mopping, cleaning counters and tables, loading and unloading the dishwasher, cleaning microwave, organizing pantry, and finally hand washing pots & pans.
It is important that I teach my kids household chores such as hand washing dishes or pots & pans. These are important life skills especially if they go off to college and their dorms or apartments may not have dishwashers. When my pots and pans cannot be washed in the dishwasher, my children will wash them by hand using my recommended choice of dishsoap, Palmolive.
I recently found the New Palmolive® Fusion Clean™ Baking Soda & Lime  which I love! They also have Baking Soda & Grapefruit. They both smell amazing!! I remember my grandmother cleaning with Baking Soda because it makes everything cleaner but Palmolive has included Baking Soda with the fresh smells of Lime or Grapefruit bringing you  A Modern Twist on Cleaning.™ Not only does the NEW Palmolive® Fusion Clean smell great, it is also antibacterial and cleans the toughest messes! My kids do not have to scrub the pans vigorously because the Palmolive® Fusion Clean™ does the job. If dishes get left in the sink overnight, never fear because this unique formula can even handle those stuck on foods and yucky left behind residues. 
You can purchase them at your local Kroger store and you can almost always find great coupons. 6/12 – 6/25: $0.50 off 22oz+ includes NEW Palmolive® Fusion Clean™ 7/24 – 8/6: $0.25 off any Palmolive®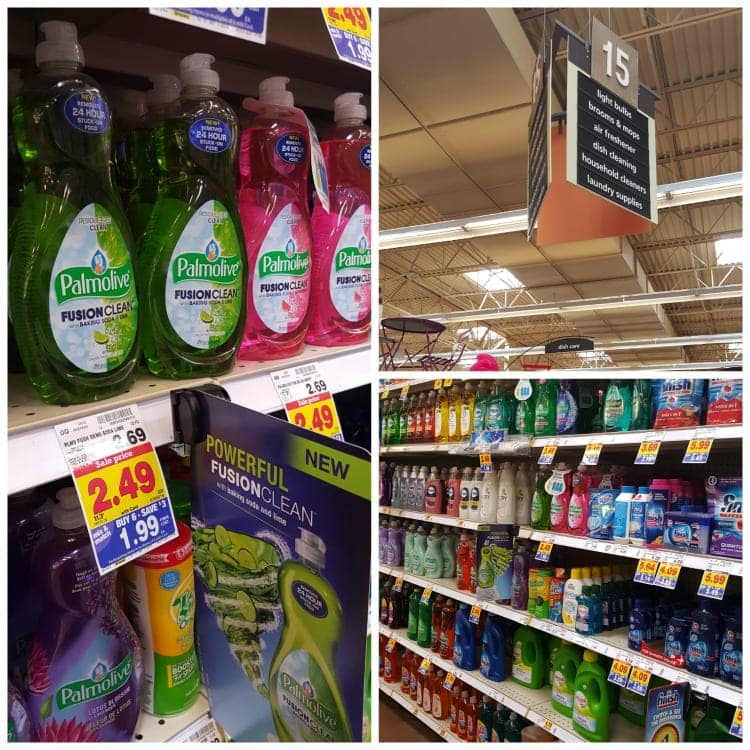 Do you have any DIY Kitchen Chore Chart Ideas?