Best Campgrounds in Georgia
If you are on the hunt for some of the top State Park Campgrounds in Georgia, here are some great options to help get you started! Camping in Georgia offers some truly scenic and amazing views that shouldn't be missed.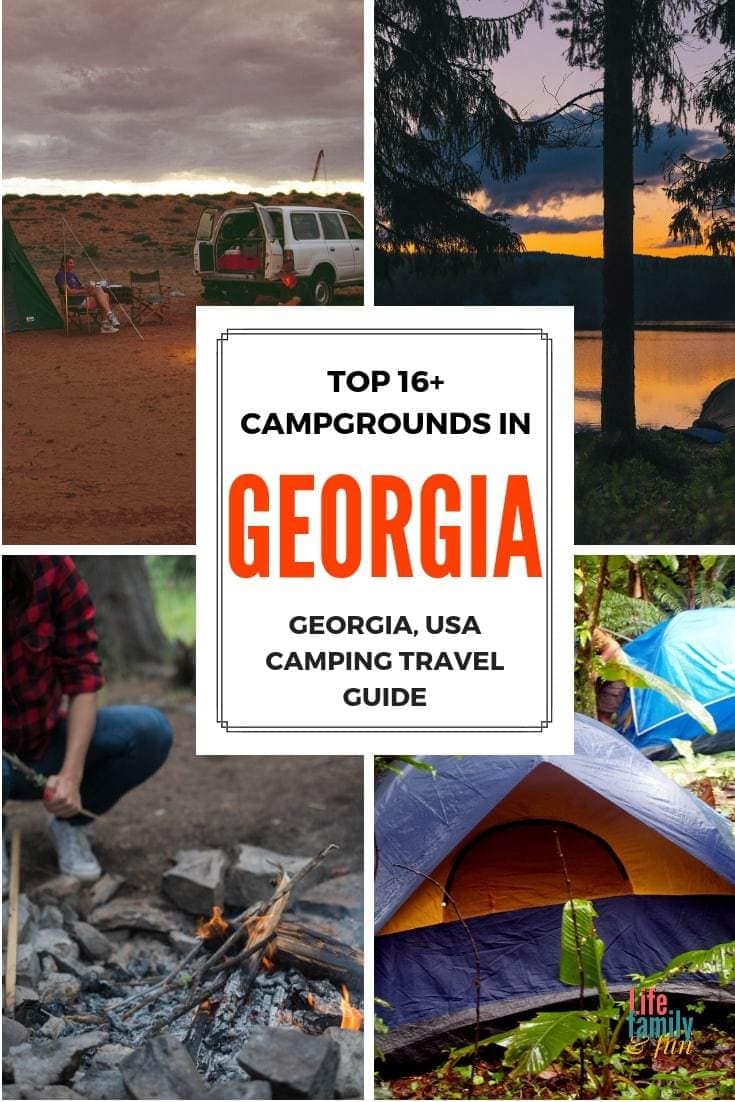 Best State Park Campgrounds in Georgia
While campgrounds are a great option, don't overlook the beauty that is waiting to be explored at the state parks scattered all throughout Georgia. State Park Campgrounds offer many of the same amenities as other campgrounds but are maintained by the taxes paid by the residents of Georgia. State parks offer a great way to camp and enjoy everything that nature has to offer!
1. Altamaha Regional Park Campground in Brunswick
At Altamaha Regional Park, you will find tent and RV sites as well as cabins for lodging. You will also find plenty of fishing opportunities with several boat ramps as well as a fishing pier. They also have modern amenities such as laundry facilities and modern restrooms. For fun you will find swimming areas, a playground, horseshoes and nature trails.
2. Bald Mountain Resort Camping Resort in Hiawassee
Bald Mountain camping resort has lots of fun activities for the entire family. You will find multiple swimming pools, volleyball courts, several playgrounds, a game room, wifi and much more. You can bring your RV to stay in one of the great RV sites or you can pitch a tent in a tent-dedicated portion of the campground.
3. Chehaw Campground in Albany
At Chehaw Campground you will find RV and tent sites which all feature their own grill, fire ring and picnic table. For activities, you will find canoeing, BMX bike riding, disc golf and more. You will also find modern amenities such as hot water showers and laundry facilities. The most unique thing about the Chehaw campground though is that it is located within the Chehaw Zoo park, making it perfect for a family friendly camping trip.
4. Elijah Clark State Park
Elijah Clark State Park. If you are searching for spacious campsites or cottages to rent on the water's edge, this is the campground for you. There is a separate walk-in section for tent campers as well which does a great job at giving you and your family a bit more extra privacy when camping.
5. Cloudland Canyon State Park Campground in Rising Fawn
Cloudland Canyon State Park is perfect for the hikers and mountain bikers and features sandstone cliffs, canyons, caves, waterfalls, and so much more. Cottages, yurts, or cabins await you and your family at one of the biggest and most beautiful state parks in Georgia. The campground also features amenities such as an 18 hole disc golf course, a fishing pond and interpretive programs. You will find tent and RV sites as well as yurts and cottages and even a group lodge. If you really feel like roughing it, you will even find walk-in and backcountry campsites. If you want to tour the caves, there is even a local adventure company that offers guided tours.
6. Cumberland Island Campground in Cumberland Island
This popular campground is on island and is only accessed by ferry. Because of its popularity, you are highly encouraged to make reservations. Cumberland Island has several options in regards to camping. You can choose walk-in camp or backpack only camp, so leave the RV at home for this one.
7. Fort Yago State Park located between Athens and Atlanta
Fort Yago State Park. This state park has it all. Hiking trails, a 260-acre lake for swimming and fishing and camping options to suit any preference. Campers can decide between cottages, cabins or perfect little cozy campsites. If you are feeling a bit more adventurous and searching for a totally unique camping experience, check out their rental options for their yurts as well. They are stocked with furniture and have electricity, too. "Glamping" at it's finest!
8. Fort Mountain State Park in Cohutta Mountains
Fort Mountain State Park. Beautiful campsites and privacy await you at Fort Mountain State Park. Horseback riding, biking, and geocaching are just a few of the activities that you and your family can explore while camping at this state park. Don't miss a chance to view the giant ancient rock wall while camping here! There's a mystery as to how and who built that wall that is still debated today.
9. Georgia L. Smith State Park in Twin City
With 24 different campsites to choose from, you'll have no problem finding the perfect campsite at George L. Smith State Park for you and your family. If you book early, you may be able to get a campsite right on the water. Waking up to the beautiful view of the 412-acre lake sounds like the perfect way to start the day. If you have your own kayak, bring it along to enjoy everything that the lake has to offer. If you don't, you can rent boats to use while you camp.
10. High Falls State Park Campground in Jackson
Looking for a relaxing and popular state park that is primed and perfect for camping? High Falls State Park has you covered. High Falls Campground features a swimming pool to stay cool, playgrounds for the kids, miniature golf for the family and plenty of nature to enjoy all around. The campground is surrounded by miles of hiking trails and for the water lovers, you will find plenty of opportunity for kayaking, canoeing, paddle boating and more. All kinds of camping is welcome including RV sites, tent sites, yurts and even a paddle-in campsite. Known for its amazing cascading waterfall, it's a site that you don't want to miss. Book a campsite early so that you can enjoy everything that this State Park has to offer.
11. Jellystone Park Campground in Bremen
If you are wanting the kids to have the time of their life, Jellystone Park is your best bet. The Yogi Bear themed park features playgrounds, swimming pools, mini golf, a game room, train rides, an outdoor theater and more. This campground has sites for tent and RV sites as well.
12. Mistletoe State Park in Columbia County
Mistletoe State Park. If camping and fishing sound like the perfect duo to you and your family, then plan on booking a site early at Mistletoe State Park. Known for some of the best bass fishing in Georgia, it's certain to be a great time for the entire family.
13. Skidaway Island State Park in Savannah
If you are looking to camp near Savannah, Skidaway Island State Park is a fantastic campground. If hiking is on your favorite adventure list of things to do, you will find trails that lead you through the forest and the salt march and take you to a boardwalk and observation tower. The park is abundant with wildlife such as egrets, deer, birds and more. They even have a fun and educational visitors center which features a reptile room and more stuff that the kids will love. You can even find bike rentals, volleyball areas, geocaching and more. This campground features both RV and tent sites as well as cabins. Don't forget to bring your pet with you to this amazing State Park. Pets are welcome to join in on the camping fun as well!
14. Tallulah Gorge State Park in Rabun County
Interested in a bit of adventure when camping at Tallulah Gorge State Park ? Take a walk on the 80 feet tall suspension bridge to see some of the most amazing sites of the gorge. You and your family will love everything about this beautiful State Park.
15. The Martyn House in Ellijay
If you are looking for a camping trip without the kids and without the "camping", The Martyn House is for you. You will find Luxury Sleeping Tents where you will experience all of the comforts of your own home or even a hotel. Your heated tent will have your own bathroom with showers, a bedroom and sitting room. You also get to sleep in luxury bedding and sip hot coffee or tea. There is even an Inn Keeper on site to assist you.
16. Vogel State Park Campground in Blairsville
Vogel State Park is one of the oldest state parks in Georgia and features hiking trails to the beautiful Trahlyta Falls. Boating on the park's lake is limited to non-motorized boats only. The lake also features a beach for swimming, a park museum and more. With over 85 campsites and 35 cottages, Vogel State Park is the perfect camping option for you and your family. Don't forget your fishing poles…you never know what you'll catch in the 22-acre lake!
There are over 41 State Parks in Georgia offering just over 2,700 campsite options. Campsites can accommodate tents, RV's, and travel trailers as well and rates per night vary between $30-$35. While some sites may be walk-in sites to reserve on the spot, others do require advance reservations. To see the entire list of campsites and the rules and regulations, check out the information here.
If you are looking at camping this summer, why not spend some time exploring all the varying campsites that the Georgia State Parks have to offer? With over 41 different parks to choose from, you'll have no shortage of camping options for you and your family!
You may also like these 35+ camping recipes for your next camping adventure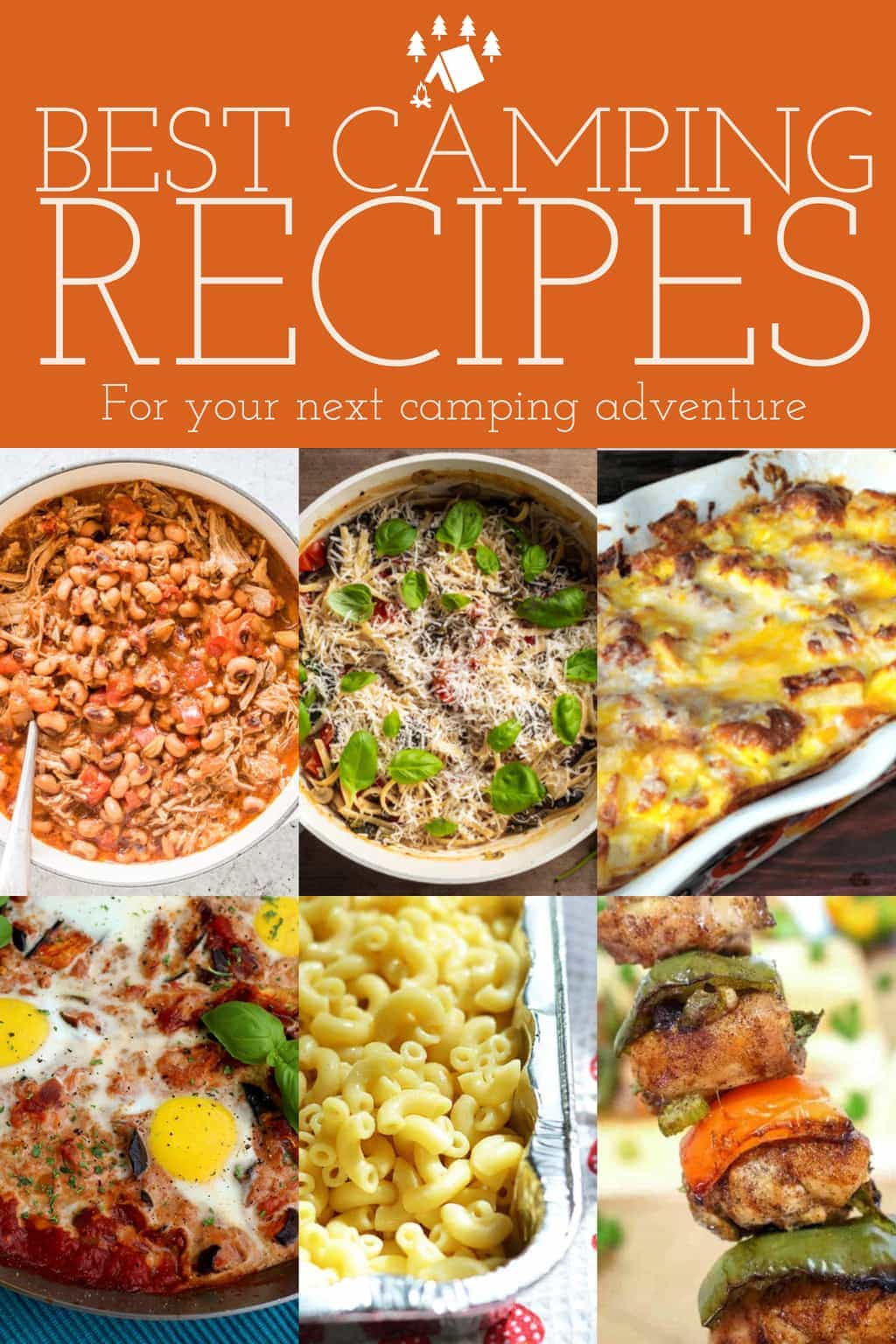 Looking for a unique camping experience? Check out Conestoga Wagon Camping at Rock Ranch
Conestoga Wagon Camping – A One Of A Kind Camping Experience
The Rock Ranch is a beautiful 1,500-acre ranch located one hour from Atlanta in The Rock, Georgia. They have so many activities for the kids like zip lining, paddle boats, fishing, rock climbing, and so much more!
Pin for Later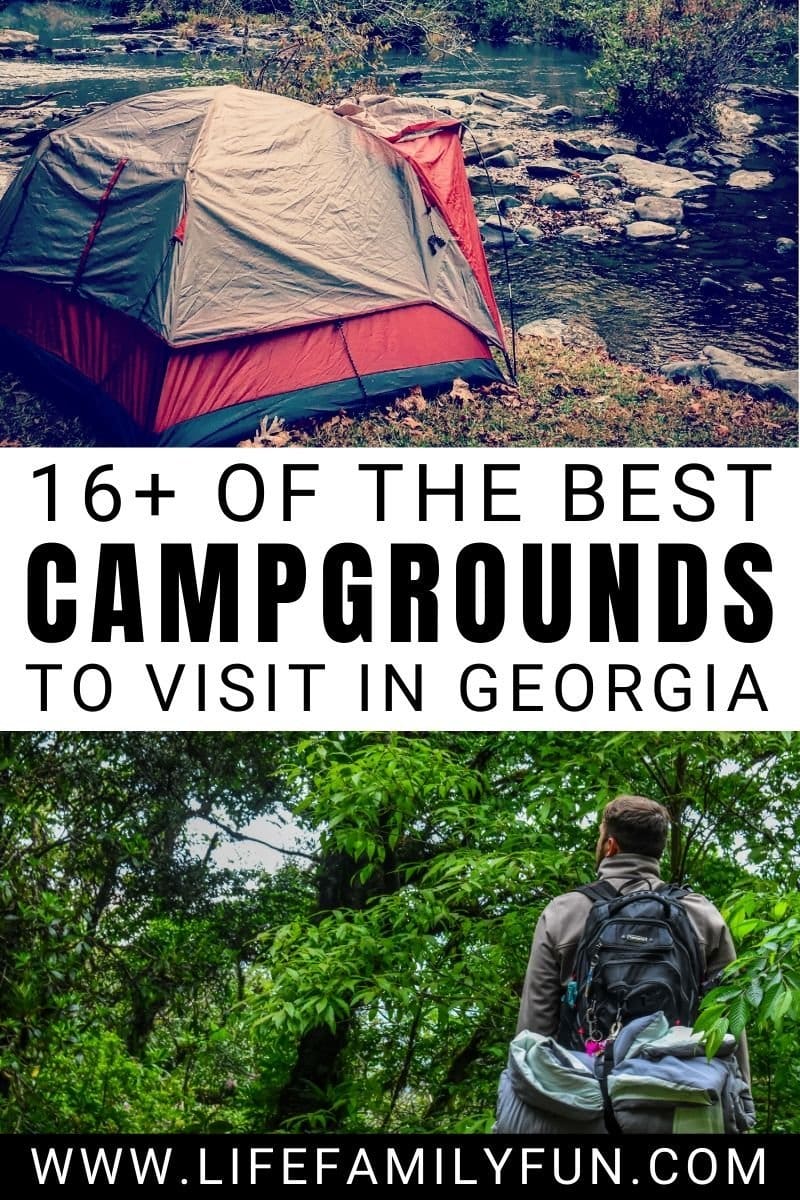 ---