Fun Places to Eat in Branson
Located in the beautiful hills of southern Missouri is one of my favorite newly explored and discovered locations that honestly swept me off my traveling feet. I've been fortunate enough to have visited Branson, MO twice in my life, and honestly…if I would have known about this beautiful town earlier, that number would have been way higher. While the shows and entertainment may be calling your name to visit Branson, do not overlook all the amazing restaurants in Branson too!
It's no secret that Branson during Christmas is very special. Where else in the world can you go and see millions upon millions of light, eat some of the most delicious food and watch some of the best shows that you'll ever see? Very few places can boast this, but I can assure you that Branson has every right to brag about their holiday offerings.
While the shows that they offer are out of this world, there are so many other great activities and adventure that await exploration as well. Just when you think you've seen it all at Branson, make certain that you and your family have experienced everything that these businesses have to offer!
The Restaurants in Branson seem to be never-ending! No matter if you want pizza, Italian or just some down-home old-fashioned homemade cooking, dining in Branson absolutely doesn't disappoint! I was provided complimentary meals to help facility this review.
To say I took a taste test and ate my way through Branson is not an understatement by any means. Not once was I disappointed by anything I ate, and that is quite the feat! There are some fun restaurants in Branson that will satisfy every person in your family.
McFarlain's Family Restaurant
If all that exploring and shopping start to make your tummy grumble, you're in luck. The IMAX entertainment complex is also home to the McFarlains Restaurant! This dining gem is a Branson exclusive and is one that needs to be on your radar.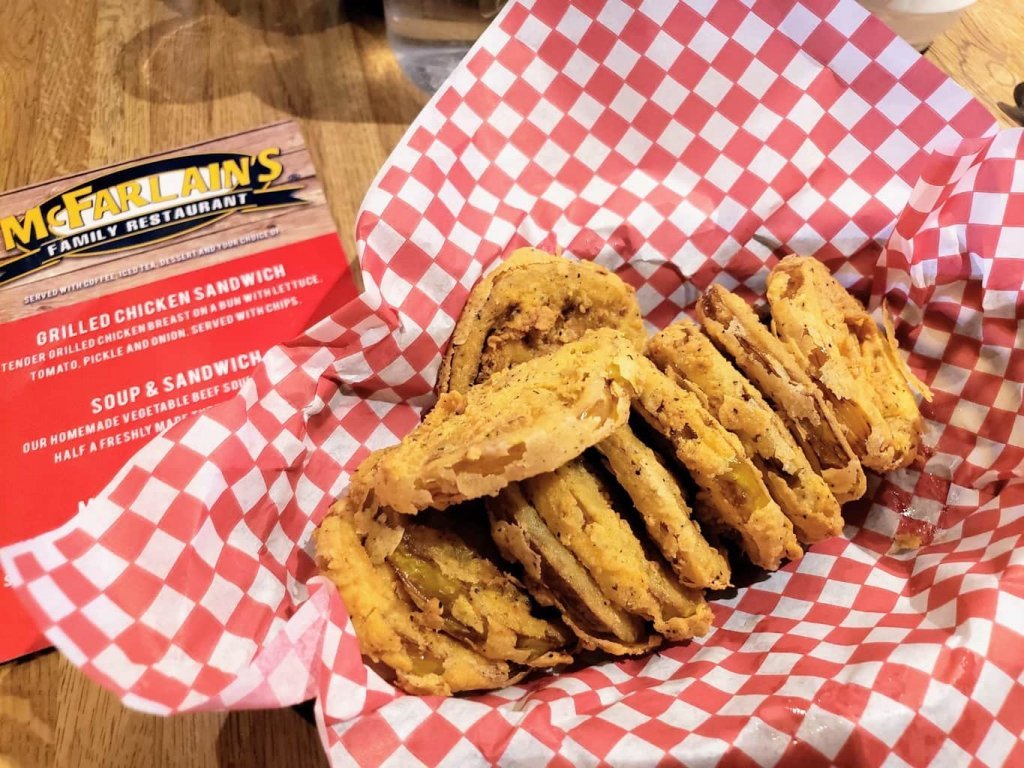 If that isn't enough, the McFarlain's Family Restaurant menu is quite expansive offering the good old-fashioned home cooking that we've all grown to love and crave.
Trust me on this one…you won't leave hungry! With their made-to-order breakfast options, or their hearty McFarlains lunch special (seriously, order this one!), your taste buds will love this Missouri home cooking! Just when you think that your stomach can't handle another bite, you'll hear those four little words that will literally change your mind. "Our pies are homemade".
You have to get the pie. If you have to, eat it first so you can taste and enjoy it because they are seriously so good. Any pies are delicious, but one of their specialties is the Traffic Jam Pie, packed full of a variety of different berries.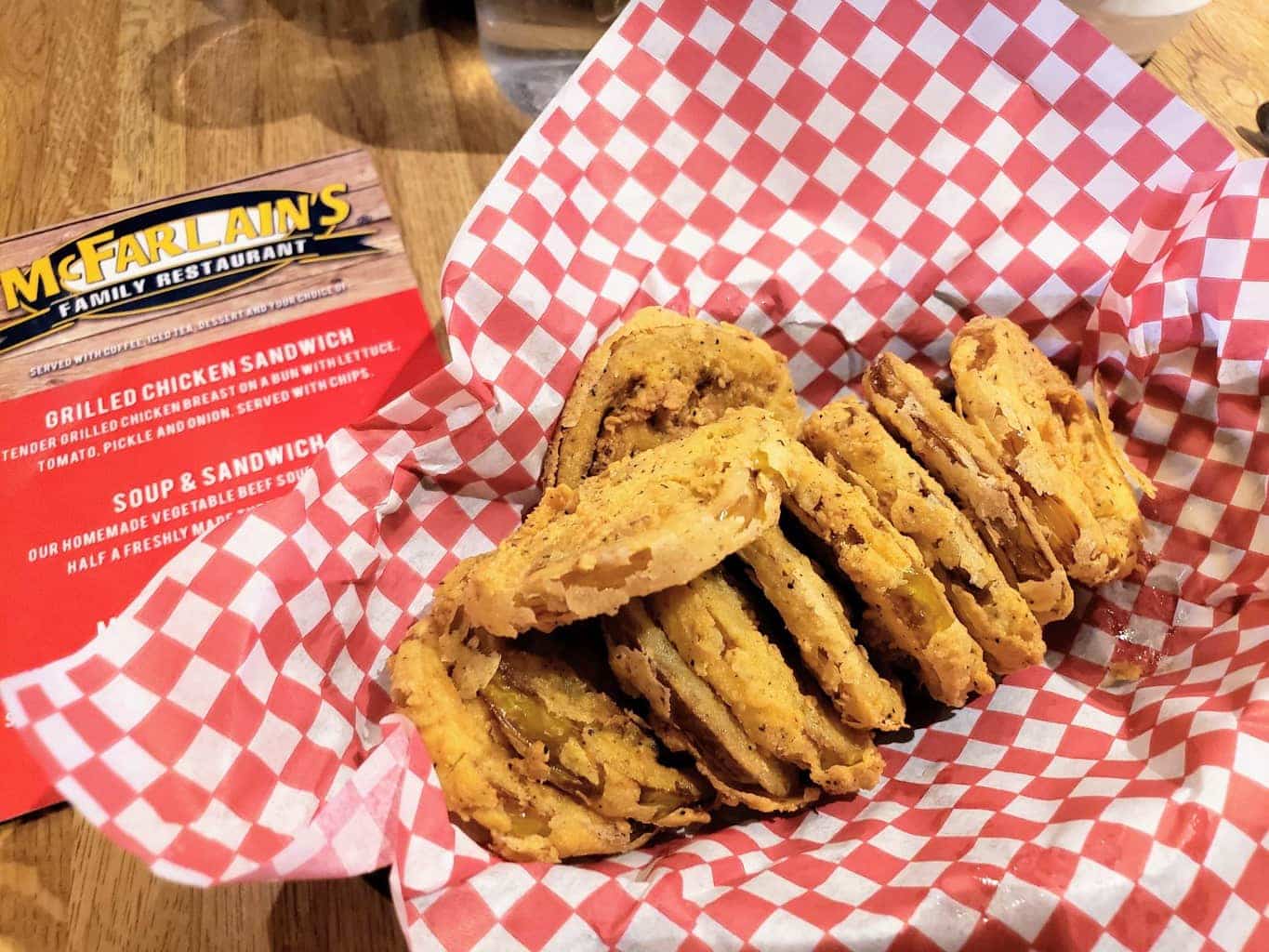 If you happen to be there in the morning time, order their "big as your face" cinnamon rolls! That paired with a generous cup of coffee is the perfect way to start your day!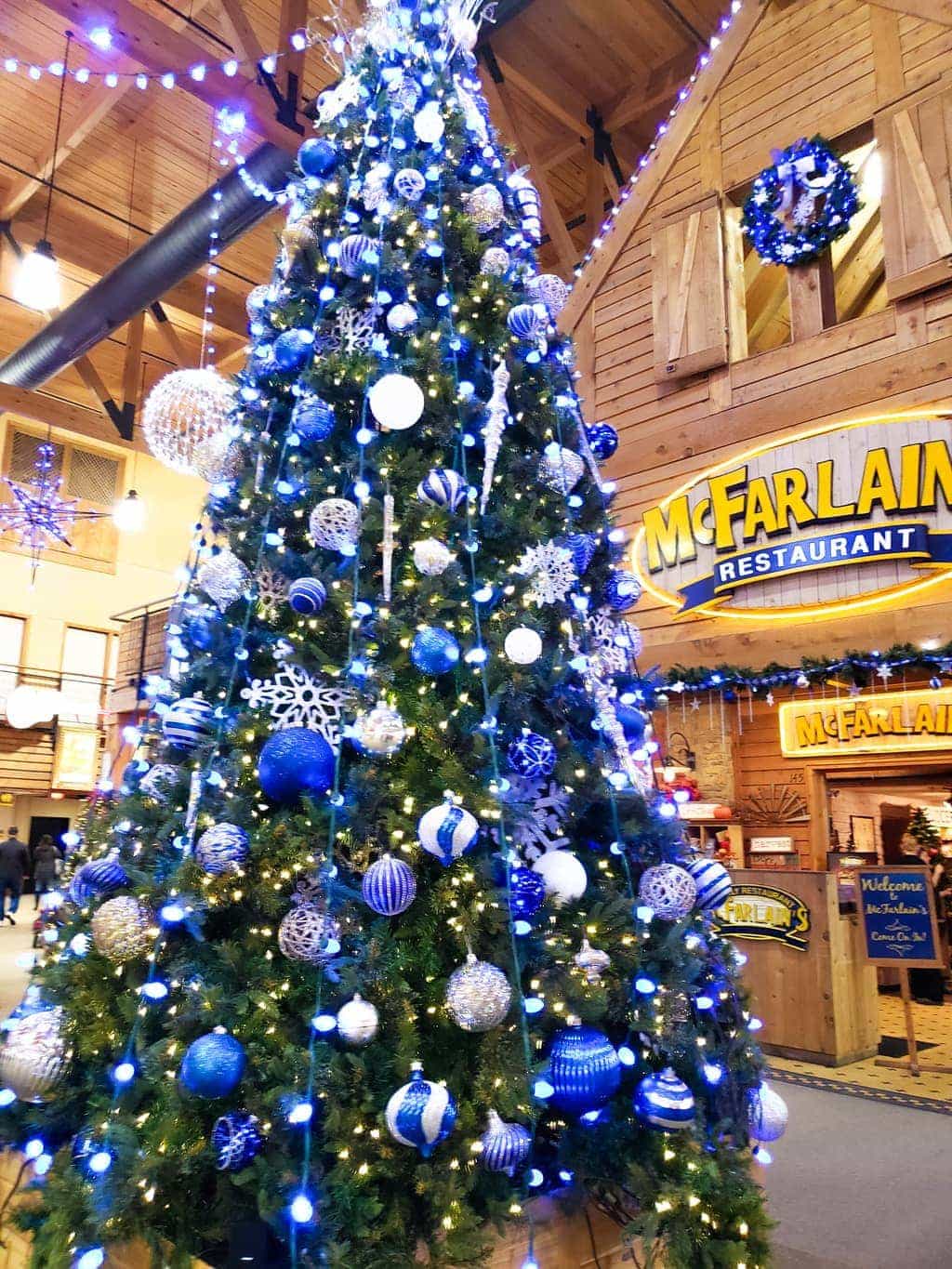 Montana Mikes
Looking for the perfect meal to end your day exploring everything that Branson has to offer? Montana Mikes has you covered. They are known for their great steaks and seafood options, and I can attest that I agree!
Relaxing in the comfortable atmosphere of Montana Mikes is such a nice way to rest those legs after walking around Branson. Their portion sizes are large (check out their ribs!) and the menu is priced reasonably. With a casual setting, this Branson restaurant is family-friendly for everyone to enjoy.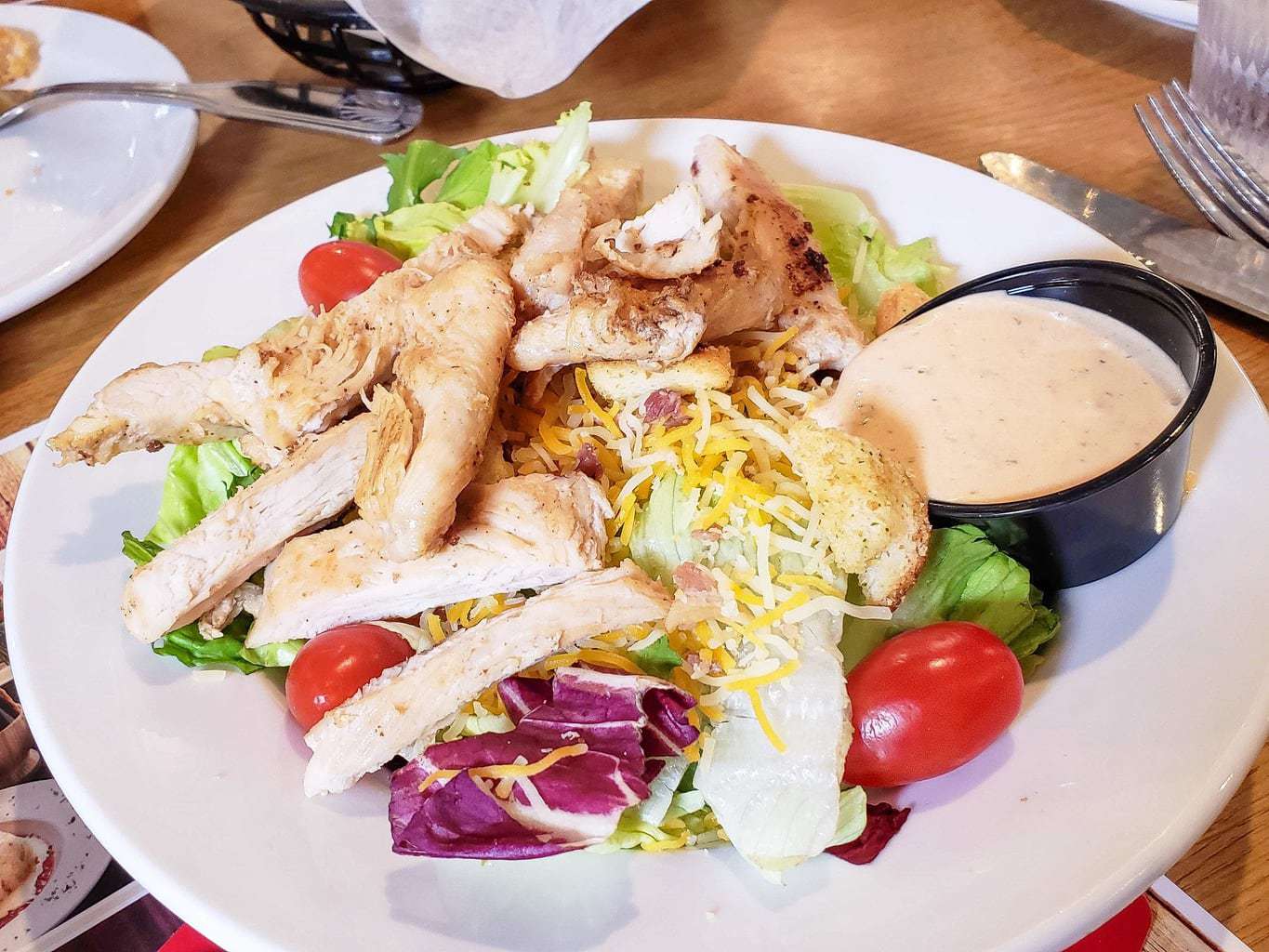 If you don't happen to be a steak fan, don't worry! Their burgers are just as good! Piled high with fresh toppings and a delicious bun, you may not find another burger cooked as perfect as theirs!
Pasghetti's Italian Restaurant
Dine at Pasgetti's, Home of the World's Largest Fork and Meatball. Driving down the main strip of Branson, your eyes will see Pasgetti's restaurant. Seriously, you can't miss it. Right out front is the biggest fork and meatball that you will ever see! Stop, take some cool photos and dine on some seriously delicious Italian food!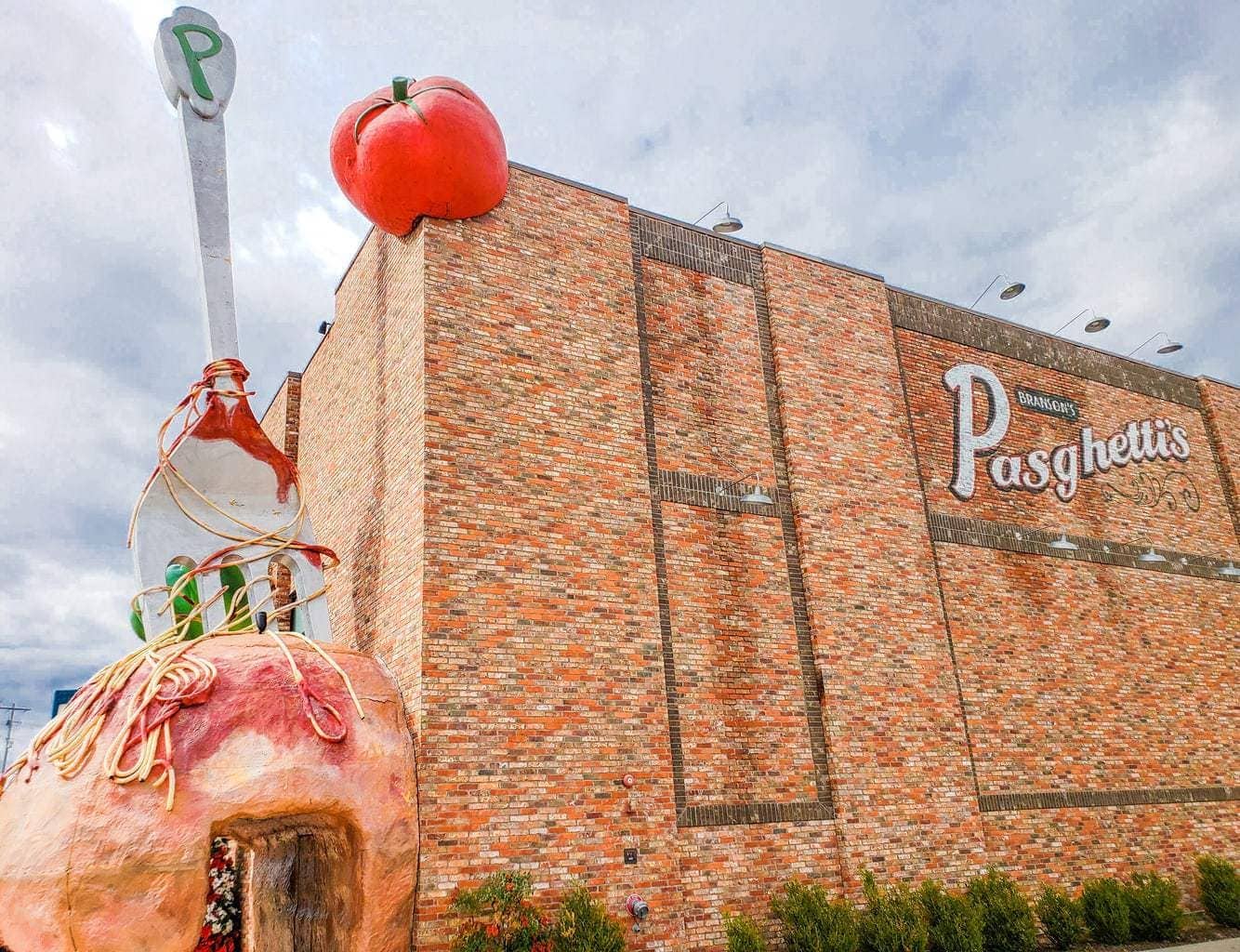 Fall Creek Steak and Catfish House
"Heads Up" is the theme for this roll-throwing restaurant! If you can't catch, practice before going! Not only are the rolls fresh and hot, they are literally thrown at you from across the room! Be certain to brush up on your hand-eye coordination before dining at this hidden gem. (I won't tell you how many hot and delicious rolls were dropped when dining at this restaurant!)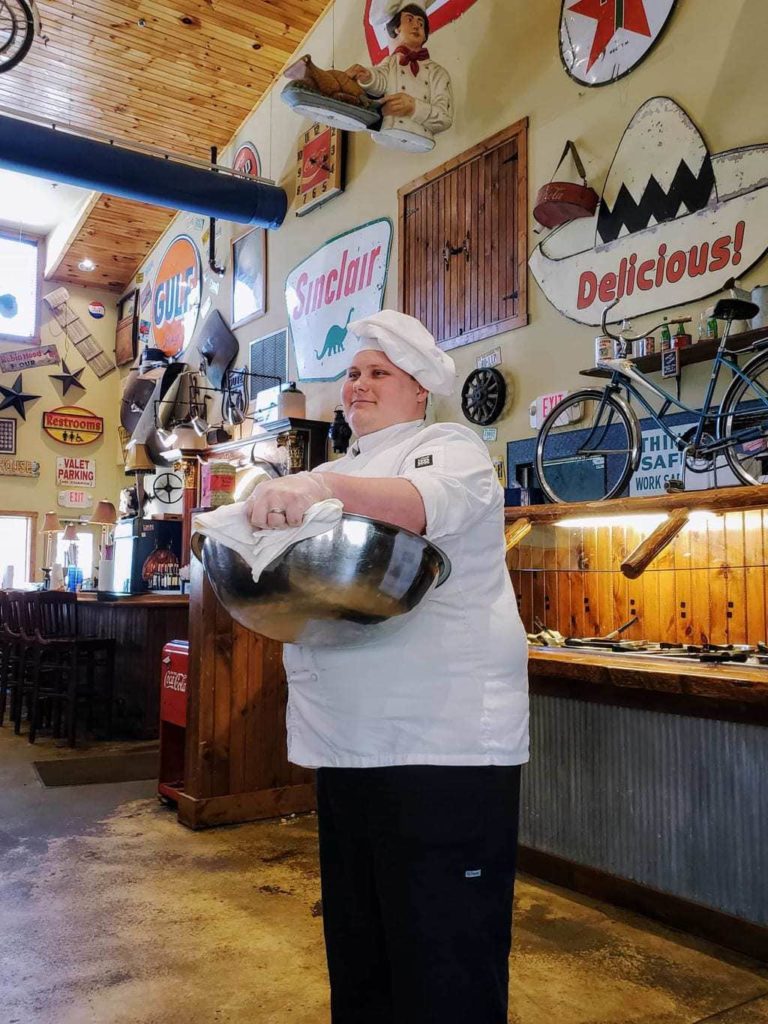 The wait staff was awesome, patient and had great arms for aiming those rolls! While their delicious rolls may be filling enough, they offer great steaks and catfish as well. Don't forget to leave room for some Blueberry Cobbler. Your taste buds will be pleased after dining at Fall Creek Steak and Catfish House.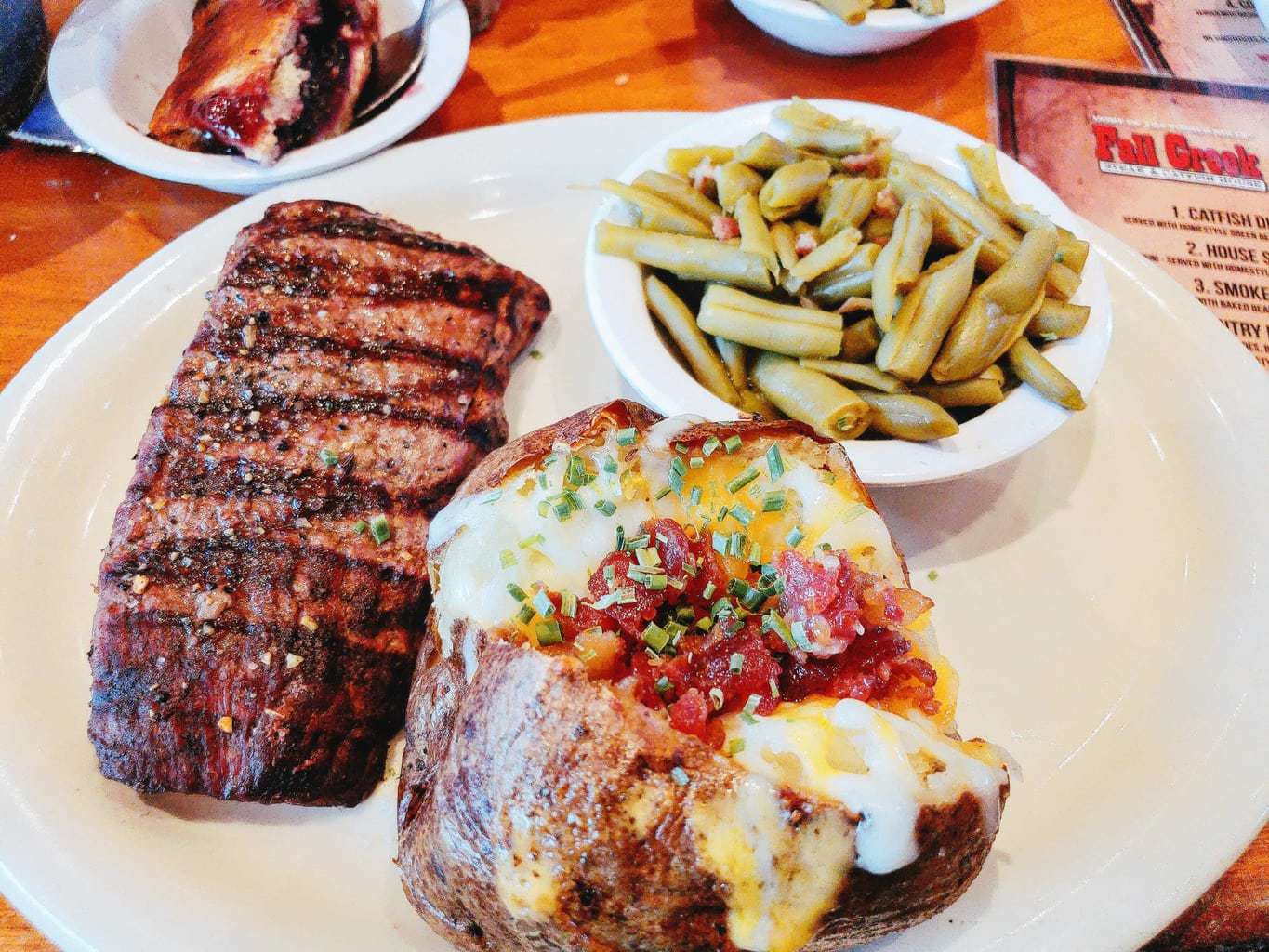 Florentina's Ristorante Italiano
Who knew that this authentic Italian restaurant was just waiting to be discovered in the heart of Branson, MO? Tiramisu, homemade sauces, Greek Salads, fresh baked bread, and brick oven pizza are just a few of the specialties that they'll whip up to perfection each and every time. The smells of the authentic dishes greet you before you even walk through the door. Once I smelled those savoring aromas, I couldn't wait to dive in! If you are looking for a taste of Italy, then Florentina's Ristorante Italiano is the place for you.
Dolly Parton Stampede
One of the most amazing shows that I've ever witnessed in my life was at the Dolly Parton Stampede! While I know that this is "technically" a show, it also deserves a spot on the fun & unique restaurants in Branson as well.
The experience of the dinner and show is truly one that should be experienced by all. The food was brought out to enjoy during the live entertainment and I found that I was patiently waiting for each and every course. As it turned out, the food just kept getting better and better! Trust me when I say that they have this dinner theater down to perfection!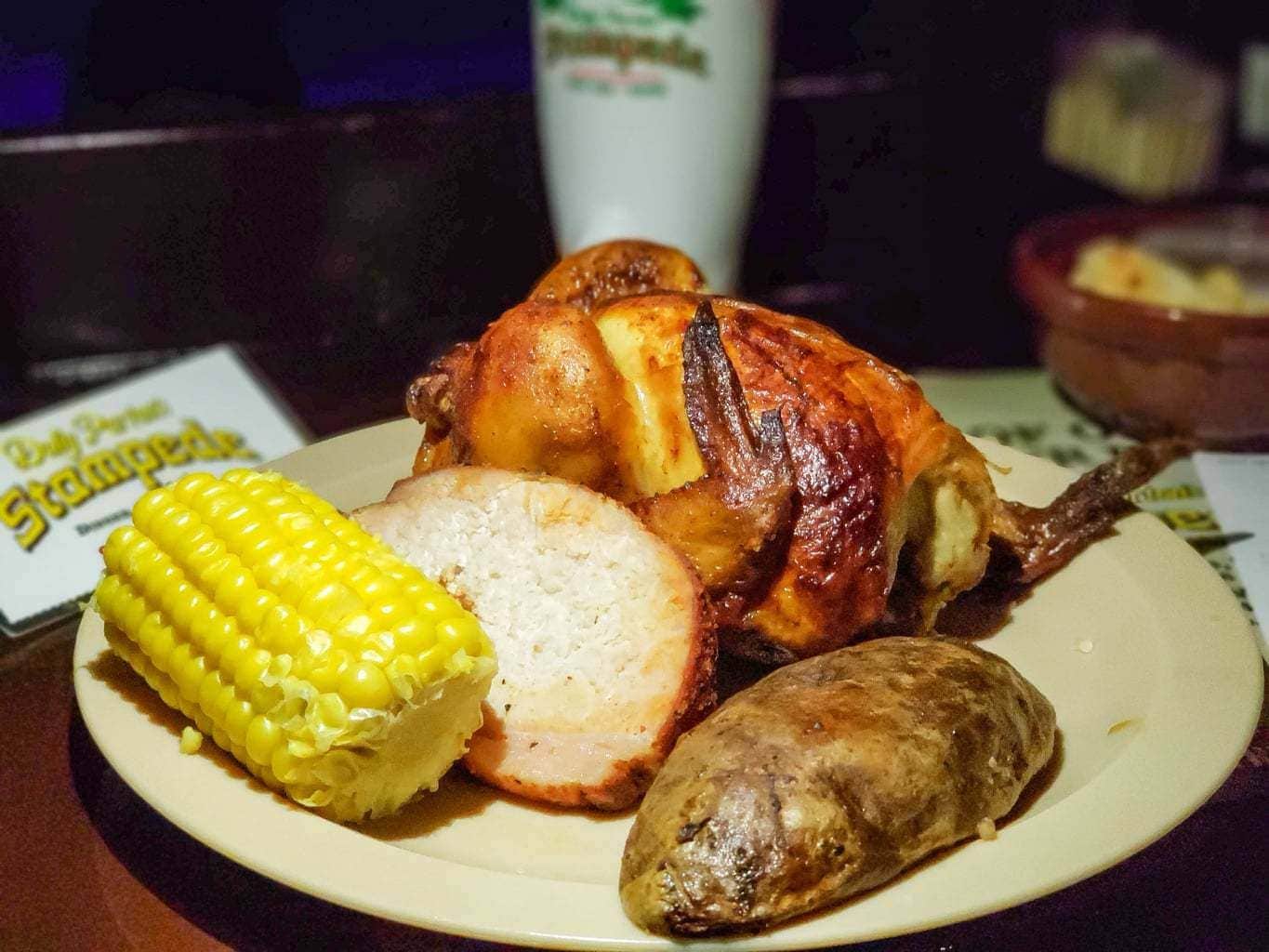 Miss Molly's Mill Restaurant in Silver Dollar City
Everyone knows how I love southern cooking, right? Once I heard that Miss Molly's Mill Restaurant located in Silver Dollar City was a full buffet full of good ol' fashioned country cooking, I was not let down! Fried chicken and catfish galore, there is no way that anyone should leave here hungry.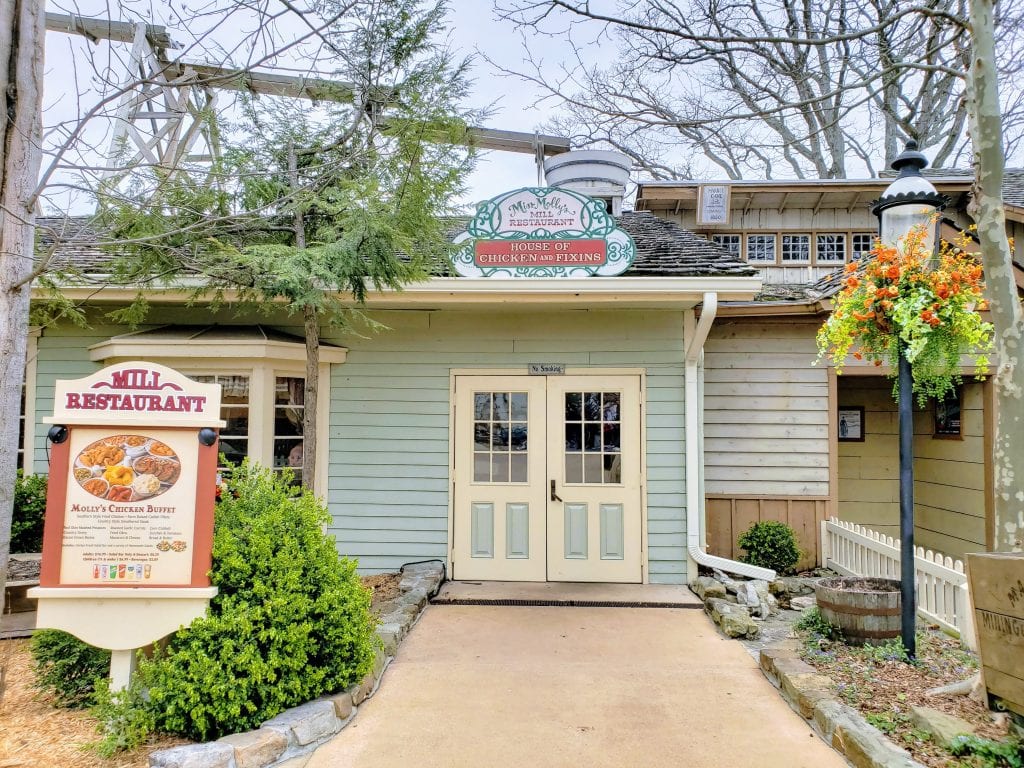 The World's Largest CiCi's Pizza
Yep, you read that right. Did you know there was a WORLD'S largest Cici's pizza? Well, there is in Branson. Unlimited brownies, cinnamon rolls and pizza to feast on. With so many options to choose from, your family will sure find a pizza pleaser.
If you happen to need a break from the glorious pizza options on the buffet, take a walk around the arcade to try your hand at a few games as well. It's half restaurant/half arcade and wholesome family fun!
My Final Thoughts On The Dining Choices in Branson
When visiting Branson, take the time to explore everything that there is to offer. With just a little effort and planning, you can fill your days full of family fun, food, and activities with ease!
During the busier Holidays, make certain to plan ahead because the restaurants in Branson can get packed quickly! Map our your restaurants and meals of choice, and then make certain that they happen. My suggestion? Give the restaurants above a try. Leave room for dessert…You'll be so happy that you did!