Restaurants On Saint Simons Island
There's no shortage of restaurants on Saint Simons Island. From burgers to seafood, there's always something tasty waiting around the corner on this Georgia island. While all the food is great, there are some standout restaurants on St. Simons Island that are not to be missed.
Whether you're taking a weekend trip or a long vacation, this guide will help you find the best eats on the island, no matter what you're looking for.
Thanks to The King and Prince Beach & Golf Resort for hosting us for three days to experience all of St. Simons Island. All opinions are my own.
For more information regarding travel to Glynn County, please visit https://www.goldenisles.com/public-safety/covid-19-updates/.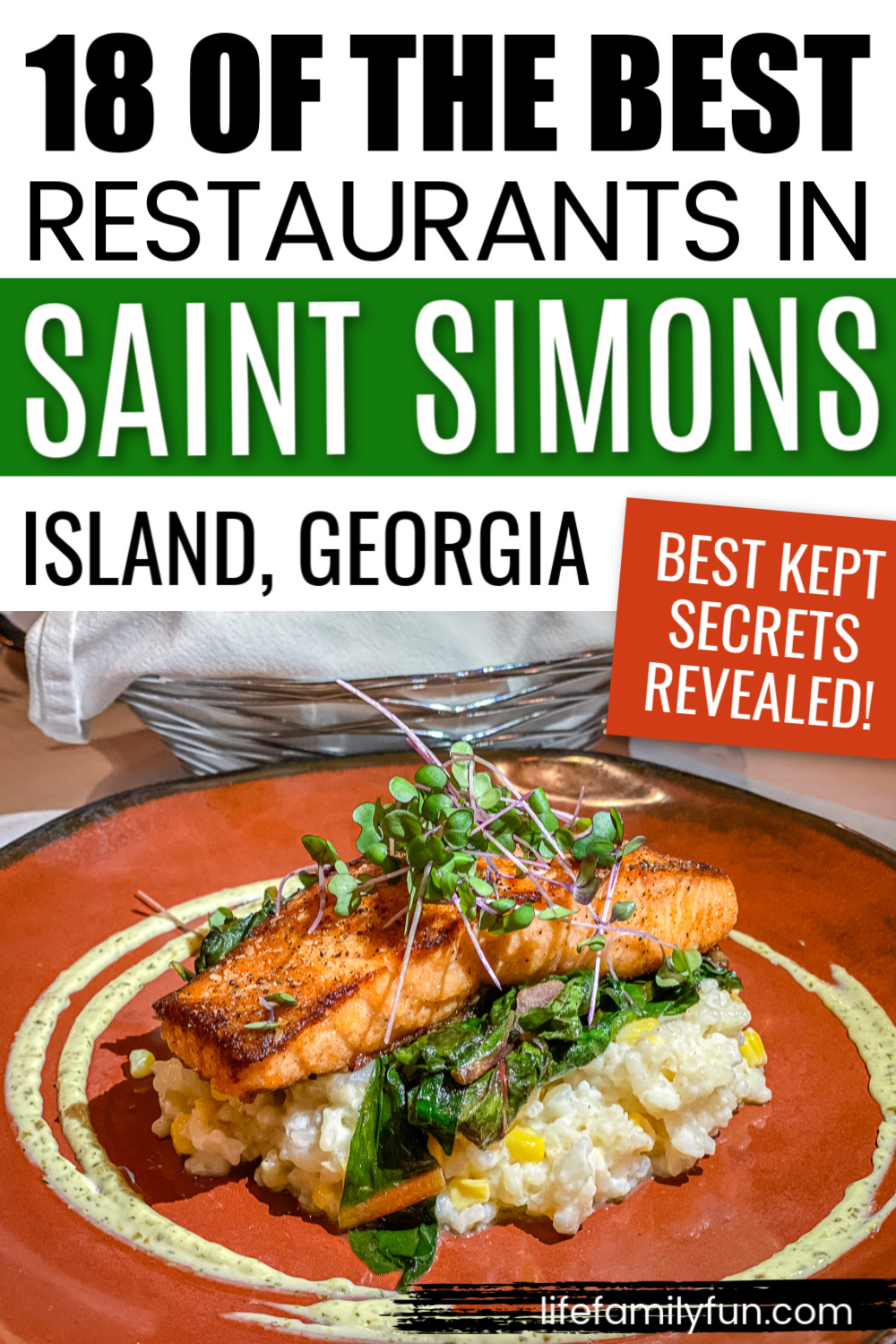 The Best Restaurants on St. Simons Island
St. Simons Island is a gorgeous locale. The warm water of the Atlantic Ocean laps against the white sand beach, creating a relaxing or exciting atmosphere, depending on your interests. There's always something to do or take in, whether it be a nature cruise, shopping, or visiting cultural sites. No matter what you enjoy, you'll find something to love on St. Simons Island, and that includes food. Some of the best eats I've ever experienced have been on this island.
From laid back, come-as-you-are atmospheres to fine dining, the restaurant list of St. Simons island runs the gamut. That's why it's so important to know exactly where to go to get the most out of your dining on the island.
A Taste of Glynn
While not a restaurant itself, A Taste of Glynn features some of the best of the best restaurants on St. Simons Island. This yearly festival and fundraiser showcases dishes from all the major restaurants on the island (some mentioned below), bringing great food and doing good all at the same time.
Barbara Jean's Restaurant & Bar
Barbara Jean's is without a doubt the best place to find crab cakes on St. Simons Island. While her – Barbara Jean is a real person – crab cakes take the time-honored dish to the next level, there's so much more to be had there. All manner of seafood dishes await you, as well as a host of traditional dishes like pot roast and a variety of delicious appetizers like fried onion rings, cheese fries, and more.
Cafe Frederica
A local staple and long-time favorite on St. Simons Island, Cafe Frederica has been open for more than 30 years. Enjoy breakfast options like a bagel and cream cheese, eggs benedict, pancakes, french toast, omelets, and even crab cakes. For lunch, try a variety of sandwiches like crab salad, grilled cheese, BLT, club, and more. The cafe also offers a variety of salads including a caesar salad with shrimp or chicken.
Certified Burgers & Beverage
If you want the best burgers on the island, Certified Burgers & Beverage is the place to go. That's because burgers and salads are all they do. Choose from heaty burger options like The World, a burger with two beef patties, swiss cheese, mushrooms, bacon, lettuce, tomato, and an egg or the veggie for the vegans out there. It's a chickpea patty with lettuce, tomato, and buttermilk herb sauce. No matter what you get, you'll enjoy it with a hefty side of fries or tots and delicious fountain drinks.
Crabdaddy's Seafood Grill
Crabdaddy's Seafood Grill has been a staple of St. Simons Island for 30 years. In that time, it's become a favorite of both locals and visitors, alike, offering fried shrimp, grouper fingers, crab cakes, cheese grits, green bean casserole, and more. Named Readers' Choice Elegant Island Living's 2019 Best Dinner, Desserts, Seafood, Place to Take Visitors, and Best Overall Restaurant, Crabdaddy's is a must-stop dining destination on any list of restaurants on St. Simons.
Del Sur Artisan Eats
One of the most creative restaurants on St. Simons Island, Del Sur Artisan Eats takes classic Italian dishes and sprinkles them heavily with Argentinian flair. Enjoy lamb, chicken, beef, or spinach empanadas as an appetizer before moving on to main dishes like shredded braised short ribs over parmesan risotto, crab ravioli, rack of lamb with mint pesto sauce, or grilled salmon filet with roasted cherry tomatoes.
Echo
Echo is a feast for your eyes and your belly. With indoor and outdoor dining, both offering sweeping views of the ocean, as well as dining options ranging from hearty breakfasts, wraps, sandwiches, and more for lunch, and dinners featuring some of the best steak and seafood on the island, Echo is a can't miss spot on St. Simons Island.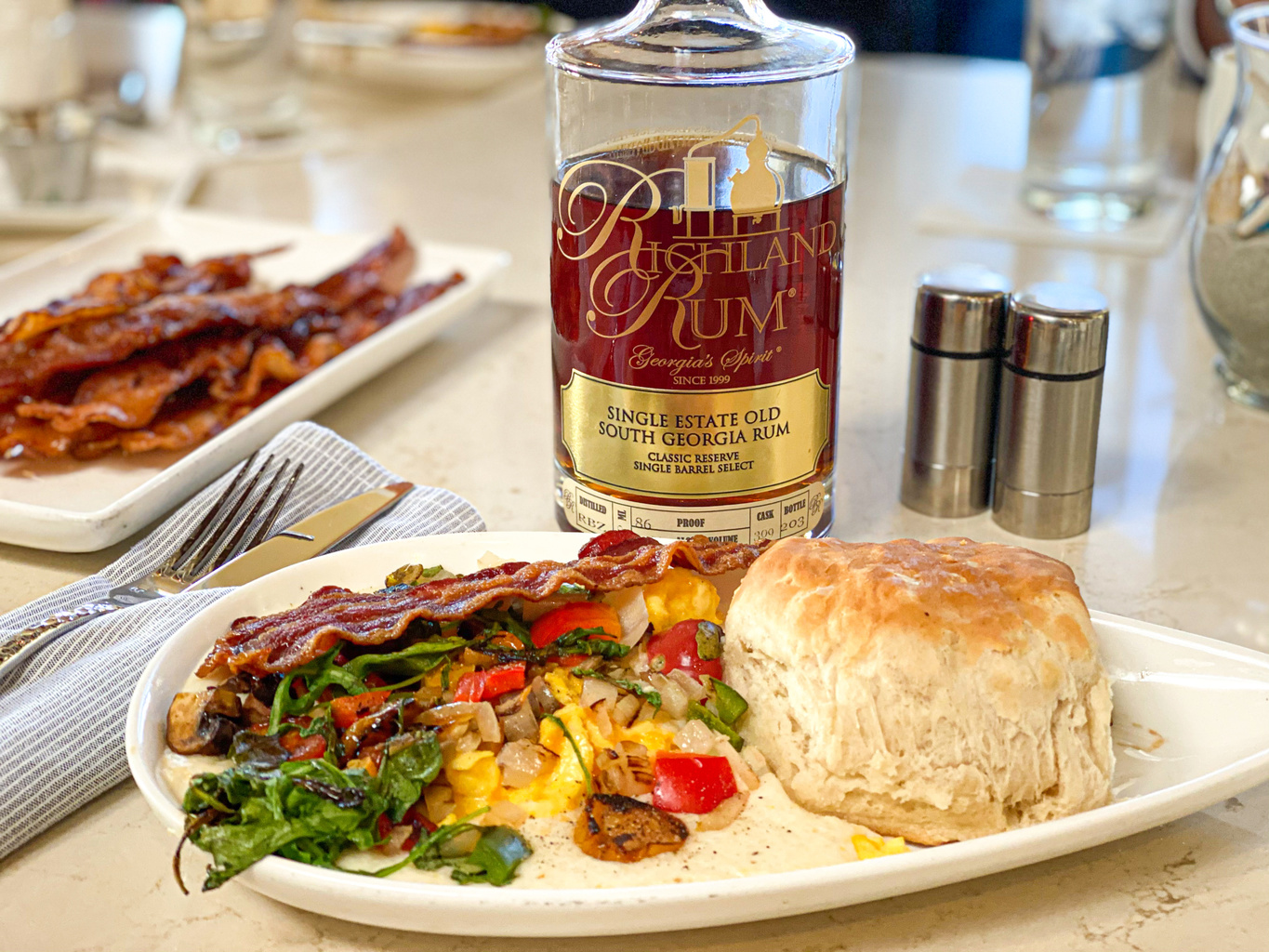 Georgia Sea Grill
Walk through the unassuming front door of Georgia Sea Grill and be transported a world away. What looks like a burger joint from the outside is actually the home of one of the best seafood restaurants on St. Simons Island. From fish to shrimp and everything in between, all of their meals are prepared with sustainable resources whenever possible, and they're all locally and regionally sourced. They have great food for landlubbers too. It's a dining experience full of colors and flavors that are a treat for the eyes and the mouth.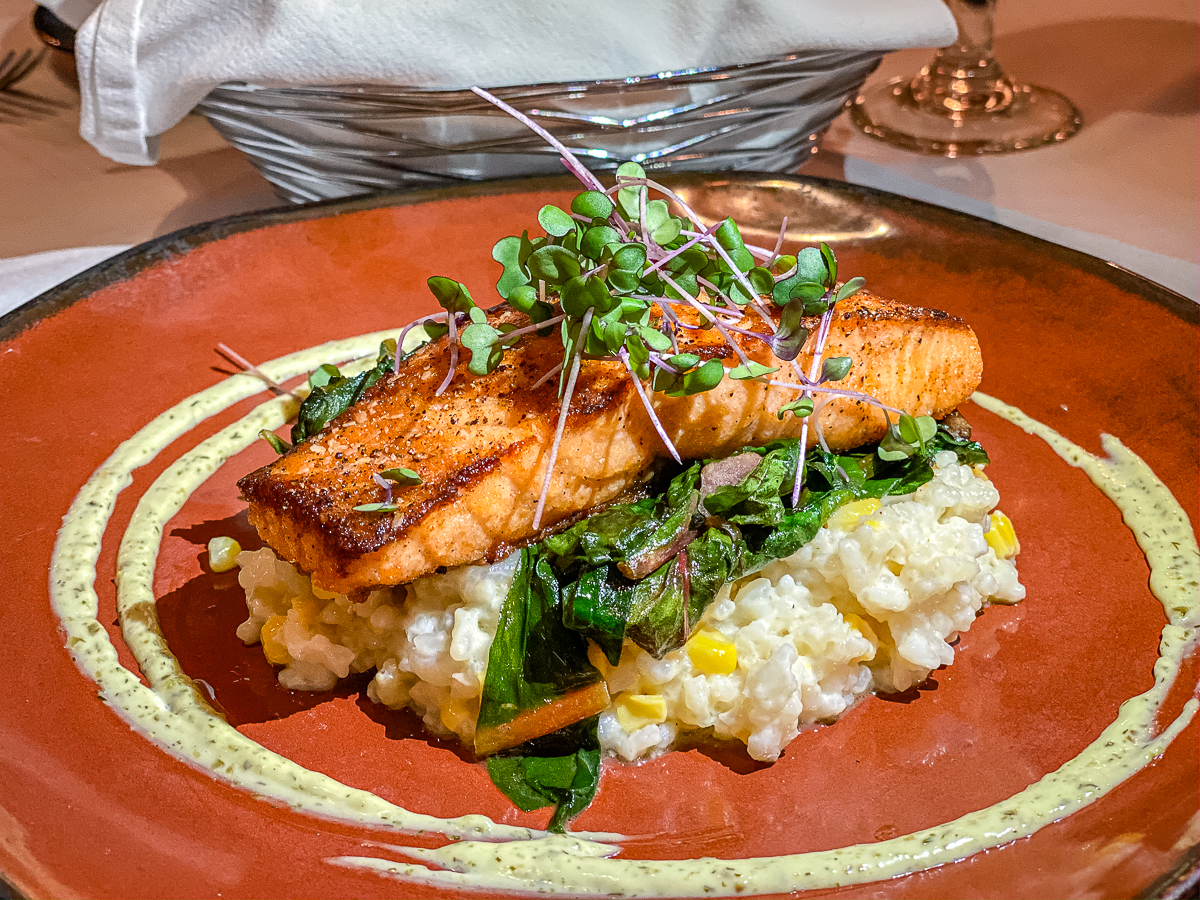 Gnat's Landing
Gnat's Landing is all about great food and good times. It's one of the top restaurants on St. Simons Island for families because the food is second to none, and the atmosphere is kid-friendly. This family-oriented bar and grill offers fare like seafood platters, burgers, and other classic southern staples along with live music and a great selection of beers for the grown-ups. Two of their most popular menu items happens to be the famous Fried Dill Pickle Chips or Gnat's Famous Slaw Bowl. I tried both and I promise you will not be disappointed.
Golden Isles Olive Oil
Golden Isles Olive Oil is a true gem in Saint Simons Island. They have a wonderful line of products, a beautiful shop, and unique restaurant. It is a great place to enjoy a delicious lunch or dinner with a varied menu, including olive, cheese and charcuterie boards, or order a glass of wine and relax. I enjoyed a delicious chicken salad on a bed of greens perfectly dressed with just a hint of sesame oil in the dressing.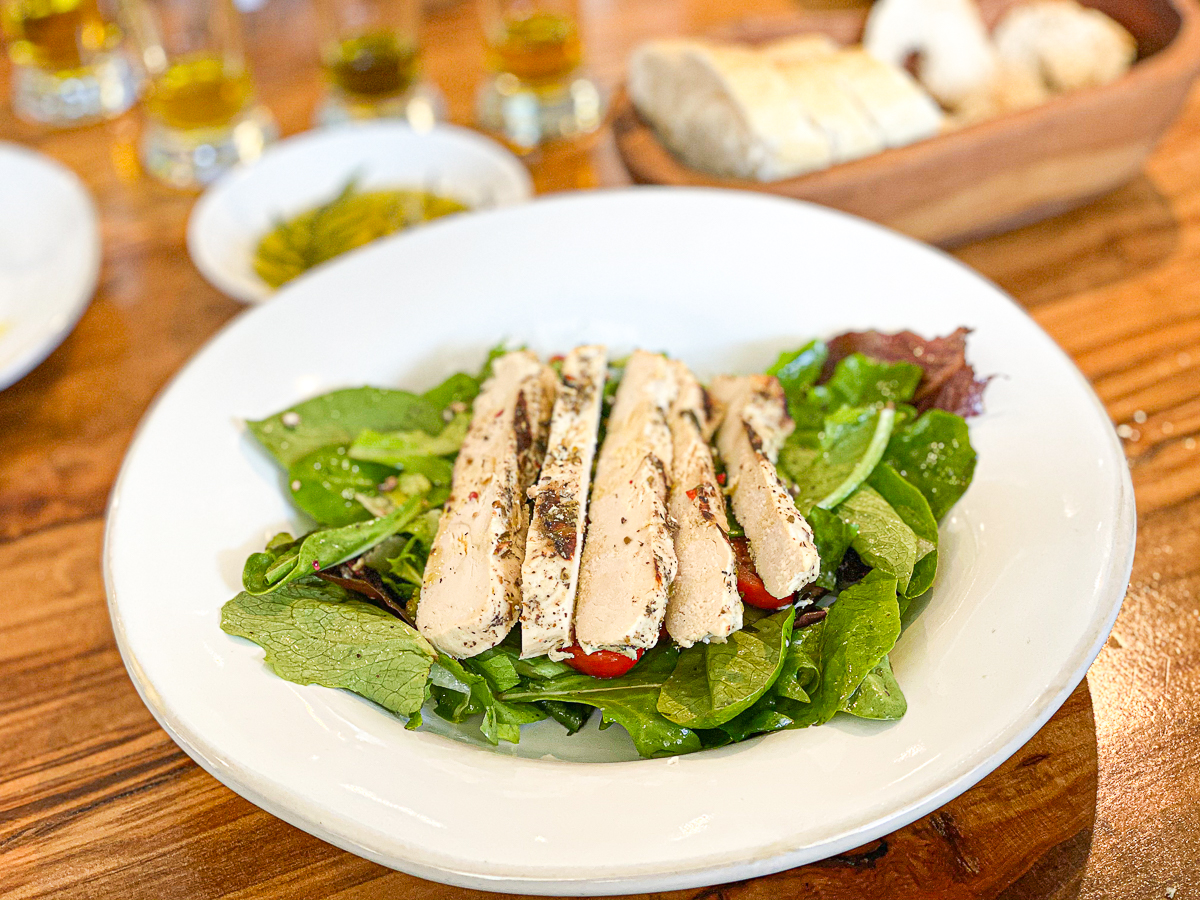 During our visit, we also experienced an olive oil tasting and was educated on the amazing benefits. Every variety of oils and balsamic vinegars are available to sample, and the staff is very knowledgable of their products.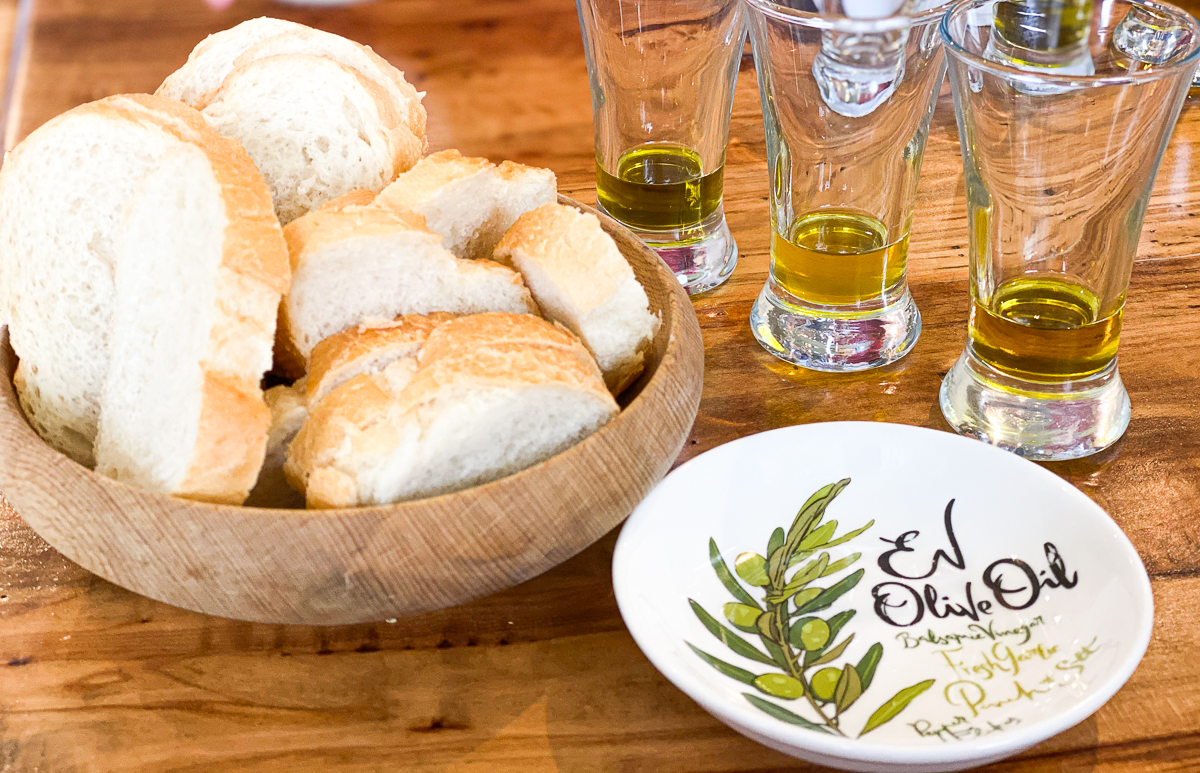 They offer premium balsamic vinegars and olive oils throughout the world, along with other unique souvenirs and gifts for you to purchase.
Halyards Restaurant
Dubbed by locals as "beach fancy", Halyards Restaurant is one of the best laid back chic restaurants on St. Simons Island, with a strict dress code of come-as-you-are, but their menu options are black tie. Offering creative American cuisine like seared diver scallops, Georgia shrimp and grits, and grilled steak along with an inventive eclectic wine least that features options like champagne or South African cabernet, Halyards is fine dining without the stuffy dress code. Visitors can stop in at the extended bar for a drink or have a nice meal with family and friends at a table filled with food that puts new spins on classic favorites.
Island Pho
Saint Simons Island may be an American island, but you can still find exotic flavors. Island Pho is the place to go for delicious Vietnamese fare like chicken or beef flank pho, spring rolls, shaking beef, and fried rice. it's a family-owned, no-frills establishment so come as you are and come hungry.
Mallery Street Cafe
A family-owned hotspot for breakfast and lunch near the historic St. Simons Island lighthouse, Mallery Street Cafe is the perfect example of how sometimes simple is best. This no-frills cafe offers the tastiest of traditional breakfast and lunch options like pancakes, eggs, and coffee and then later, salads, burgers, and sandwiches.
Nancy
For the finest of fine dining, dress well, and head to Nancy. The atmosphere is positively fine dining but laced with classic southern friendliness. The food, however, is all posh. Enjoy seasonally inspired soups, spring rolls, Asian-style chicken salad, smoked salmon egg salad sandwiches, ginger lime salmon, sea bass with avocado, and more. The food looks almost too good to eat, but you owe it to yourself to dig in.
Sal's Neighborhood Pizzeria
Sal's Neighborhood Pizzeria is the place to go for authentic, New York-style pizza. Owned by Sal Cenicol, a professional boxer from New Jersey turned pizza man, Sal's offers the best pies on the island. If you're not in the mood for a slice, you can also enjoy huge bowls of pasta, sandwiches like a giant meatball sub, and his signature calzones.
Sandy Bottom Bagels
Sandy Bottom Bagels brings New York to breakfast the way Sal's Neighborhood Pizzeria brings it to lunch and dinner. Serving fresh New York-style kosher bagels daily, The deli carries all the classic New York flavors like everything and pumpernickel, as well as inventive fare like asiago, sun-dried tomato, and Fench toast. Stop in for a bagel with cream cheese and lox or build your own breakfast bagel sandwich.
Southern Soul Barbeque
If you're a barbecue lover, then Southern Soul Barbeque will be the top of your list of restaurants on St. Simons Island. Touted by Southern Living Magazine as the best barbeque in the south and restaurant critic Bill Addison's favorite spot for Brunswick stew, Southern Soul has all the accolades and none of the airs. Visit this barbecue hotspot housed in a former gas station and enjoy barbeque options like pulled pork sandwiches, beef brisket, ribs, and smoked turkey breast. While you're there snag some sides like potato salad, mac & cheese, collard greens, and fried okra.
The Local Brew
The Local Brew is the kind of cafe that makes you feel right at home. A modern take on the cafe experience, you'll find decor that is modern and sleek but still welcoming. You'll also find some of the best coffee and teas on the island. For breakfast, enjoy avocado toast, french omelets, or yogurt, just to name a few. The restaurant also offers a variety of soups, sandwiches, and a delicious pound cake served with blackberries, honey, and aquafaba.
Enjoy the Best Restaurants on Saint Simons Island
Every year, tourists flock to Saint Simons Island for the views, wildlife, culture, and dining. Dining may be last on the list, but it is by no means least. If you're planning a trip to the island, be sure you take the time to visit as many of these restaurants on Saint Simons Island as you can. Your stomach will thank you.
Pin for Later: