Believe it or not, there are lots of fascinating castles in Texas. Texas is a huge state, full of major cities like Dallas, Houston, and Austin.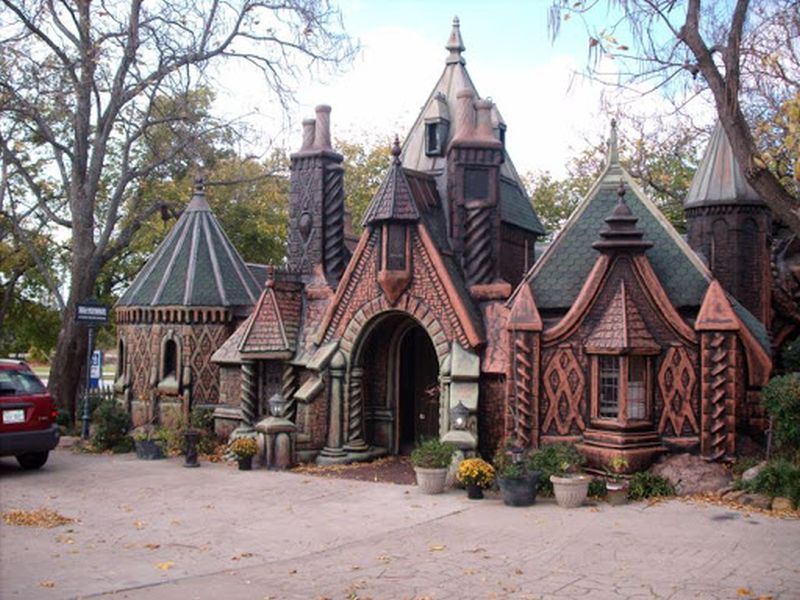 So, there's such a wide variety of activities for tourists. You might picture big cities, museums, and amusement parks as the most interesting things to do, but you can't ignore the state's castles. Some have a big historical significance while others have been repurposed for new uses.
Here are 15 castles in Texas that you might want to see.
#1 – Falkenstein Castle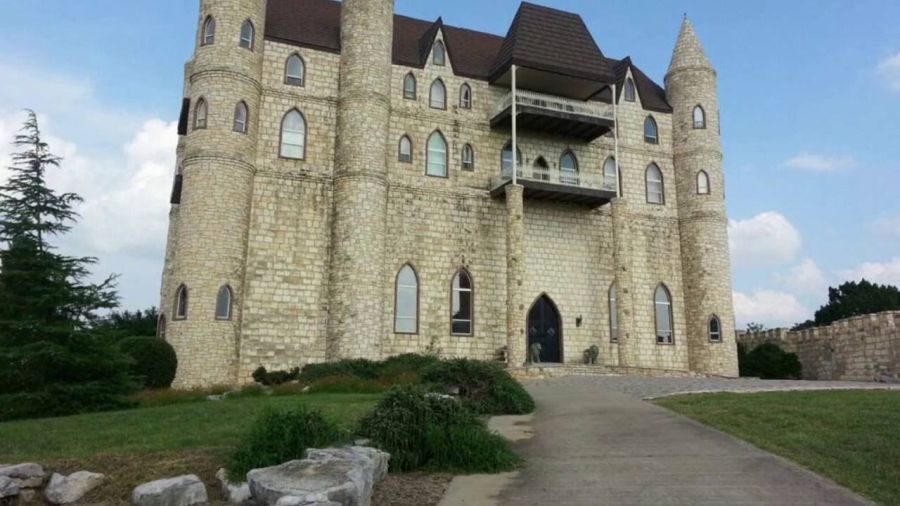 Terry Young came up with the idea for this structure after visiting Germany's Neuschwanstein Castle with his wife. On the walls of the Neuschwanstein, Young saw sketches of plans for another castle called the Falkenstein. Young was able to obtain the floor plan for the Falkenstein Castle, and he ended up building his own version in Burnet. The Falkenstein Castle now sits on 114 acres of land, and it's a popular wedding destination. It's not open for public tours, but you can rent it out for overnight stays and other events.
#2 – Bishop's Palace
Bishop's Palace in Galveston is a historical landmark that was built in 1887. Colonel Walter Gresham and his wife first lived in this mansion. This impressive structure was made to withstand hurricanes and other severe weather conditions. Some of its most notable features are Sienna marble columns, 14-foot-tall ceilings, a wood fireplace, and stunning stained-glass windows. Today, the property is owned by the Galveston Historical Foundation, so guests can take private tours if they'd like.
#3 – Castle Avalon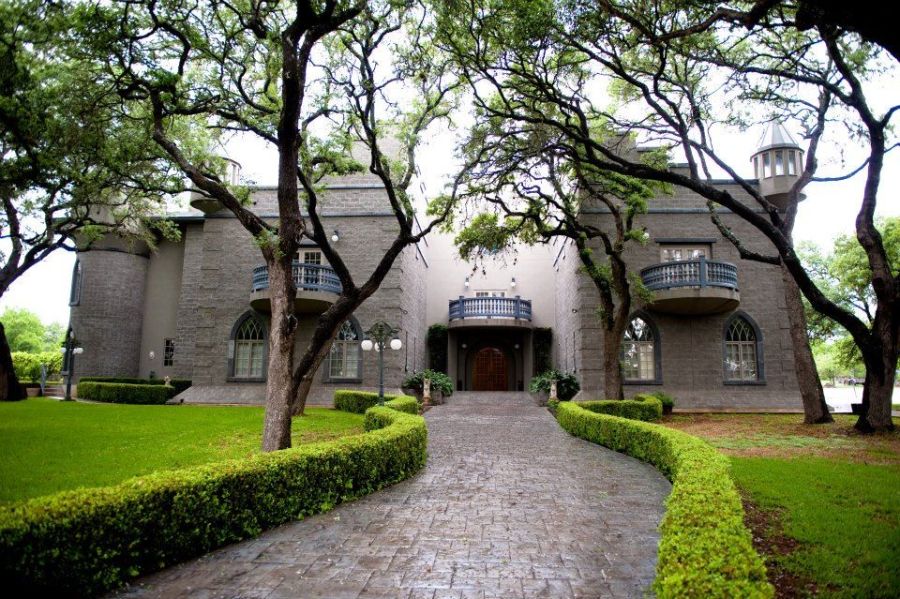 This is a secluded castle located in New Braunfels. It has some impressive architecture, including towers, wide balconies, a grand ballroom, and stained-glass windows. It also has a gorgeous outdoor space that's full of trees and hedges. It's mostly known as a wedding venue, and it's a location fit for a princess. Hosting an event at this castle is like taking a step outside of reality. Even the name came from an old Britain legend.
#4 – Old Red Museum Castle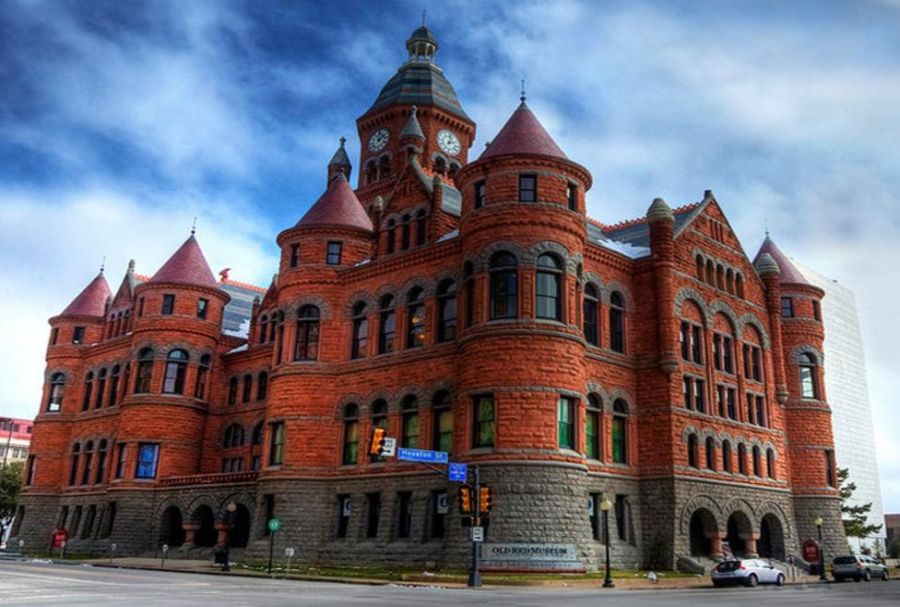 The Old Red Museum in Dallas is more than just a castle. It was once the site of the Old Red Courthouse. Over the years, it has gone through many significant changes, but its red bricks, large clock tower, and castle-like charm will always remain. Today, it's a museum that holds a wide variety of exhibits related to Dallas' history. The exhibits are updated every year to keep the museum exciting. Inside, you'll also find lots of unique architecture, including a grand staircase and over 100 stained-glass windows.
#5 – Capt. Charles Schreiner Mansion
This Kerryville castle is a historic landmark that can be rented out for private events. It was built in 1879 by Captain Charles Schreiner, who was a Texas Ranger and Confederate States Army Veteran. After he grew wealthy from being a merchant and rancher, he decided to construct the most incredible castle he could think of. It has six bedrooms and two stories, with lots of German and Italian elements throughout. Today, it's known as the Schreiner University's Hill Country Museum.
#6 – Newman's Castle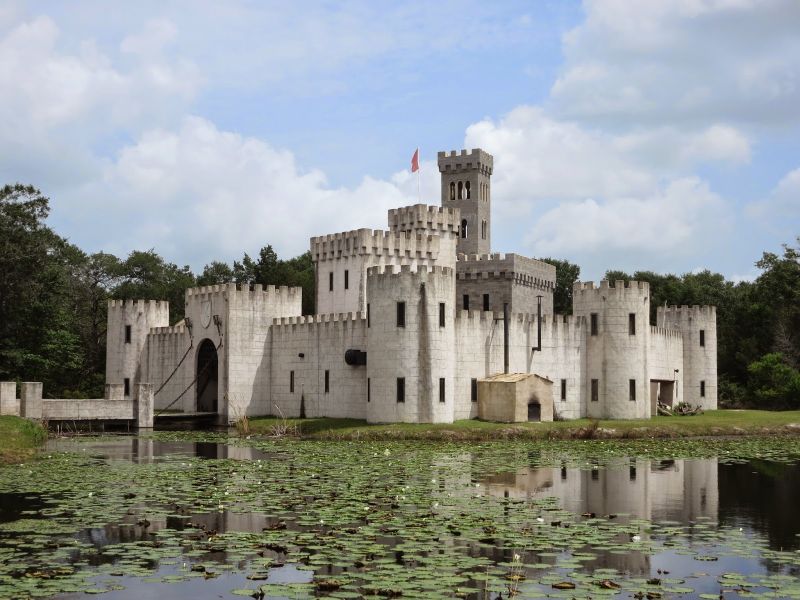 Newman's Castle in Bellville looks like a magical piece of history, but its construction only began in 1998. After traveling to Europe, Texas local Mike Newman was inspired to build a castle. As you can see, he was very successful. The impressive white castle is surrounded by a moat that has a drawbridge. Guests can tour the castle on most days, and tours include a visit to Newman's Bakery. This is also a common location for events like birthday parties and weddings.
#7 – Pemberton Castle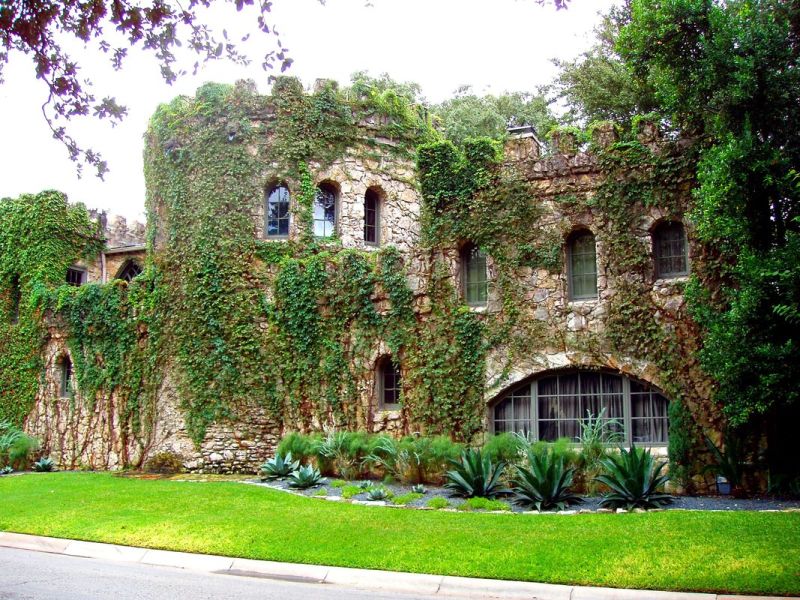 The Pemberton Castle is located in the Pemberton Heights neighborhood of Austin. It's famous because it made an appearance in the 1994 filmBlank Check, but it has been around since 1926. The neighborhood it's situated in used to be mostly farmland, but it has since become a desirable, high-end area. The Pemberton Castle once served as the sales office for Pemberton Heights, but now it's under private ownership. Since then, it has gotten a few renovations.
#8 – Elisabet Ney Museum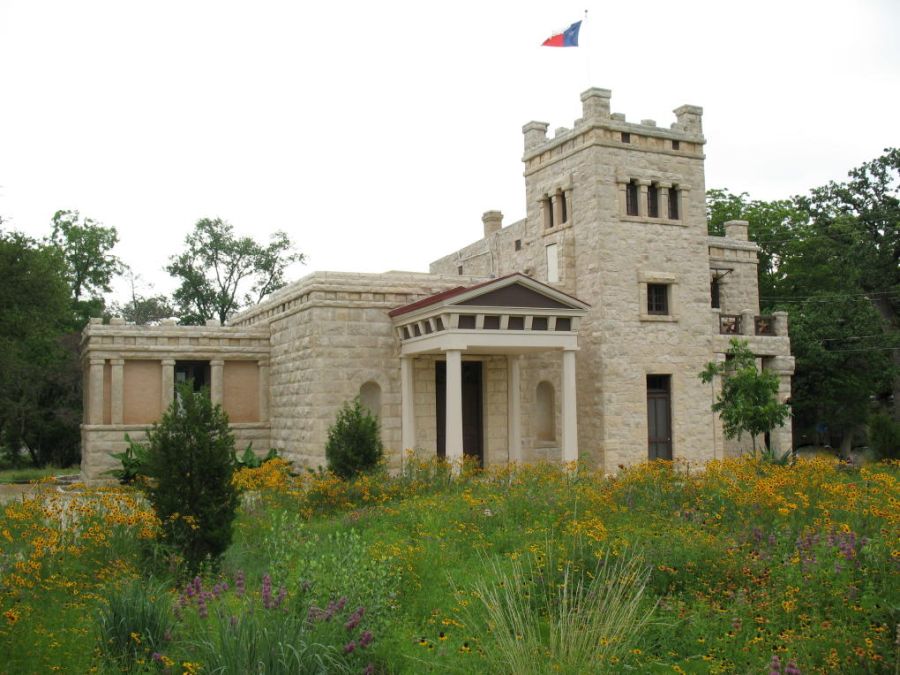 The Elisabet Ney Museum is another one of the castles in Austin, Texas. In 1892, sculptor Elisabet Ney bought this cream-colored structure to use as an art studio. She mostly created sculptures of well-known men, such as Stephen F. Austin and Sam Houston. She would often create portraits as well. Sadly, Ney passed away in 1907, but her friends worked hard to keep the castle in good shape. Now, it's a museum that guests can tour, host special events, and take classes at.
#9 – Trube Castle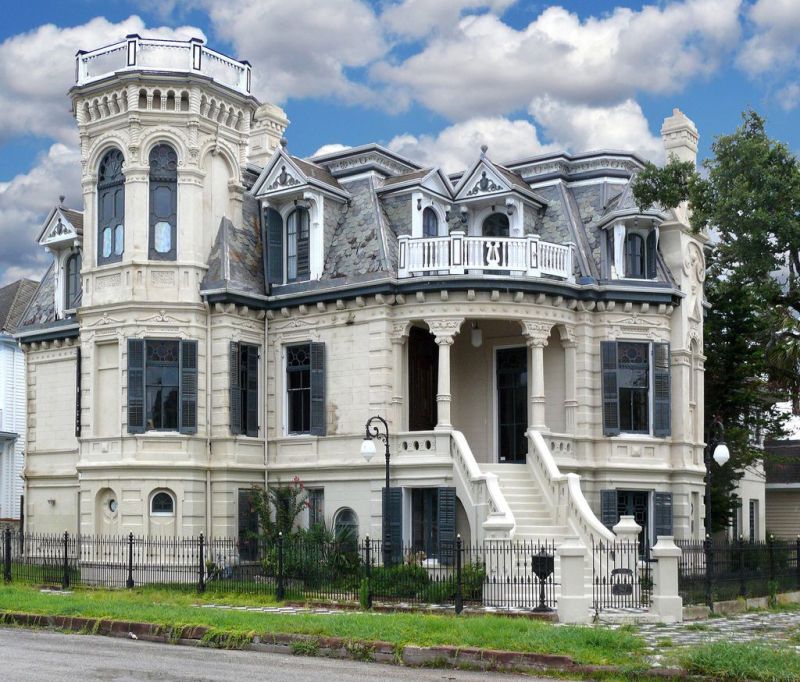 Like Bishop's Palace, Trube Castle is in Galveston, which is a perfect weekend getaway from Houston. Architect Alfred Muller built it in 1890. It's a Victorian-style castle that's over 7,000 square feet with at least 21 rooms. It has served many purposes over the years, including a private home and a bed and breakfast. Today, guests can tour it by appointment or rent it out for events and overnight stays. One of the best parts of the castle is the observation deck, which has gorgeous views of the water.
#10 – Shelby County Courthouse Castle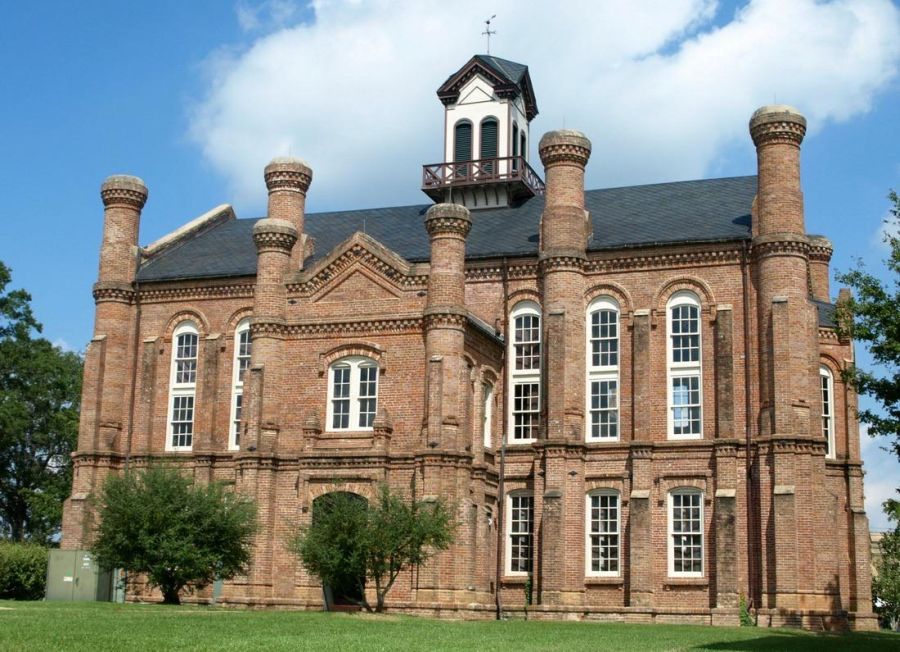 The Shelby County Courthouse looks just like a castle, thanks to its 12 red towers. This structure was built in Center in 1885, designed to resemble an Irish castle. Irish architect J.J.E. Gibson built the structure with his own hands, using over 2 million bricks. It has many unique design choices inside, including fireplaces in the bathrooms and an escape hatch by the judge's chair. It's no longer used as a courthouse, but instead, it's a visitor center that's open to the public.
#11 – Pignataro Castle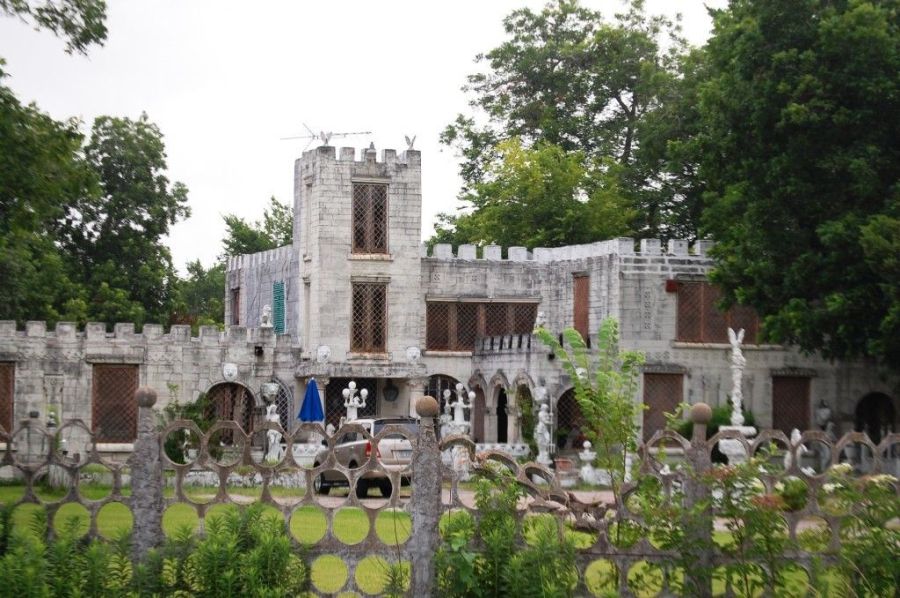 A lot of the history surrounding the Pignataro Castle is unknown. It's thought that the wife of entrepreneur John Christensen built it in the 1930s. It's designed somewhat like an old Spanish Villa. The castle has lots of cool sculptures sitting out front, which were created by the Pignataro family. The castle is located in Santa Fe, and it's a popular location for hikers to explore near. It's unclear who owns it now, but it has an eerie feel.
#12 – The Whiting Castle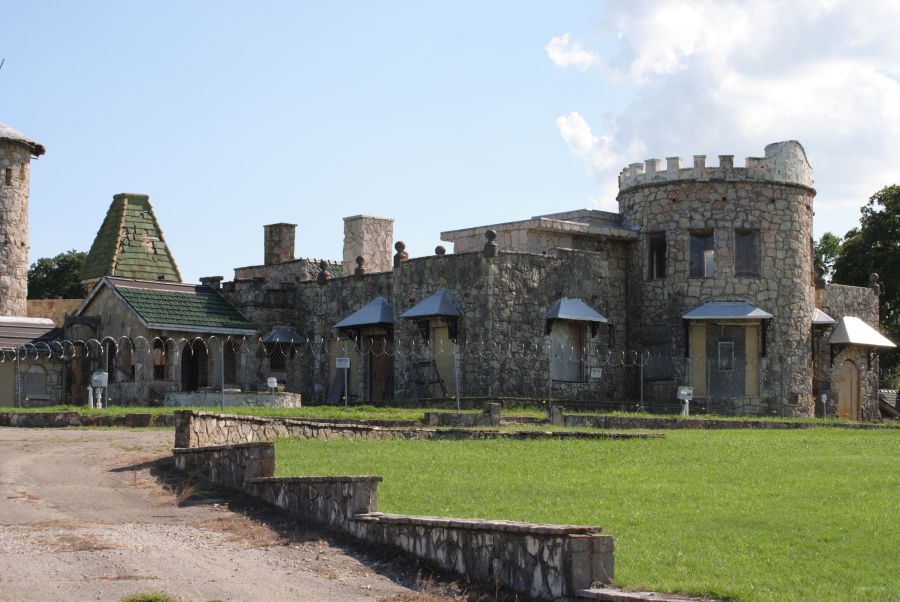 If you're looking for some haunted castles in Texas, then the Whiting Castle might be the destination for you. It's thought to be haunted, and now that it's abandoned and decaying, those rumors seem even more accurate. This Lake Worth stone structure covers about 6,500 square feet. It has gone through many different names over the years, including Lake Worth Castle, The Castle of Heron Bay, and Inverness Castle. It's privately owned now, so you can only view it from a distance.
#13 – Cottonland Castle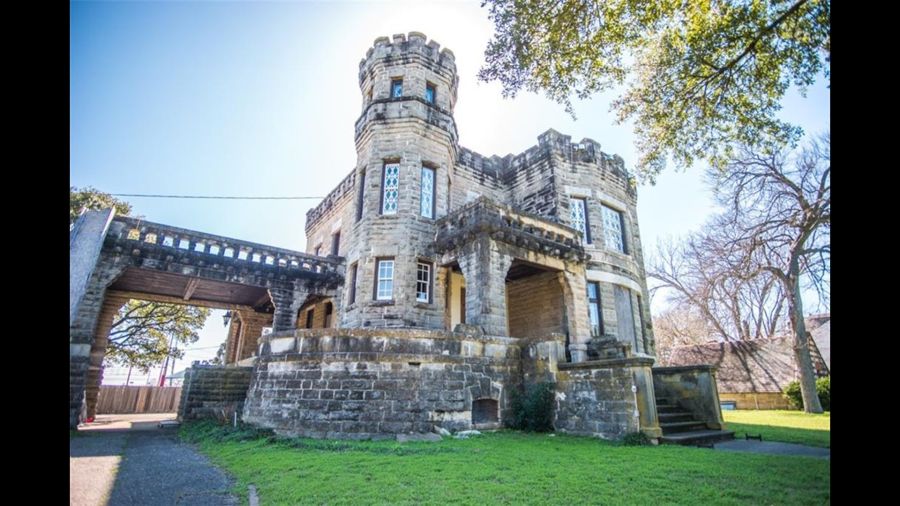 The Cottonland Castle in Waco is another privately owned property, but it's still cool to see. It was built in 1890, and it has gone through many renovations since then. It was even featured on the TV showFixer Upper. The initial builder of this property had big plans for the construction, but eventually fell on hard times and had to sell it. It went through many owners over the years and even ended up being abandoned for some time. After all that time, it's still a beautiful, impressive structure.
#14 – Darrell Wolcott's Castle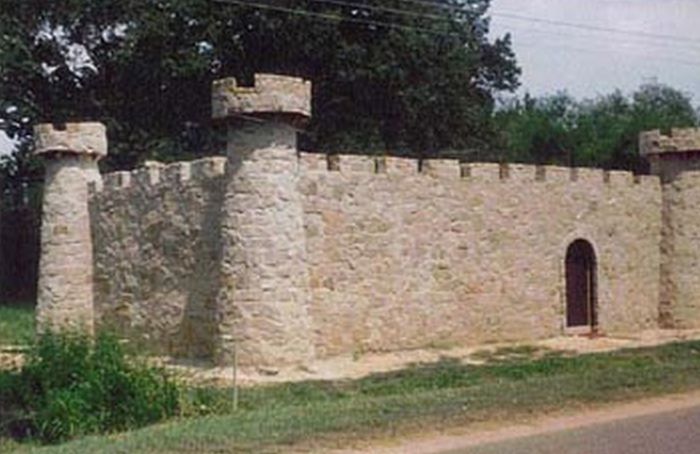 Darrell Wolcott's Castle was once a well-known building in history, but now it's a vintage castle that not many know about. It looks exactly like you'd expect an old castle to. It's named after the president of Ancient Wales, Darrell Wolcott, and it's used as a library to study Ancient Wales. It's located in Jefferson near the road, but is surrounded by trees and shrubs.
#15 – Magic Fun House Castle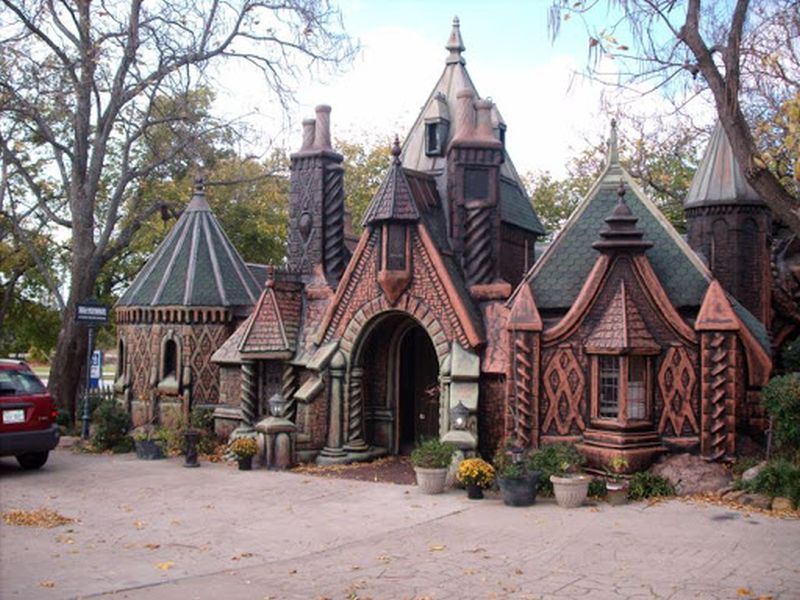 The Magic Fun House Castle is more of a tourist destination than a historical castle, but it's still one of the most fun castles in Texas. It's located in Rowlett, and it's made up of several buildings and towers. Inside, you'll find lots of bizarre magical attractions, including displays, artifacts, and souvenirs. It's a great place for birthday parties and for anyone who loves magic tricks. It will be an uplifting break from the other creepy and elegant castles on this list.
If you're not sure how to make your Texas trip complete, consider adding some of these breathtaking castles to your itinerary. Whether you're looking for something creepy or fairy tale-like, this state has it all. Castles are sure to make any vacation a little more interesting, so what are you waiting for?