If you are looking for a healthy and fresh side dish to serve with any main course, consider adding a Mediterranean inspired dish. The Mediterranean diet involves plenty of whole grains, nuts, and vegetables, and of course, heaps of olive oil. Next time you don't know what to add to the side of your fish or meat dish, try out one of these delicious side dishes listed below. These recipes all use fresh and seasonal vegetables to create nutritious and hearty salads and side dishes.
20 Mediterranean Side Dishes That are Healthy And Tasteful
1. Minty Fresh Zucchini Salad and Marinated Feta
For a refreshing and easy-to-make side salad, try out this recipe from Pure Wow. This salad is super quick to make and uses fresh mint and orange zest to pack in the taste. It's best to prepare the feta cheese in advance, as the longer you can leave it for, the more of the flavor and oil it will pick up. The marinade acts as a dressing and really complements the zucchini in the salad perfectly.
2. Mediterranean Grilled Vegetables
Ready in just twenty-five minutes, including prep and cooking time, these grilled vegetables are the perfect addition to any meat or fish dish. Combining zucchini, mushrooms, pepper, and red onion, this is a healthy and filling side dish which is seasoned with rosemary and oregano. Check out this Mediterranean grilled vegetable dish from Allrecipes, that's great to use on those busy nights when you still hope to serve a healthy meal to your family.
3. Greek Spinach and Rice – Spanakorizo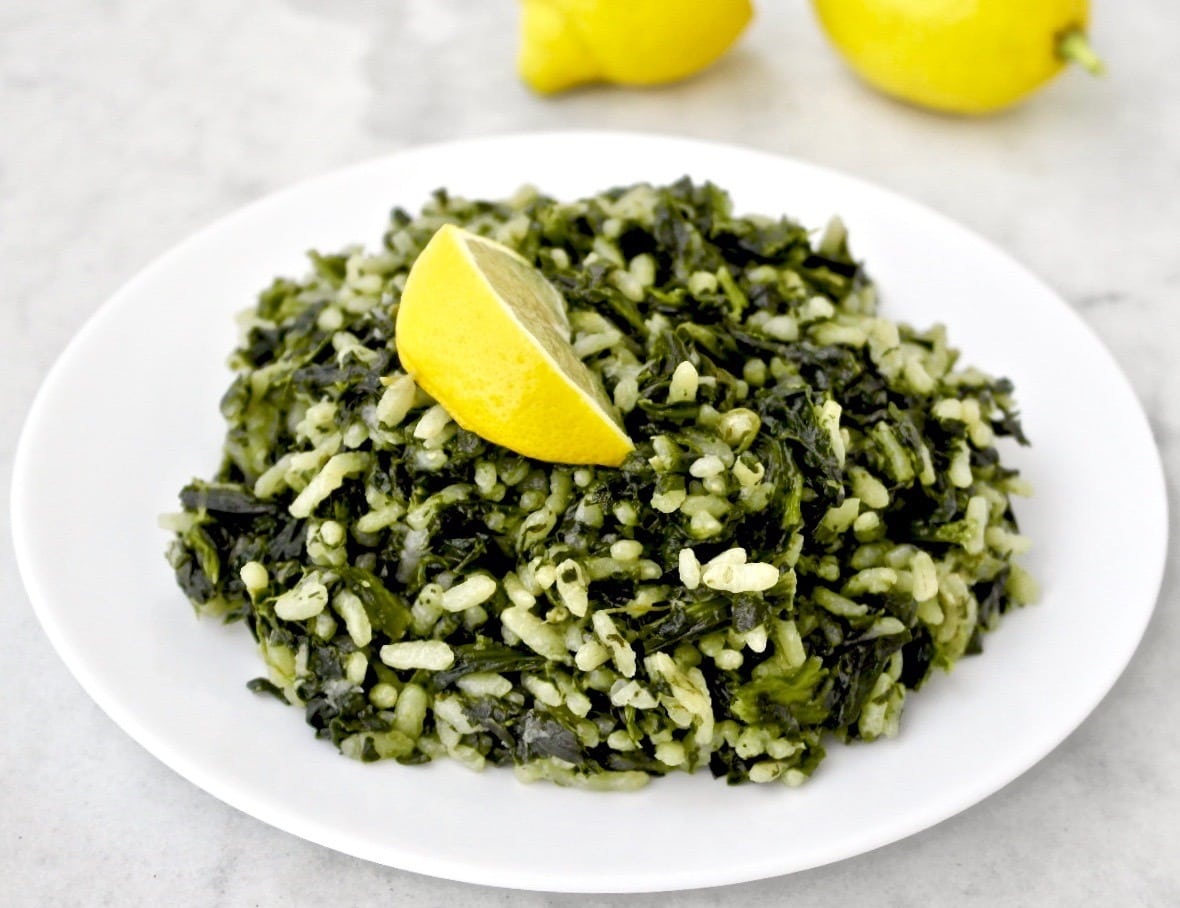 This dish is a staple Greek rice recipe that many consider comfort food. Olive Tomato shares this recipe that's so simple to create and makes a nutritional side dish to be served alongside meatballs or even classic Greek cheese pies. The spinach is packed with fiber and antioxidants, and you'll add lemon for an additional zest to the dish. The rice will provide some substance and carbohydrates to your dinner, creating a more filling meal. It's an easy way to add additional vegetables into your diet by disguising them with this delicious side dish.
4. Easy Mediterranean Salad
Gather for Bread shares this light and colorful recipe for a quick and easy-to-create salad which will make a great appetizer or side for any dinner. Combining lettuce, red onions, tomatoes, and cucumber, you'll finish off this salad with a homemade vinaigrette. The best thing about making salad as a side is that no cooking is involved and you'll spend just minutes preparing this Mediterranean side dish.
5. Mediterranean Couscous
Couscous is one of my favorite grains, and this recipe from Cuisine at Home combines plain couscous with green peas, feta cheese, pine nuts, and lemon. It has plenty of flavor yet mixes together in just minutes. You'll want to use this recipe over and over again when you're in a rush but want a satisfying and healthy side dish that even the pickiest of eaters will enjoy.
6. Savory Mediterranean Orzo
Mediterranean orzo is an ideal side dish which makes an exotic alternative to a bowl of regular rice or a pasta side dish. By adding squash, red peppers, and spinach, you'll make a colorful side dish that looks as great as it tastes. Try out this recipe from Taste of Home which takes forty-five minutes to create twelve servings.
7. Mediterranean Diet Potato Salad
This classic side dish gets a Mediterranean twist in this recipe, which offers the perfect healthy upgrade to the always-popular potato salad. Food Wine and Love shares this lower fat roasted dish that uses less processed ingredients. Onion, pickles, and mayonnaise combine together with the potatoes to create a creamy and flavorful side.
8. Balsamic Mediterranean Roasted Vegetables
Balsamic vinegar is one of my favorite dressings for any salad or vegetable dish. This is a great dish to create if you are eating alone or as a couple and the preparation time involves only minutes of work in the kitchen. Everything can be put together on the same baking tray in this recipe from Feed Your Sole, which also uses oregano to bring out extra flavor in the aubergine, courgette, and pepper.
9. Mediterranean Quinoa Salad
Combining quinoa, cucumber, tomatoes, olives, and feta cheese, this quinoa salad combines many of the best tastes of the Mediterranean diet.Ready Set Eat shares this salad recipe that takes only ten minutes to prep and twenty minutes to cook. It's a low-calorie side that makes a healthy addition to any meat or fish dish.
10. Tomato Feta Salad
Sometimes you just want a simple side dish to add to a dazzling main course, and this tomato feta salad from Eating European is the ideal option. By using ripe and juicy tomatoes when they are in season, you'll make this fresh and healthy side dish that your family and friends will love. It will take just minutes to create and uses simple and easy to find ingredients.
11. Mediterranean Tomato Rice
This recipe from Food is a filling and hearty side dish that makes a perfect complementary side for any vegetarian or meat main course. It will be ready in just forty minutes and serves four people. Adding pepper and celery into the mix sneaks some vegetables into this recipe to make it a nutritious side dish.
12. Mediterranean White Bean Salad
Budget Bytes shares this easy and simple side dish which adds plenty of texture to your meal, without the added stress of spending too much time on your meal preparation. In just 15 minutes, you'll create a colorful, low-cost dish using basic and easy-to-find ingredients. This is an ideal side to enjoy as leftovers for lunch the following day.
13. Greek Lemon and Garlic Potatoes
For a twist on your usual boring potato sides, try this Greek lemon and garlic potatoes dish from Mediterranean Living. This recipe will create the perfect potatoes which are crispy on the outside and tender inside. They are super quick and easy to prep and will give you great results without much skill needed in the kitchen. The garlic and lemon flavors combine for a yummy taste to the potato dish and will add a special touch to any dinner.
14. Mediterranean Rice Salad
My Recipes shares this bright and flavorful Mediterranean Rice Salad, which goes well with any grilled dish. Combining olives, pepper, spinach, green onion, and feta cheese, this rice salad offers the best Mediterranean flavors for a filling and healthy side dish that's under 300 calories.
15. Mediterranean Low Carb Broccoli Salad
For a super easy and nutritious side dish, try this recipe from Food Faith Fitness. Instead of using mayonnaise, this salad is made with Greek yogurt. It's a protein-packed dish that's ideal as an everyday dinner side or for taking to your next family potluck meal.
16. 10-Minute Mediterranean Garlic Roasted Vegetables
In just ten minutes you'll have a delicious tray of roasted vegetables, thanks to this recipe from Beauty Bites. You'll cook all of the vegetables together in a pan to create a healthy veggie side dish that is low-carb and suitable for vegans. If you are trying to eat clean, it's an excellent nutritious side dish to go with your vegetarian or meat main course.
17. Roasted Eggplant Salad
This is the perfect side dish for a summer party or barbecue and takes just twenty-five minutes to prepare. It can either be served warm or at room temperature, so it would be great for transporting when visiting friends and family members. Combining eggplant, red peppers, tomatoes, garlic, and red onions, this recipe from Grabandgo Recipes creates a colorful and attractive salad.
18. Mediterranean Shrimp Salad
If you are looking for a bit more of a substantial side dish, try this shrimp salad from Salty Side Dish. It combines avocado, cooked shrimp, onion, and tomatoes together with a lemon vinaigrette. Perfect for summer evenings, this salad would make a great appetizer as well before your entrée. The addition of the shrimp in the recipe makes it ideal for serving alongside steak or another seafood dish.
19. Mediterranean Tri-Bean Salad
Happi Homemade with Sammi Ricke shares this healthy and colorful salad recipe that makes a delicious side and would be perfect as a light meal as well. You'll mix together three different types of beans, olives, and vegetables to create a dish that can serve ten and is even suitable for vegetarians. It's such an enjoyable side dish that you'll want to create again and again.
20. Mediterranean Asparagus
Asparagus is one of my favorite vegetables, and I particularly enjoy serving it as a side with steak. This recipe from Cast Iron Keto combines asparagus with lemon and garlic to create a tasty side. It's served over whipped feta and topped with sun-dried tomatoes and olives, combining the best flavors of the Mediterranean in one side dish. Ideal for individuals following the keto diet, this recipe is low-carb and could even be served by itself as a light main meal.
Mediterranean dishes are not only delicious and filling sides, but they're extremely simple to cook. I love experimenting with different vegetables and seasonings. All of these side dishes would make great additions to any main meal, and you'll find them all to be healthy and nutritious options that your family and friends will love. Using seasonal vegetables, you'll enjoy rotating through these recipes throughout the year to cook fresh and healthy sides.