Fogo de Chão Brazilian Steakhouse – New Spring Menu
This past week, my family and I celebrated my 40th birthday at Fogo de Chão in Atlanta. This Brazilian Steakhouse commands respect in Georgia and is a favorite of mine. Atlanta has two locations to serve you, both Buckhead and Dunwoody plus over 25+ locations all over the world. They are launching a light and refreshing seasonal menu that features healthy recipes and tasteful cocktails that is sure to put everyone in the mood for Spring and Summer. I had an opportunity to sample and taste their new seasonal menu items along with experiencing the Full Churrasco Experience. Let me tell you, the new seasonal items and dining experience did not disappoint. This Spring Menu is only for a limited time and offered at all their locations. I received a complimentary meal to help facilitate my review, but all opinions here are my own.
There is no question why Fogo de Chão is considered the best Brazilian Steakhouse in Georgia. They offer an amazing variety of grilled meats and a wide selection of some of the freshly prepared menu items offered at their colorful Market Table. The Market Table items, paired with Brazilian-themed dishes and recipes are so delightful.
Fogo de Chão's new seasonal cocktail items include:
Smoke & Honey – Monkey Shoulder Whisky and peaty Glenmorangie Original are combined with honeyed ginger and lemon for a smoky take on a classic sour.
Guava Do Sul – Belvedere Vodka is shaken with guava puree and fresh lemon, then topped with La Marca Prosecco to create a crisp and sparkling cocktail.
Andean Punch – Fresh strawberries are muddled with guava and mint, then topped with sparkling soda for a refreshing non-alcoholic treat.
Their fabulous cocktails receive an A+ from me. I enjoyed my pre-dinner experience by sipping on some of the new tasty spring cocktails.
Your experience continues with the gourmet Market Table & Feijoada Bar which offers seasonal salads, fresh vegetables, feijoada (traditional black bean stew served over rice) and soups to name a few.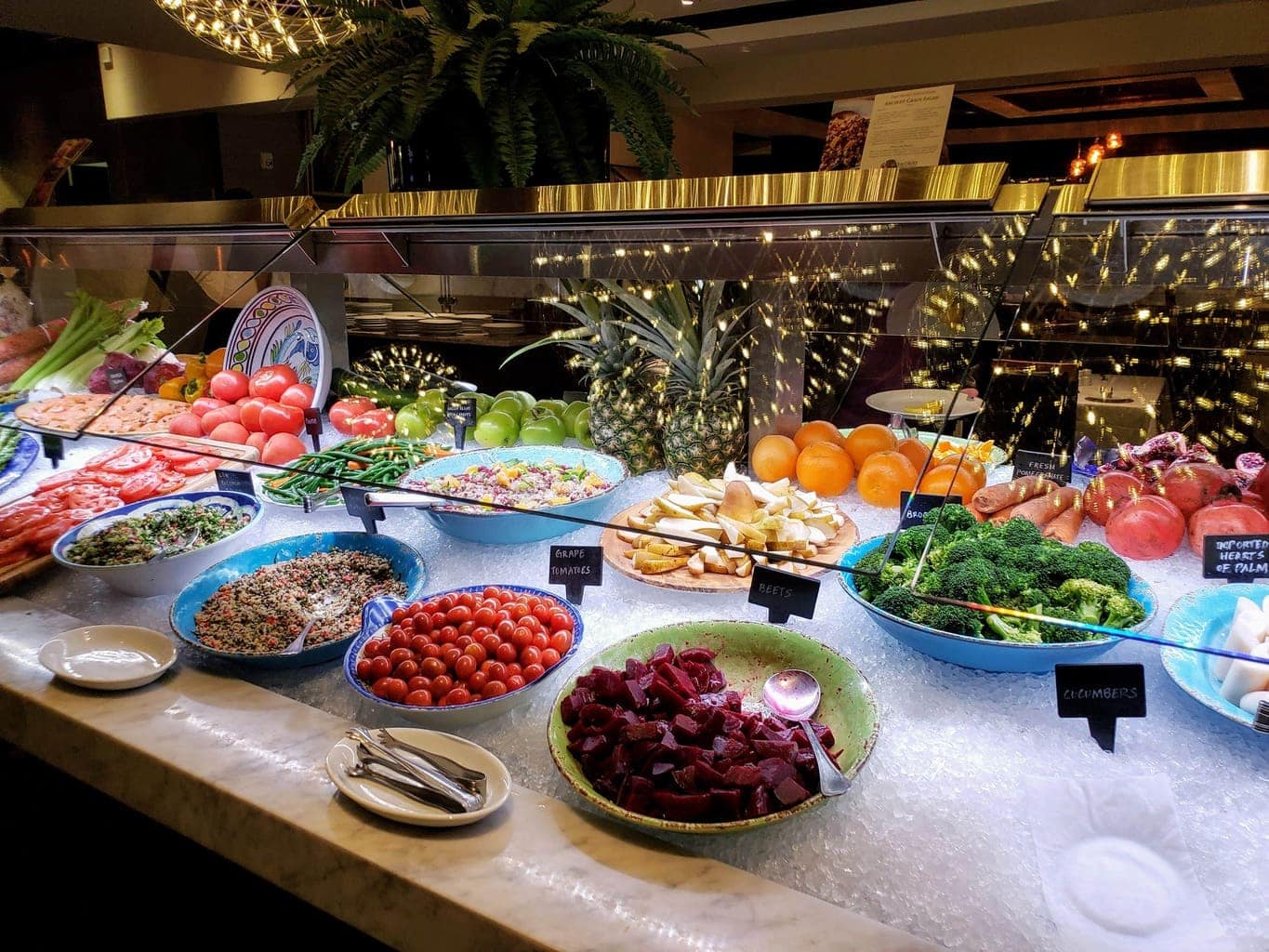 Fogo's new Spring menu items at the Table Market include:
Ancient Grain Salad – This gluten-free recipe features a powerhouse of superfoods, including quinoa, chia seeds, toasted kasha and wild rice with diced apples, pomegranate and oranges all tossed in a house-made citrus vinaigrette.
Asparagus and Spring Pea Salad – Fresh asparagus, spring peas and arugula are tossed with goat cheese, lemon zest and herb vinaigrette and then topped with fresh cracked pepper for a refreshing bite.
Sweet Pea and Asparagus Soup – This vibrant vegetarian soup is made with sweet spring peas, asparagus and a blend of parmesan, cream and fresh ground black pepper.
These new spring menu items are not only healthy, but also suitable for those following a vegetarian or gluten-free diet.
Finally, enjoy a full Churrasco experience with Fogo's pre-fixed menu. This includes fire-roasted meats carved tableside by Brazilian trained chefs. This accompanied with house specialties like Picanha(signature sirloin), Filet Mignon, Ribeye, Fraldinha (Brazilian sirloin) tender lamb chops, and delicious seafood choices.
The meats are paired perfectly with their signature homemade sauces.
If you have any room left for dessert, you don't want to miss the dessert menu. I received a surprise South American Flan birthday dessert topped with sweet caramel and my girls ordered a warm molten chocolate cake, topped with vanilla ice cream.
The food was truly a culinary delight from Brazil and I promise you will not leave hungry. This was my best birthday celebration yet, and it is definitely at the top of my list for steak houses in Georgia.
Fogo de Chao serves two locations in the Atlanta area. The menu is divine and provides an excellent selection of the best of the best in Brazilian cuisine. Please treat yourself to this fine cuisine and make sure to try their new seasonal Spring menu items as well.
Hours:
Hours may vary by location.
Cost:
For the Full Churrasco Experience which includes Market Table & Feijoada Bar, lunch prices start at $34.95 on weekdays, $37.95 on weekends. Dinner Full Churrasco Experience start at $46.50. Other menu options are available.
Follow Fogo de Chão on social:
Website | Facebook | Twitter | Instagram | YouTube
Southern Family Lifestyle and their respective partner Fogo De Chao is giving away a $100 gift card for the Atlanta or Dunwoody location. Please enter this giveaway via the Rafflecopter below.
a Rafflecopter giveaway

Must be at least 18 years of age. Atlanta residents only within 75+ mile radius of location of theatre. For your convenience, we have set up Rafflecopter to help us manage the whole process smoothly. Please visit our giveaway rules for any questions.