Helen, Georgia – A Family Fun Trip and Weekend Getaway
Helen, Georgia is a great place to take the kids for a jammed pack day of fun or even a weekend getaway. Helen is conveniently located about an hour and half from Atlanta nestled in the beautiful North Georgia Mountains.  It is a charming little city with some great history; known for it's popular yearly Octoberfest, North Georgia Wineries, Bavarian village and restaurants, and tubing down the Chattahoochee River. It's no wonder it is the states third most visited city.
A special thanks to Alpine Helen Convention &  Visitors Bureau and local partners. Some of these activities and places we visited were part of an organized media trip.  All opinions expressed here are my own.
Tubing Down The Chattahoochee River
Our favorite tradition each year has always been tubing down the Chattahoochee River. On a hot Summer day, this is always fun for the whole family.  I recommend choosing the 1-hour trip when the water is low.  You can tube for $ 8 per person or $12 all day pass which gives you the opportunity to go as many times as you want!
Visit Babyland General Hospital
My girls are always asking to adopt a new Cabbage Patch Doll each year.  I have been coming here for years, even before the new location. I made it a tradition for my girls to enjoy the experience as well. They have a beautiful new location and voted one of the Travel Channel's Top Ten Toylands. Watch the birth of a cabbage patch doll and adopt and take home your very own! We always adopt a new Cabbage Patch Doll every year.  Admission is free.
Pan For Gold and Gems at Gold & Gem Grubbin'
If you have never gone gold and gem panning, then you and your family are in for a treat. Visit an authentic operating Gold Mine and pan for gold and gemstones! Learn the art of gold panning just like the old timers did it!
Visit Anna Ruby Falls
We always love visiting Anna Ruby Falls.  Enjoy a brisk hike up the Anna Ruby Falls Trail to witness a beautiful double waterfall located near Unicoi State Park. The walk is up a smooth pathway leading you up to the beautiful water falls. It is not only stroller friendly, kid friendly, but pet friendly too.  You will be in awe when you make it to the top, so plan to bring your camera and take in some breathtaking views.
Ziplining with Nacoochee Adventures
If you are a thrill seeker, then you will love zip-lining the 1/2 mile long zipling course referred to as "The Intimidator." Your zip-lining experience will include overlooking Mount Yonah and the Nacoochee Valley. You can even race a partner down the longest dual zip-lines in the US! They also have smaller mini zip-lining courses, called the "Moonshine Canopy Tour." This is their more basic but popular tour.
Dining in Helen, Georgia
We have a few favorite dining spots in Helen. For breakfast or lunch, we love stopping at Hofer's of Helen. They bake all of their breads in a stone hearth oven, made fresh daily and serve up a delicious breakfast or lunch too.
For dinner, we always manage to find ourselves stopping at The Nacoochee Village Tavern & Pizzeria Restaurant for delicious pizza. They make fresh oven baked pizza and serve local wines made and grown in Georgia. The restaurant is cozy and you may expect a wait.
Other popular dining options available in Helen, Georgia:
The Meeting Place Family Restaurant
1837 Stovall House
Cafe International
Creekside Deli
Paul's Margarita Deck
Wendell's Country Restaurant
Popular Events in Helen, Georgia
Hot Air Balloon Festival
Helen recently held their 44th annual Hot Air Balloon Festival, the oldest balloon event in the South. Starting from the Alpine Village of Helen, watch in awe as the hot air balloons travel across the sky for three days, moving their way across to the Atlantic. Known for the only long distance hot air balloon race of it's kind. This event usually occurs in June.
Oktoberfest in Helen, GA
Helen's biggest celebration! German music, dancing, food & drinks! Enjoy Waltzes, Polkas and the Chicken Dance!  Octoberfest usually occurs around the second week of September through the end of October. They also open up Oktoberfest with a popular parade and "tapping of the keg" tradition.
Georgia's Spirit Of Appalachia Food, Wine & Art Festival Hardman Farm In Sautee Nacoochee
A celebration of southern Appalachia history and heritage at Hardman Farm State Historic Site usually occurs around the middle of September. Experience Georgia wines, beer, chefs, food, art, music and products at this popular festival.
Christkindlmarkt Downtown Helen, Ga
Christkindlmarkt is a traditional German event offering everything from Christmas decorations, unique gifts and an assortment of delicious sweet foods, drinks and candied treats. This event usually occurs around the first and second week of December.
Accommodations in Helen, Georgia
Holiday Inn Express (BRAND New!)
Helen, Georgia is also a great place to visit for a weekend getaway with the girls or a romantic getaway with your loved one.
Visit The Wineries in Helen, Georgia
Until recent, I had no knowledge of all the amazing wineries that Helen has to offer. Helen is known for some of the best wines in the North Georgia Mountains. We always make a stop at Habersham Winery to stock up on some of our favorites. They are located right inside the town of Helen, GA. They offer wine tasting at $7.50 per person and includes five wine samples and a souvenir glass to take home.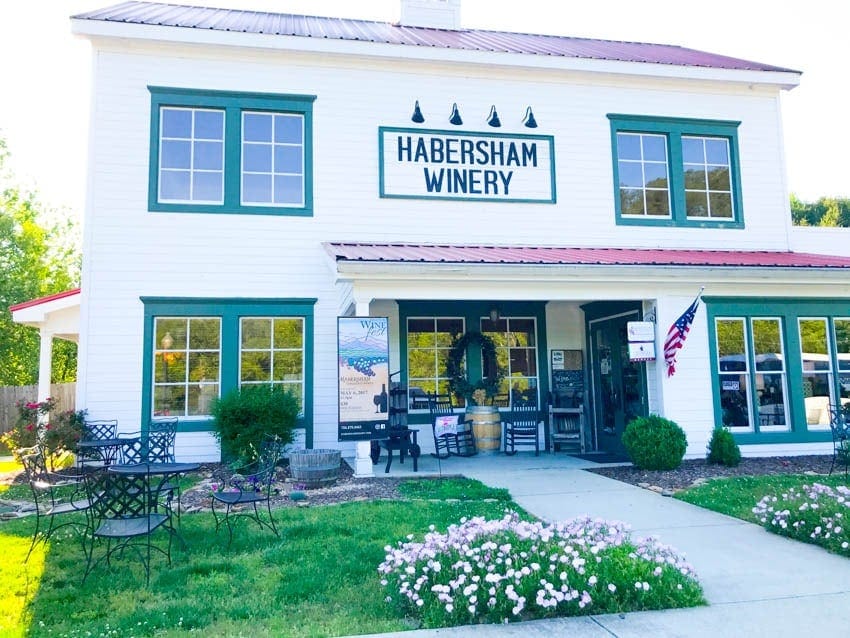 If sampling wine is your thing, then you may want to consider booking a North Georgia Wine Tour with VIP Southern Tours. The pricing is great, with their highest price at $139 for their busiest day. That price includes pickup, transportation, tour guide, and generous wine tastings. I guarantee you will see North Georgia in an entirely new light. The beauty of the Blue Ridge Mountains coupled with the equally stunning beauty of these wineries will have you coming back again and again to experience one of the most unique parts of North Georgia – their amazing vineyards!
With so much to see and do in Helen, Georgia; you could spend a weekend or even a week here!  I have always loved the charming City of Helen. I've been coming to Helen, Georgia every since I was a teenager. Now as a family, we have always made it a tradition to visit every year.
Have you been to Helen before?  What is your favorite thing to see or do?