The holidays are coming up — which means the overwhelming task of finding the perfect present for each family member is looming ahead. Gift baskets are an easy and affordable gift idea that will leave your loved ones feeling special and appreciated. They are great because you can personalize each basket to tailor to a specific event, personality, or time in someone's life. Although gift basket ideas really come in handy during the holiday season, they are also great gift ideas to keep in mind throughout the year. The following list contains 20 thoughtful gift basket ideas that will make perfect gifts.
20 Cool Gift Basket Ideas for This Season
1. Sunshine Gift Basket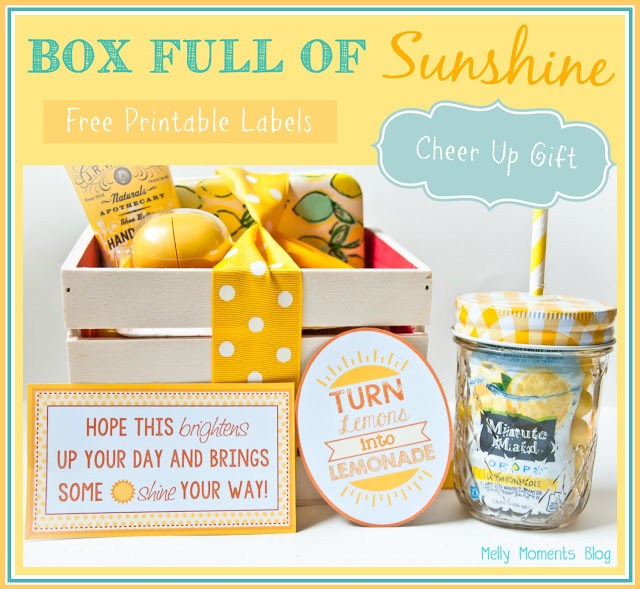 I'm not sure anyone would argue with the fact that times have been rather tough lately. This is why I love the idea of a sunshine gift basket from Melly Moments. This basket is meant to brighten your loved one's day. Creating this basket full of sunshine is super easy because all you need to do is find yellow items from your local store! The basket shown was made entirely from the dollar section of Target — even the cute little basket itself. This basket could be used for a refreshing Christmas gift, a birthday gift, or even a "get well" gift. Everyone needs a little bit of sunshine in their life!
2. Self-Care Basket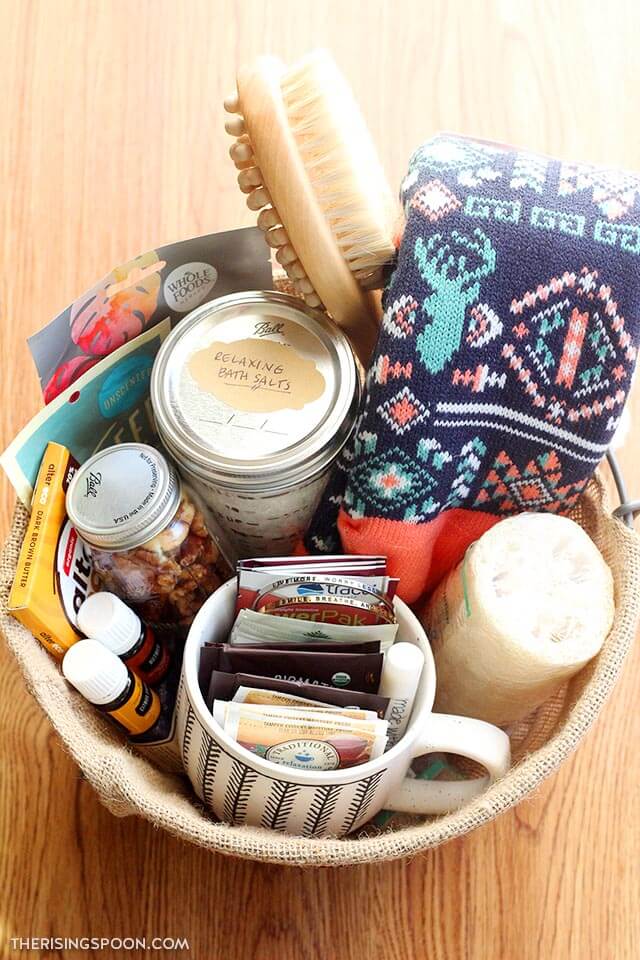 This self-care basket by The Rising Spoon is a great way to show someone that you care about them. This basket is super easy to make using items that you can find at your local drugstore. Find a small basket and fill it with items that you feel will make your loved one happy. Self-care looks different for each individual, so carefully pick out items that you feel will promote the wellbeing and happiness of your loved one.
3. Family Game Night Basket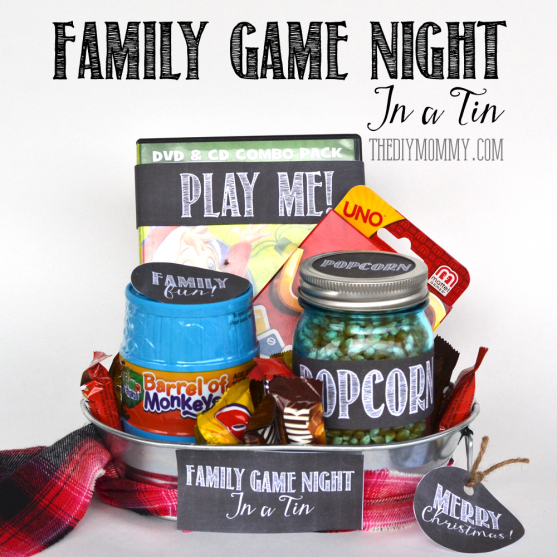 This fun basket from The DIY Mommy is perfect to bring the family together for an epic game night! You don't necessarily need to use a tin, but it's a very unique approach to a gift basket. Place some fun games in your basket of choice, add a few snacks, and let the good times roll!
4. Housewarming Basket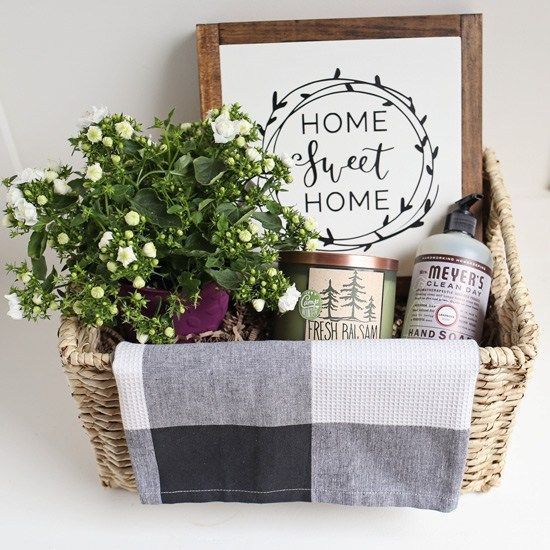 Do you want to do something a little more creative than bringing your friend a bottle of wine or a plant to their new home for a housewarming gift? This gift basket idea from Angela Marie Made is the perfect creative spin on the average housewarming present. She opted for a rustic-looking basket, before filling it with shredded kraft paper filler from the Dollar Store to give the basket some volume. She then placed a pretty plant, a small decor item, a stylish dish towel, and some nice soap on top to create the perfect housewarming basket that anyone will enjoy.
5. BBQ Basket for Him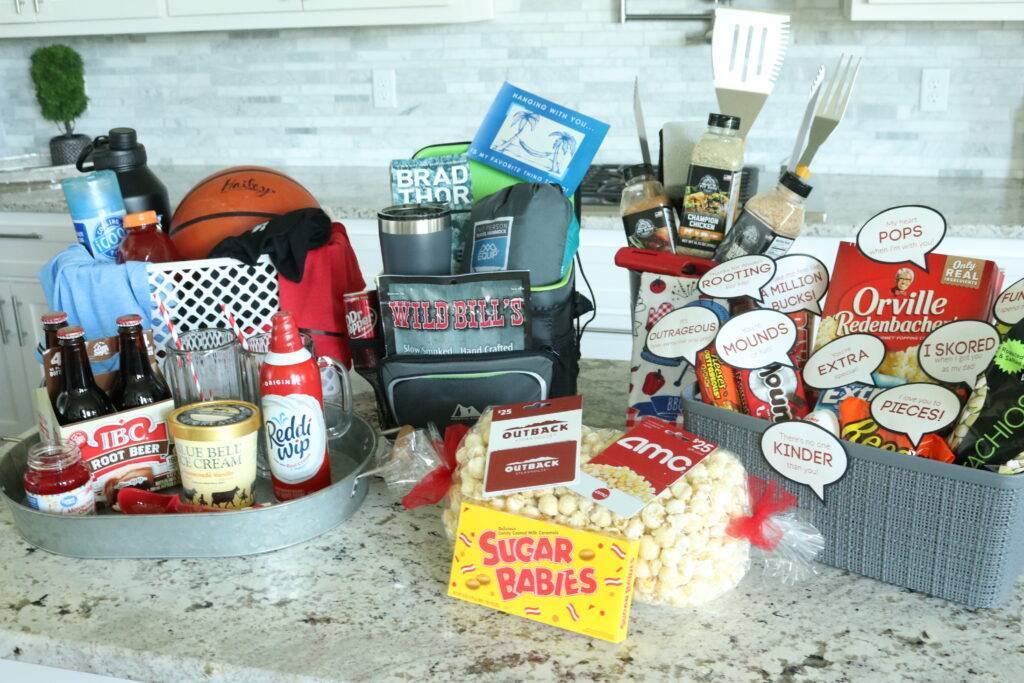 If you're having a difficult time finding the perfect present for one of the important men in your life — look no further. This BBQ Basket from Passion for Savings is technically supposed to be a Father's Day gift, but no one is stopping you from making this cute idea your own. Fill the basket with yummy sauces, different seasonings, a lighter, and some grilling essentials used to cook those delicious steaks or burgers that he likes to grill and you like to eat.
6. Mommy Survival Kit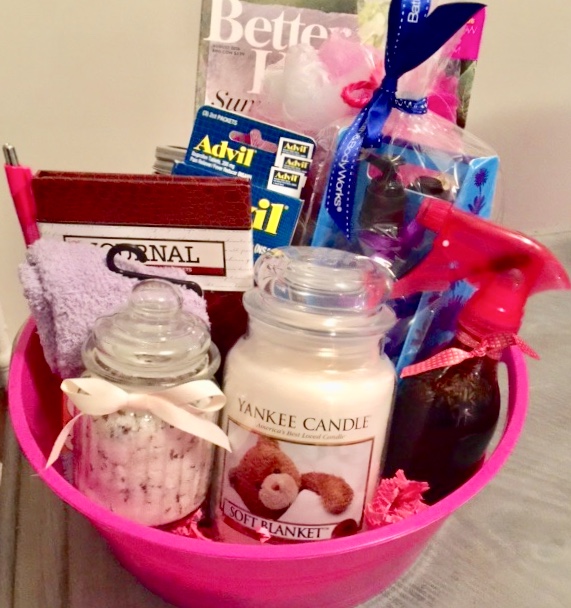 This mommy survival kit from Our Crafty Mom is a thoughtful way to show a hardworking and tired mom that you're thinking of her. While this kit is actually supposed to be for a new mom, moms with children of all ages need some love too. This kit is filled with a few great essentials that any mom would love, like a candle, a soft blanket, linen spray, a sugar scrub, lotion, hand sanitizer, fuzzy socks, a giftcard for coffee, and Advil.
7. Nacho Average Teacher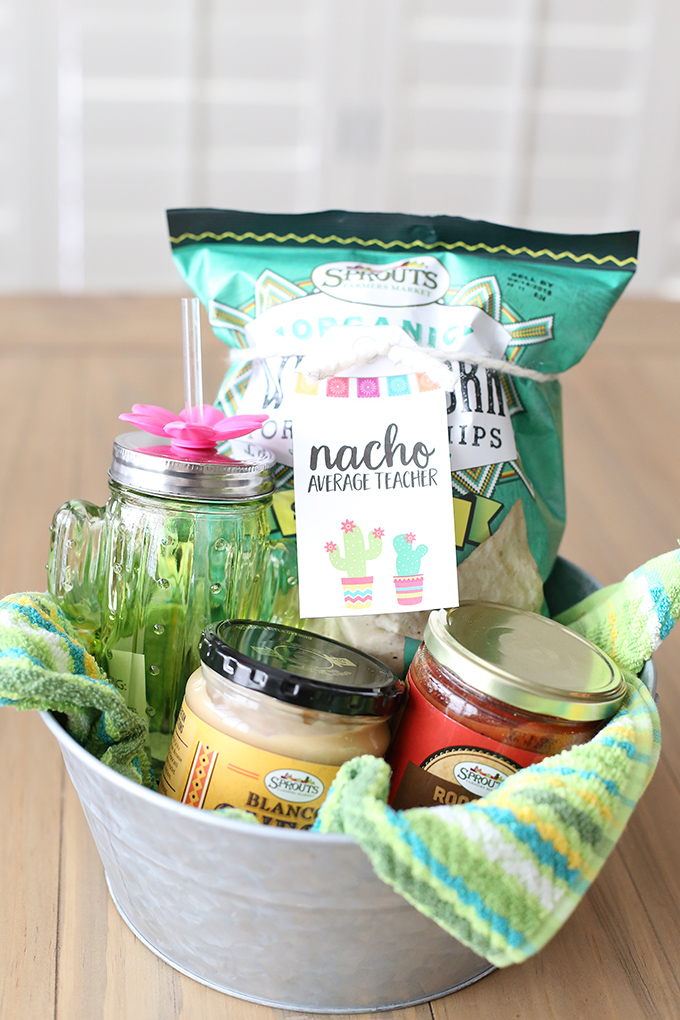 This teacher appreciation gift basket from See Vanessa Craft is a fun way to thank a teacher for all that they do. The great thing about this option is that it has a really fun theme with free printables — and who doesn't love nachos? This idea is a really cute and simple way to show a teacher that you care.
8. Coffee Lovers Gift Basket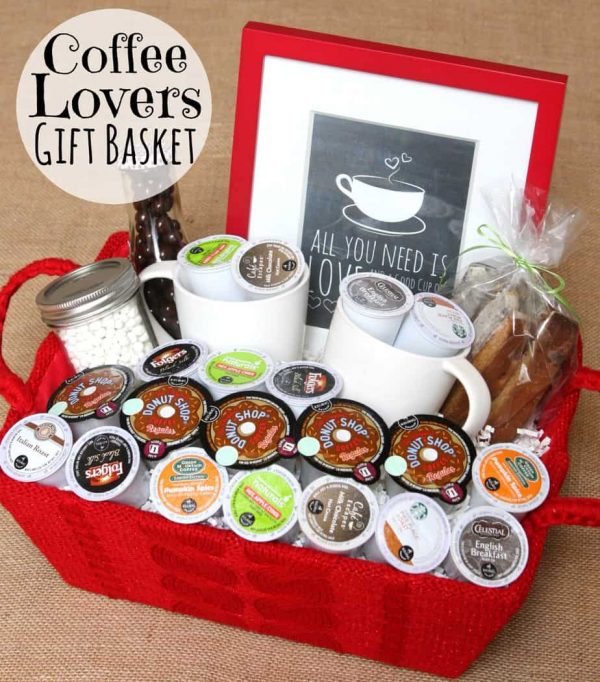 This coffee lovers gift basket by Happy Go Lucky is perfect for the person who runs on caffeine. This basket includes a Keurig 2.0 to go with it, but we're not suggesting that you need to spend a lot to make a special gift basket. If your loved one already has a Keurig, then you could easily follow this format of the coffee lovers basket by filling it with coffee pods and delicious toppings. If you know a coffee lover who prefers the more traditional way of brewing coffee, you could find yummy coffee grounds and toppings to make your own version of a coffee lover's basket. Perhaps you even throw a french press or a cute decorative sign in there to make the basket complete!
9. Hot Cocoa Gift Basket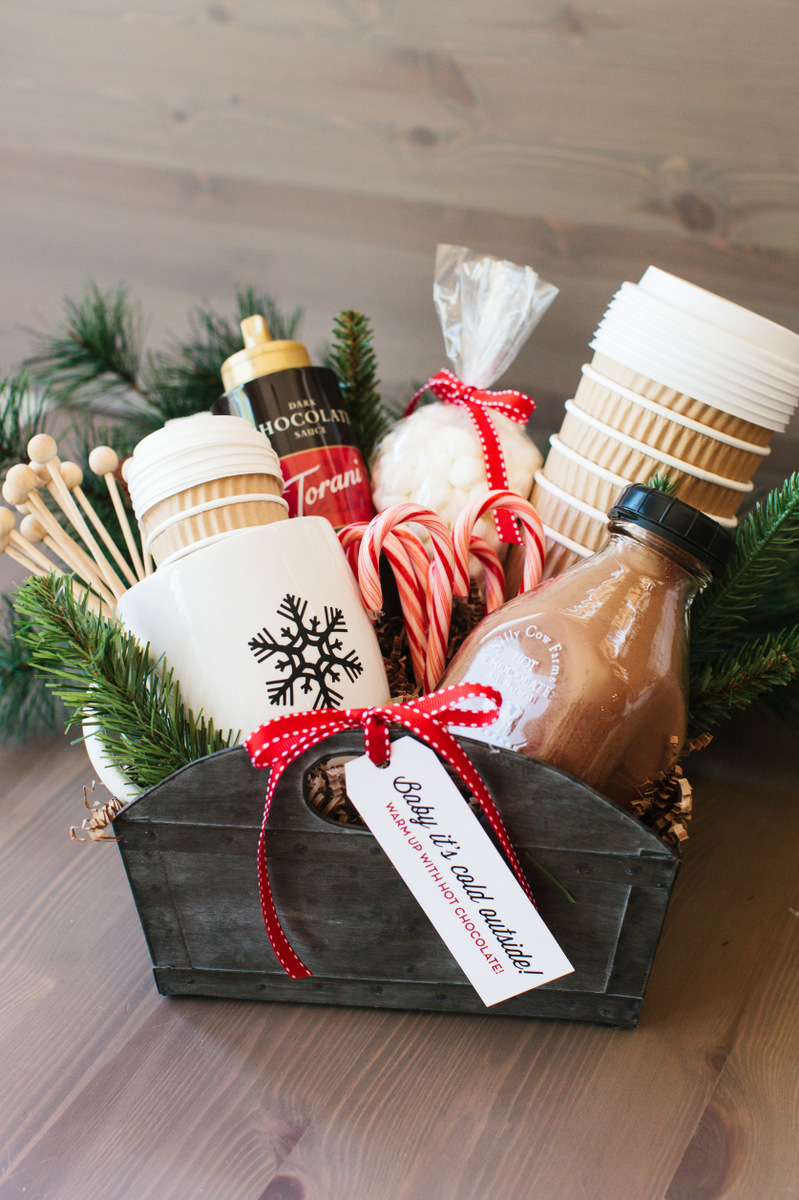 When the weather outside is frightful, wrapping up in a blanket and sipping a cup of hot cocoa will certainly make anyone feel delightful. This hot cocoa gift basket from The TomKat Studio is a cute holiday gift that takes minimal effort. Grab a ceramic mug or two, a couple of candy canes, marshmallows, chocolate syrup, and hot cocoa mix before placing the items in a basket of your choosing. If you're in a crunch before the holidays, why not make this gift basket idea your theme and pass them out by the masses?
10. Gamer Basket
We all have that one person in our lives that absolutely lives and breathes video games. Usually, they appreciate a giftcard that they can apply to their favorite game. Maybe they even ask you for a specific game they're dying to have. This gamer basket from The Dating Divas is a great way to add a little flair to the gift you plan on giving to your favorite gamer. Placing some snacks and soda in a basket with a game really does add a personal touch to the gift that they're asking for every year.
11. Sangria Kit in a Jar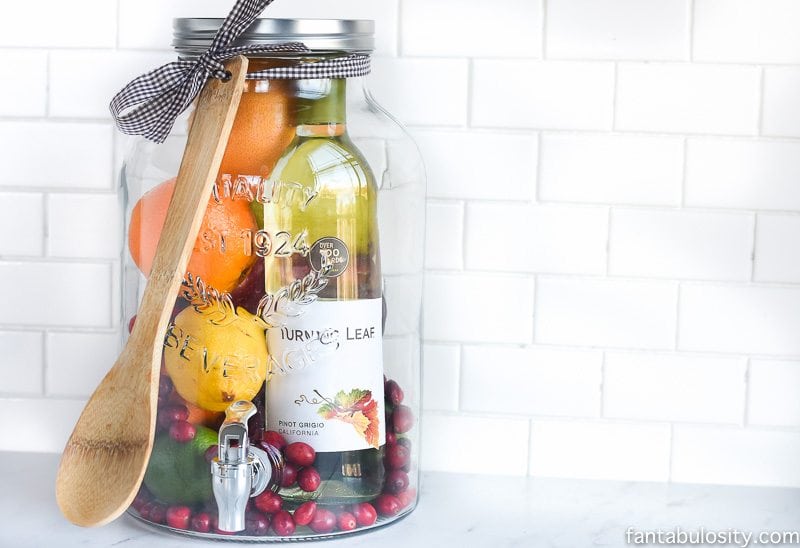 This sangria kit in a jar from Fantabulosity will ensure that your loved one has a very boozy holiday season. It's a really fun gift idea that's both aesthetically pleasing and easy to make yourself!
12. Gardener's Gift Basket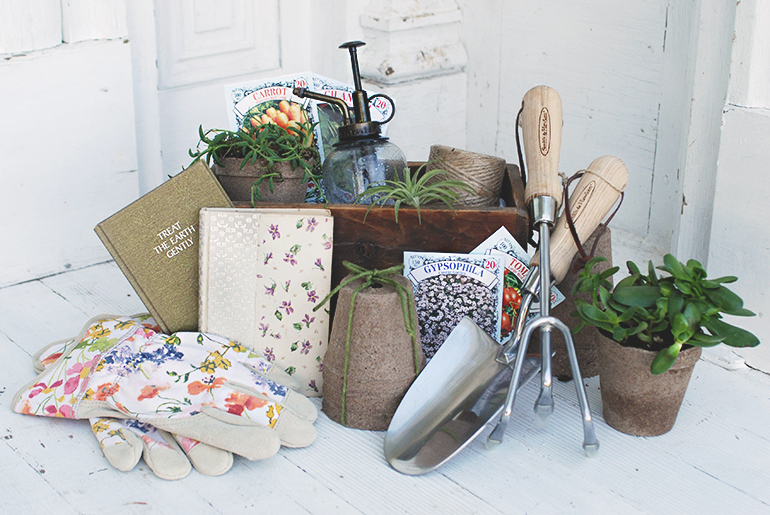 For the person with a green thumb, The Merry Thought has a great gardener's basket. This gift basket will feel like the most thoughtful gift for the person who absolutely loves to garden. Just fill a cute basket with some seeds, gloves, a plant they'll love, and a gardening book.
13. Baking Gift Basket
This baking gift basket from Dreaming in DIY is an adorable gift for someone who loves to spend most of their time in the kitchen whipping up a new cake recipe or some yummy cookies. This gift basket is a batter bowl that has all of the supplies needed to make a mouth-watering holiday cake. The specific basket pictured does not include any cake mixes, but the probability of you getting a piece of delicious cake only increases if you provide all of the necessary supplies to make that tasty treat.
14. Christmas Sundae Gift Basket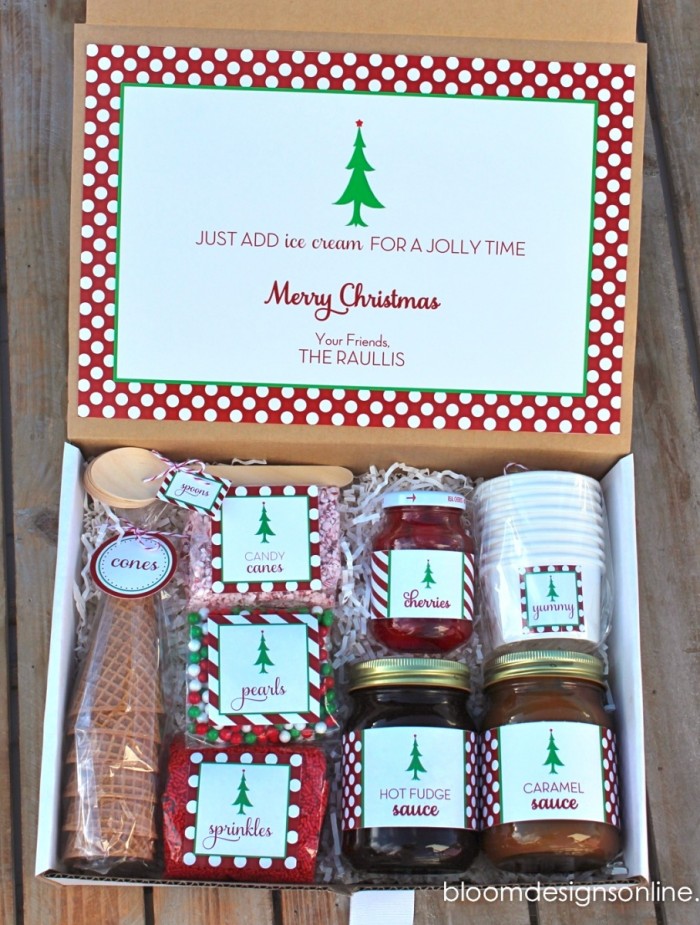 This idea from Bloom Designs will bring the whole family together for some delicious holiday fun. While this is technically a gift box, it serves the same purpose as a gift basket. You could even throw the fun cups, cones, and toppings into a cute basket, and voila! All they'll need is the ice cream with this perfect gift basket the whole family will enjoy.
15. Date Night in a Tin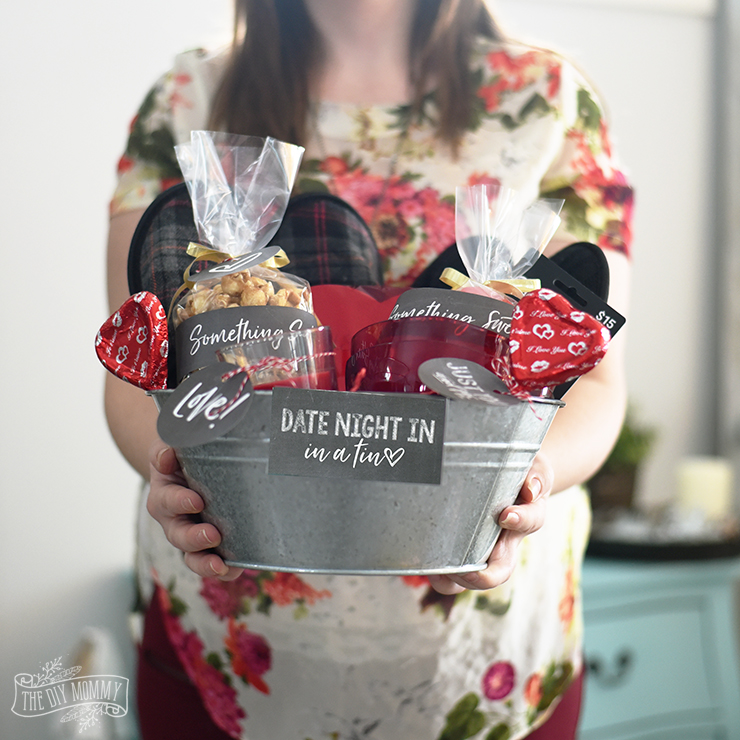 Are you ready to spice things up? This gift basket from The DIY Mommy is great for your date night at home any time of the year. It's super easy to make and your significant other will definitely appreciate the effort. Simply place some of your special someone's favorite snacks, a bottle of wine, a candle, some slippers, and maybe a movie inside of a basket or tin to create the perfect date night in.
16. Tackle Box Craft Kit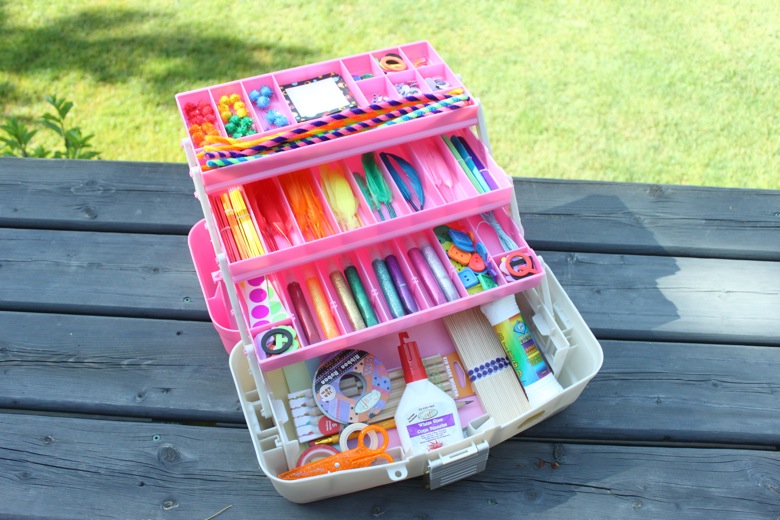 This gift basket from Mama Papa Bubba is a super innovative way to make a craft box for your favorite crafter. This craft box is made from a tackle box — and it works so perfectly. Find a tackle box and fill it with different art supplies that your loved one will enjoy. It's a functional and creative idea that any crafter will view as a thoughtful gift.
17. Movie Night Gift Basket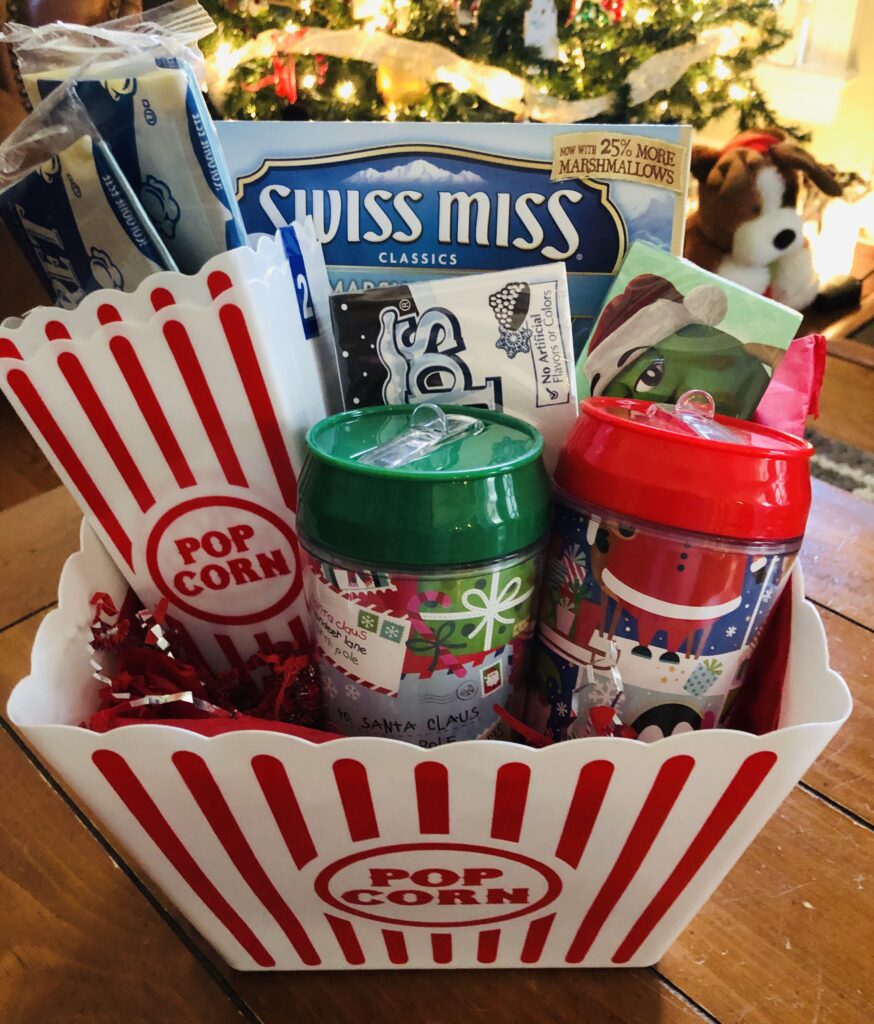 Are you on a budget but still want to create the perfect gift? This movie-night gift basket from Glitter on a Dime isn't just for movie buffs, it's a fun idea that everyone will enjoy. You can simply visit your local Dollar Store and stock up on some popcorn and sweets to fill the basket. This gift idea is not just a gift basket, but rather, it's an experience that will promote quality time with the whole family.
18. Gift Basket for Him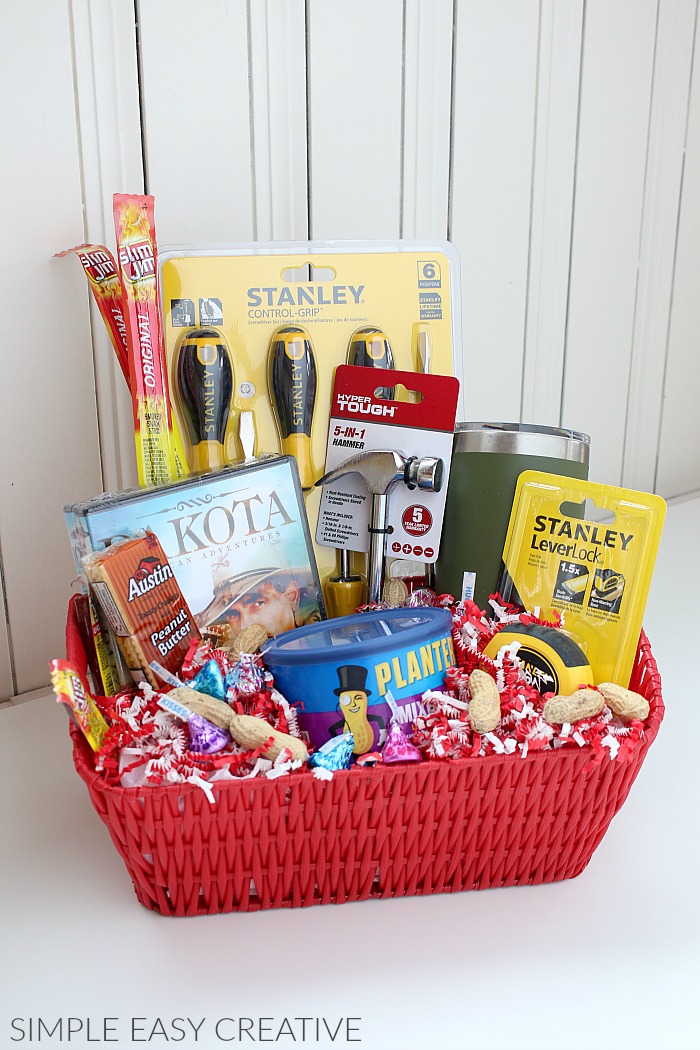 Sometimes it's hard to decide on one item that a special guy in your life would just love, but that's where this idea from Hoosier Homemade comes in. This gift basket idea is really as easy as throwing all of his favorite things into a basket! Maybe he needs a few new tools, loves his snacks, or enjoys craft beers. Simply put all of his favorite items in a basket — he'll love it!
19. Sports Gift Basket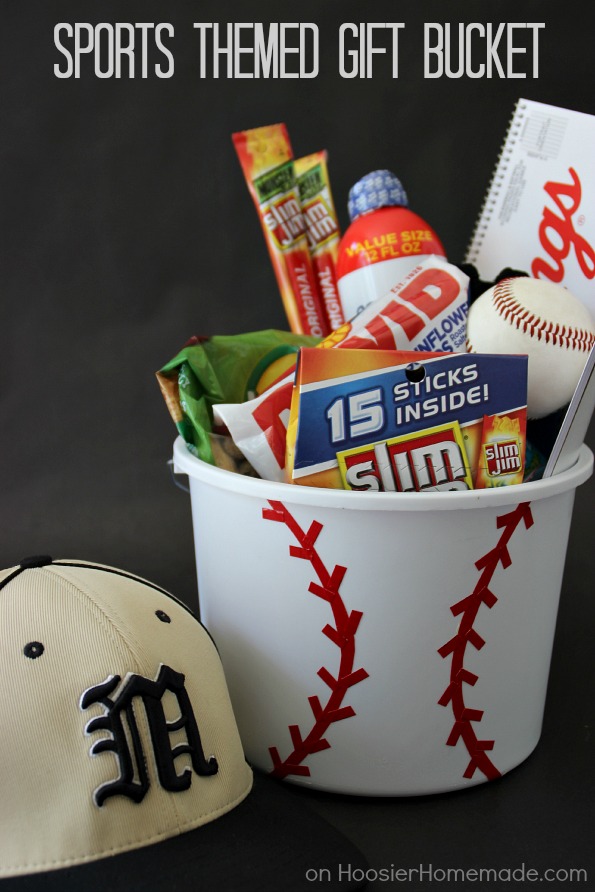 This sports gift basket from Hoosier Homemade is a really fun gift for anyone who absolutely loves sports! The cute baseball-themed basket is actually very simple to make. Do you have any red duct tape lying around? Grab a white bucket and tape away! Then you can place items in the basket that you know they'll love — maybe it's their favorite snacks that they like to munch on during games or it's their favorite team's merch.
20. Color-Themed Basket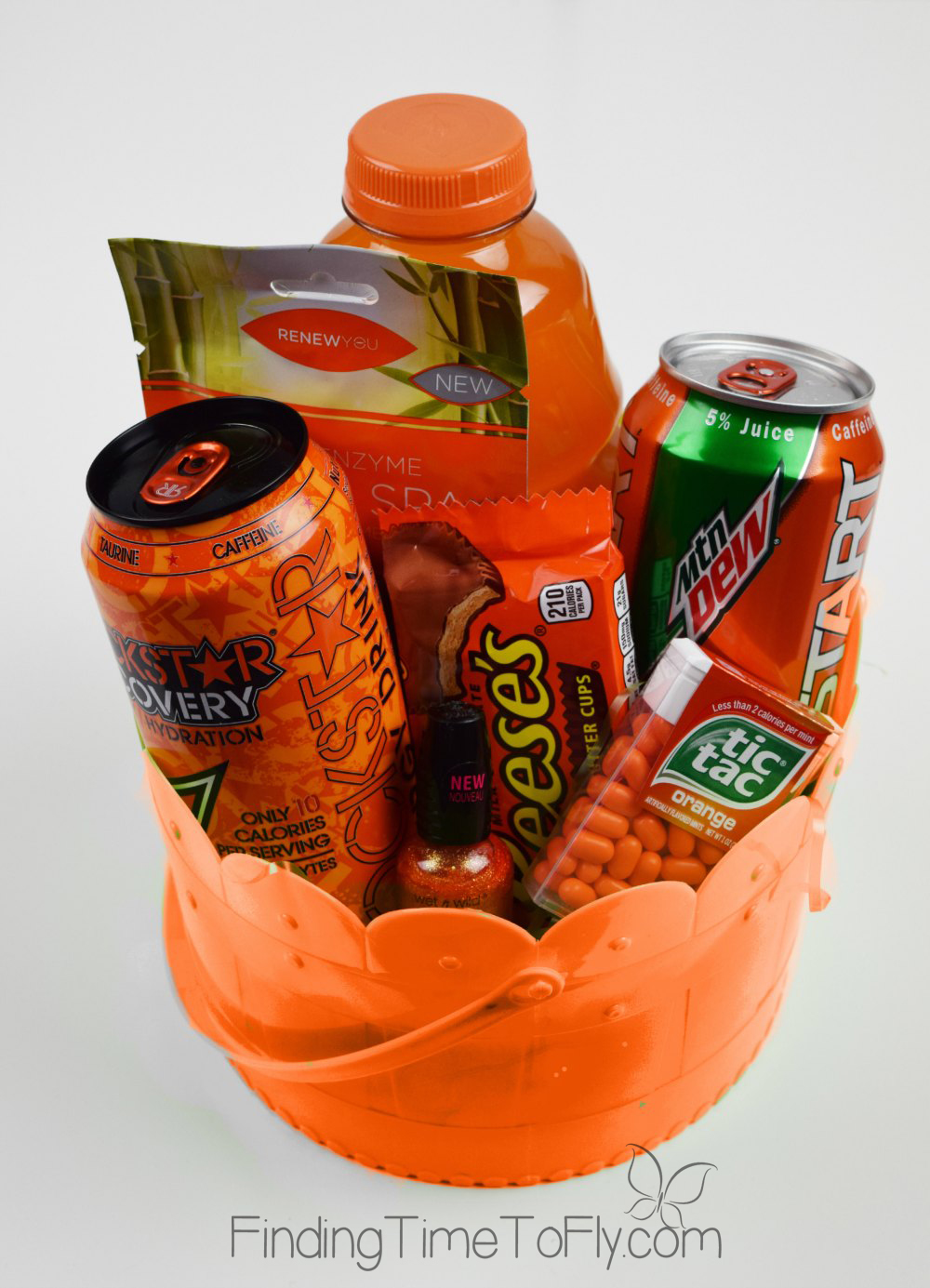 When in doubt, just pick their favorite color and figure it out! Color basket ideas from Finding Time to Fly make for a really easy holiday gift that is still personalized and adorable. Simply choose a specific color and fill the basket with a few things that are within your colored theme!
Gift baskets are a really fun and easy way to make a loved one feel special. The amazing thing about gift baskets is that you can tailor and personalize them in any way you see fit. They're thoughtful gifts that never go out of style. I hope this list of 20 gift basket ideas gives you some inspiration to create a thoughtful gift basket for someone you love — I'm sure they'll love it!