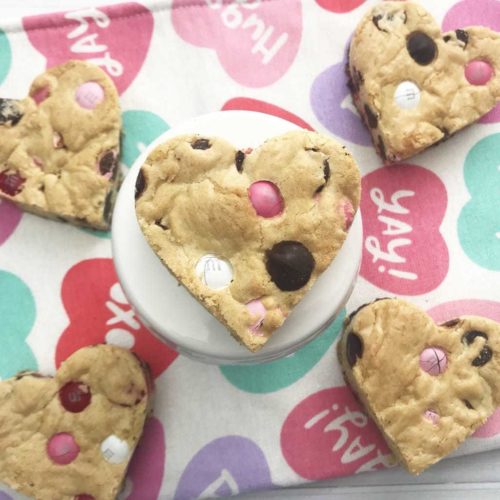 Print Recipe
Chocolate Chip Heart Shaped Cookie Bars
These Chocolate Chip Heart Shaped Cookie Bars are the one Valentine Day treat that you just can't miss! They are simple to make and full of love!
1/2 C. salted butter, melted and cooled

1/2 C. packed brown sugar

1/3 C. granulated sugar

1 large egg + 1 egg yolk

1 tsp vanilla extract

1 1/4 C. flour

1/2 tsp. baking powder

1/4 C. chocolate chips

1/4 C. Valentine M&M's

3" Heart shaped cookie cutter
Preheat the oven to 350 degrees and line a 9x9 baking dish with foil. Spray with non-stick cooking spray.

Combine the melted butter, brown sugar, granulated sugar, eggs, and vanilla.

Slowly fold in the flour and baking powder.

Add in the chocolate chips and Valentine M&M's.

Pour the cookie dough into the prepared baking dish and press a few extra chocolate chips and Valentine M&M's on top.

Bake for 25-30 minutes.

Remove from the oven and let cool completely before cutting into heart shapes.

Once the cookie bars have cooled, gently lift them from the baking dish using the foil.

Use the Heart cookie cutter to cut out the cookie bars and close together as possible alternating the cookie cutter up and down.