Prepping For The Holidays
The reviewer has been compensated in the form of a Best Buy Gift Card and/or received the product/service at a reduced price or for free.
Are you looking for ways to prep for the holidays? I can't believe it's October and the holidays are right around the corner. I'm the person that everyone in the family depends on to host the holiday get-togethers. Do I mind? No! I love hosting. However, even a host has to keep her sanity and here is how I do it without losing mine.
Start Planning Now
The key to prepping for the holidays is to start prepping now. Don't wait until it's too late. While October might seem a little premature for planning, it works wonders in my life. I start planning the invitation list and even the food menu. In my mind, it's never too early to start prepping for the holidays.
Get others on board
A way I keep my sanity, while prepping for the holidays, is by getting everyone else on board. If you're the one hosting, don't be afraid to ask others for help. Some of my most successful holidays have come from asking others to pitch in their time and talent. There is no shame in getting others on board for holiday prep.
Head to Best Buy
When it's time to start prepping for the holidays, the best appliances are always on my mind. Since I host so much, it's imperative that my kitchen runs like a well-oiled machine. As you prep for the holidays, know that you can head to Best Buy to check out their line of GE Appliances. I love that GE Appliances all offered a unified appearance, so you can pick and choose what you want for your home.
One of my favorite GE Appliances is the Profile Gas Range – this stove is perfect for cooking as it offers an edge to edge cooktop. You can cook tons of good food at one time. Cooking anything and everything you need for the holidays is made easy with this gas range.
I love the edge-to-edge cooking on the Profile Gas Range Stove, this allows me to cook for a lot of people at one time. Whether it's the holidays or not, I have a lot of cooking to do and this gas stove makes it so easy. What would you bake with this Gas Range Stove?
Another favorite GE Appliance of mine is the Keurig K-Cup Brewing System for Refrigerators. You can choose your brew, filter fresh water through it, and even schedule hot water from it. Having hot water at any time is a huge time saver. What is your favorite feature? 
Need to make a big appliance purchase? For a limited time: SAVE UP TO $1,200* on Select GE Appliance Packages
*Purchase 4 or more eligible GE Profile™ or select GE® appliances and, depending on the number of appliances purchased and whether any are BONUS models, receive a GE Appliances (GEA) Visa prepaid card valued up to $1200*.
How would the technology improve your baking/cooking? How do you prep for the holidays?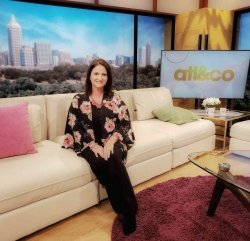 Winona Rogers is the author of Life Family & Fun a national blog focusing on parenting, easy recipes, Home & DIY, Lifestyle, Family Fun and Travel.Her site was nominated as the Top 10 Parenting Blogs in Atlanta, Top Disney Blog, Family Travel Expert and has been featured in media on 11Alive Atlanta & Company. In her spare time, she loves to travel with her family and cook. Winona and her husband have four children and five grandchildren living in Atlanta, Georgia.