Lanier Islands: A Magical Night of Lights
Growing up in Georgia I have always heard about the beauty of Lake Lanier yet never experienced. Recently I was invited to experience Lanier Islands in person and it did not disappoint. It was simply beautiful and magical from beginning to end. I really felt the magic of a winter wonderland accented by a lot of holiday cheer. My family and I experienced everything from the Magical Lights to the Winter Adventure. This is truly a Christmas must experience. Trust me you have to experience this one a life with kids and/or grandkids.
Upon arrival, we rode through all the Magical Lights and it was amazing. Eyes were all sparkling as we took the drive through a seven-mile journey of sparkling lights from beginning to end.
The drive began with a sign beautifully lite spelling out Teddy Bear land which led to a bridge covered in snowflakes created from lights. Then we thoroughly enjoyed everything from a live nativity scene to a sleigh made of cars from KIA. Even their sponsors were designated light scenes along the way from Georgia Power to Publix to KIA and yes the World of Coke. The lights led you to a big winter wonderland for all ages.
Winter Adventure
In the Winter Adventure, you are delighted by Santa's Workshop. If that is not enough the magic continues with an old fashion Christmas Carnival and a Holiday Village which has, even more, to engage in from roasting marshmallows to selfies and such with old Saint Nick. Oh, and there is the  classic carnival rides such as a Ferris ride and the Merry Go Round.
Don't forget to check out the Lanier Islands gift shop where you will find a special gift for that loved one. They have the gift shop beautifully decorated and you will find unique ornaments, tree trims, and collectibles.
Santa & The Crew At The Lodge
Spectacular holiday packages are the ultimate experience if you truly want to go all in and over the top in an even more magical experience. Lake Lanier has holiday movies with the babies in their jammies and even an elf tuck-in with a story and cookies accompanied with milk, of course. The North Pole also has a seasonal mailing station where little ones can be sure Santa gets their handwritten letters. It sits across from the mega handmade gingerbread house made of 50 pounds of dark chocolate, 20 pounds of fondant and 60 pounds of sugar to name a few ingredients. I especially love the extra holiday cheer at the lodge.
To book a holiday package and an overnight stay at the Legacy Lodge
This package includes:
– Overnight accommodations
– Entry to Magical Nights of Lights
– 25 carnival tickets
– Breakfast buffet for 4
Admission to Magical Lights Tour at Lanier
Admission to the Magical Lights Tour at Winter Adventure is just $45 per car. Advance purchase on the Lanier Islands website is just $36 per car. I highly recommend purchasing wristbands for unlimited carnival rides and other additional attractions.
Upcoming opportunities for Lanier Islands' patrons to give AND receive:
Georgia Mountain Food Bank Mondays – December 4 & 11:
Bring 5 cans of non-perishable food and receive admission to Magical Nights of Lights for just $25/vehicle
U.S Marine Corps Reserve Toys for Tots Tuesdays –December 5 & 12
Bring an unwrapped toy and receive admission to Magical Nights of Lights for just $25/vehicle
Where: 7000 Lanier Islands Parkway Buford, GA 30518
You May Also Like:
5 Things You Must See At Six Flags Holiday In The Park
5 Ways To Celebrate At the World of Coca-Cola
Stone Mountain Christmas: Create A New Family Holiday Tradition At Stone Mountain Park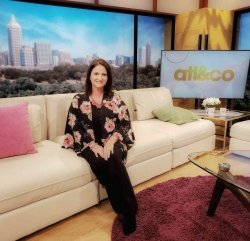 Winona Rogers is the author of Life Family & Fun a national blog focusing on parenting, easy recipes, Home & DIY, Lifestyle, Family Fun and Travel.Her site was nominated as the Top 10 Parenting Blogs in Atlanta, Top Disney Blog, Family Travel Expert and has been featured in media on 11Alive Atlanta & Company. In her spare time, she loves to travel with her family and cook. Winona and her husband have four children and five grandchildren living in Atlanta, Georgia.