Blue Man Group at Luxor Hotel and Casino in Vegas
A Sensory Adventure
Blue Man Group at Luxor Hotel and Casino is an experience that is hard to explain but easy to enjoy. While my husband and I were in Vegas, we attended a Blue Man Group show, and it was amazing. It was a perfect experience for our senses. It was aggressive and frenetic enough to be exciting but not so much that it was overwhelming. I can say that Blue Man Group at Luxor easily tied for first place with our trip to the Grand Canyon as the most exciting part of our Vegas trip.
A Night of Fun with Blue Man Group at Luxor
Blue Man Group was amazing, but I'm getting ahead of myself. Before we attended the show, my husband and I started off our night at Tacos & Tequila. Just like the rest of Luxor Hotel and Casino, Tacos & Tequila was so perfectly appointed for the Vegas feel. It's upscale, yet laid back atmosphere, struck a perfect chord with the post Luxor, and the food itself made for the perfect dining experience.
Blue Man Group at Luxor – Taking in the Main Event
After our AH-mazing food, we made our way to Luxor's theater to take in the Blue Man Group experience, and it was an experience. When I say that Blue Man Group is a sensory experience, I mean it is a TOTAL sensory experience. It's the most unique show that you will ever see. Blending a mixture of lighting effects, amazing percussion performances, physical comedy, a snarky voice-over, and TONS of paint, Blue Man Group at Luxor is an absolutely technicolor feast for the senses.
My husband and I absolutely loved the approximately 100 minutes of total sensory stimulation that is Blue Man Group at Luxor. We couldn't stop talking about it, and we still can't. From start to finish, there was literally not one second that I and my husband weren't laughing, smiling, or both. The musical, physical, and comedic talent of the Blue Men and what they do are absolutely unlike anything we have ever witnessed.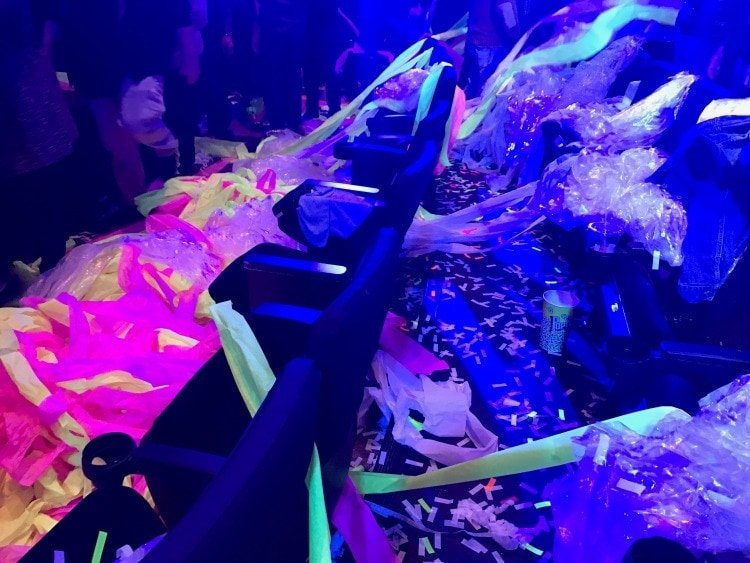 If you're planning a trip to Vegas, I highly recommend you stay at the Luxor Hotel and Casino, and while you're there, make sure you take in Blue Man Group at Luxor. It's one of those things that you should never miss on a Vegas trip.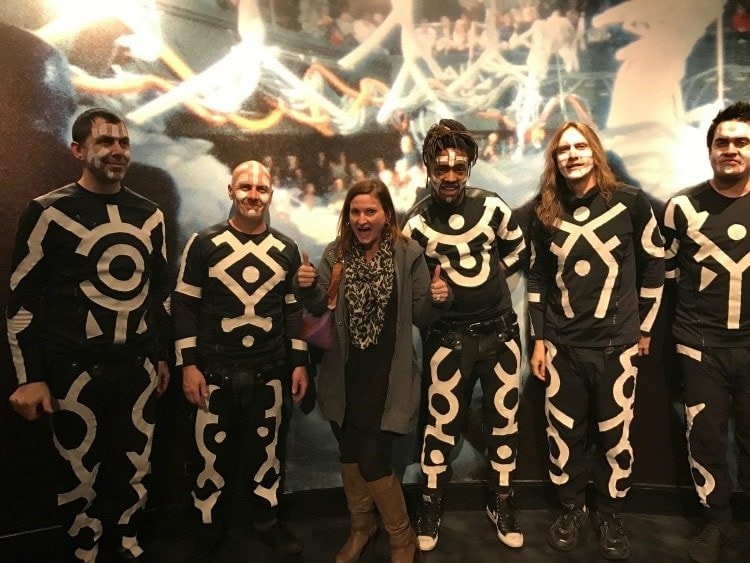 Blue Man Group Vegas Ticket Prices:
Prices range from $85.71 to $188.40. Subject to availability.
Blue Man Group Vegas Location:
3900 Las Vegas Blvd South
Las Vegas, NV 89119
Follow Blue Man Group on Social Media:
Website / Facebook / Twitter / Instagram / YouTube
Photo Credit Main Featured Image of Blue Man Group by: Lindsey Best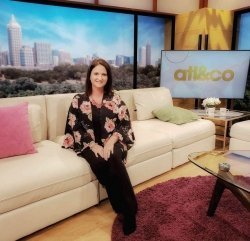 Winona Rogers is the author of Life Family & Fun a national blog focusing on parenting, easy recipes, Home & DIY, Lifestyle, Family Fun and Travel.Her site was nominated as the Top 10 Parenting Blogs in Atlanta, Top Disney Blog, Family Travel Expert and has been featured in media on 11Alive Atlanta & Company. In her spare time, she loves to travel with her family and cook. Winona and her husband have four children and five grandchildren living in Atlanta, Georgia.