It's crazy to think that it's almost back to school time for households all around the world. That means one thing and one thing only…it's time to get into a back to school routine.
Getting into a back to school routine has never been the easiest thing for my family. We spend the summers traveling and enjoying each other's company. I'm always a little sad when school rolls around, but I also get really excited. My kids are about to learn so much and that makes me super happy.
While our time together during the summer is wonderful, being able to get them back to a daily routine is just as great as well.
If you're looking for some tips for getting into a back to school routine, here are some that work well for us.
How to Get into a Back to School Routine
Every household will have a different routine that works, but a few of these might be perfect for you and your crew.
Start with a good breakfast
If there is one thing you do to get your back to school routine going: start with a good breakfast. I always like to start with simple recipes that I know will keep them full.
Some easy breakfast recipes are:
Set an alarm for your kids each day
As your kids get older, they can actually start doing some things on their own. One task you can hand off to them is setting an alarm for them each day.
This alarm helps to signify when they will be getting up in the morning. It's a lifesaver to raise independent kids who can get up and get themselves ready in the mornings.
Not only will it teach them to be independent but it also teaches their minds to get into a routine.
Help your kids learn to prioritize
A lot of getting into a back to school routine involved prioritizing. This is especially true in the mornings, kids need to know what is more important, task wise.
Knowing which task needs to be done first and how to manage their time are both important factors in helping them to establish a routine.
Leading by example is a great way to teach your kids that prioritizing is simple and easy to do.
Pack lunches the night before
If your mornings are anything like mine, packing lunches for three children the morning of is almost impossible. I always make time the night before to prepare and pack for anything I can that does not have to stay cold.
Related: Peanut Butter & Jelly Pretzel Bars – Perfect Lunch Box Ideas
Not only does this save me a ton of time but it means that I can hold the kids responsible to help as well. While it might not seem like it would make that big of a difference in time in the mornings, it really does.
Those extra moments give us time to enjoy a few more conversations together at breakfast and that to me is priceless.
Related: Packing School Lunches Kids Will Actually Eat
Breaks are necessary
When your kids come home from school, they will be tired and exhausted. It's best to let your kids take a break, they'll need it.
During this break, let them choose what activity they complete. They may want to just sit on their bed and take a quick rest. It's amazing how much school can wear them out.
Even if you don't fully understand, support their need for a "brain break". This shows them that you understand and it will motivate them to continue to work hard to earn those breaks at home.
Prepare a healthy snack for after school
Make certain that their tummies are feed with something healthy and delicious when they get home from school. Doing this daily will ensure that they're training their bodies to want something to eat, right when they walk in the door.
Having some fresh fruits and veggies waiting for the kids is always a great idea. If you happen to miss a day, don't fret. They're certain to remind you!
Talk to your kids
I think one of the most important things about getting back to a school routine is talking to your kids about what is going to happen. Let them know what will be happening this school year.
You don't have to tell them every detail (some kids get super overwhelmed). Keeping a calendar on the wall is always really helpful. Kids like to be in the loop too.
Let them know of daily activities, plans, and schedules so that they can mentally prepare. The more pertinent information that you can share with your kids, the better.
You'll be amazed at what they want to talk about and be a part of if you just talk to them about stuff.
Share with me what you're back to school routine looks like.
I'd love to hear how you set a back to school routine for your kids! Let's all give our tips and secrets to help one another!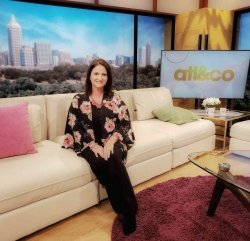 Winona Rogers is the author of Life Family & Fun a national blog focusing on parenting, easy recipes, Home & DIY, Lifestyle, Family Fun and Travel.Her site was nominated as the Top 10 Parenting Blogs in Atlanta, Top Disney Blog, Family Travel Expert and has been featured in media on 11Alive Atlanta & Company. In her spare time, she loves to travel with her family and cook. Winona and her husband have four children and five grandchildren living in Atlanta, Georgia.