An Incredible Experience Attending My First Red Carpet For Christopher Robin #ChristopherRobinEvent
The Christopher Robin red carpet premiere in LA was held Monday night, July 30, at Walt Disney Studios Lot in Burbank, California, and I was there to experience it all. I'm so excited to share every detail with you! Fans lined up with excitement as filmmakers, talent, Disney Executives, media, and PR walked the red carpet. A special thank you to Disney for inviting me to attend my very first red carpet event for the Christopher Robin Premiere. Myself, along with 24 other bloggers were invited by Walt Disney Studios on an all-expense paid trip to Los Angeles for the Christopher Robin event. All opinions are my own.
How I Felt Walking the Christopher Robin Red Carpet For The Very First Time:
Beyond ecstatic were my emotions when finding out that I'd be walking a Disney red carpet for my very first time in LA. Having this opportunity was truly a dream come true and exceeded my expectations. The feeling of being able to walk down the red carpet towards the memories of my childhood friend was such an incredible moment. Winnie the Pooh and Christopher Robin have a special place in my memories from when I was younger.   It was amazing to be surrounded by other adults who were having a wonderful time finding and remembering their inner child too. The energy level surrounding me was awe-inspiring!
What Do You Wear To The Red Carpet:
When I first found out that I would be attending the red carpet for Christopher Robin, I immediately decided on a summery dress that reminded me of the Hundred Acre Wood, in which Winnie the Pooh and friends live. I imagined beautiful greenery and miles upon miles of all types of flowers. The Hundred Acre Wood is actually a real location in Ashdown Forest in East Sussex, England. If you have never viewed pictures, you would be in awe of its indescribable beauty. I felt my dress represented Hundred Acre Wood perfectly. The dress I am wearing is a Floral-Print A-Line Dress by Calvin Klein. Not only was the dress comfortable and cool, I felt it was very flattering for any body style. My white strappy sandals with heels have a super comfortable gel cookie in the footbed heel. When standing for several hours at a Red Carpet event, comfort is key.  I did my own makeup and hair and kept it very simple.
What Was It Like Attending a Disney Red Carpet Event:
With 25 bloggers patiently waiting to walk down the Red Carpet, we arrived about an hour before the movie premiered at the Walt Disney Studios main theater. We received our special VIP badges and assigned seating before we could enter.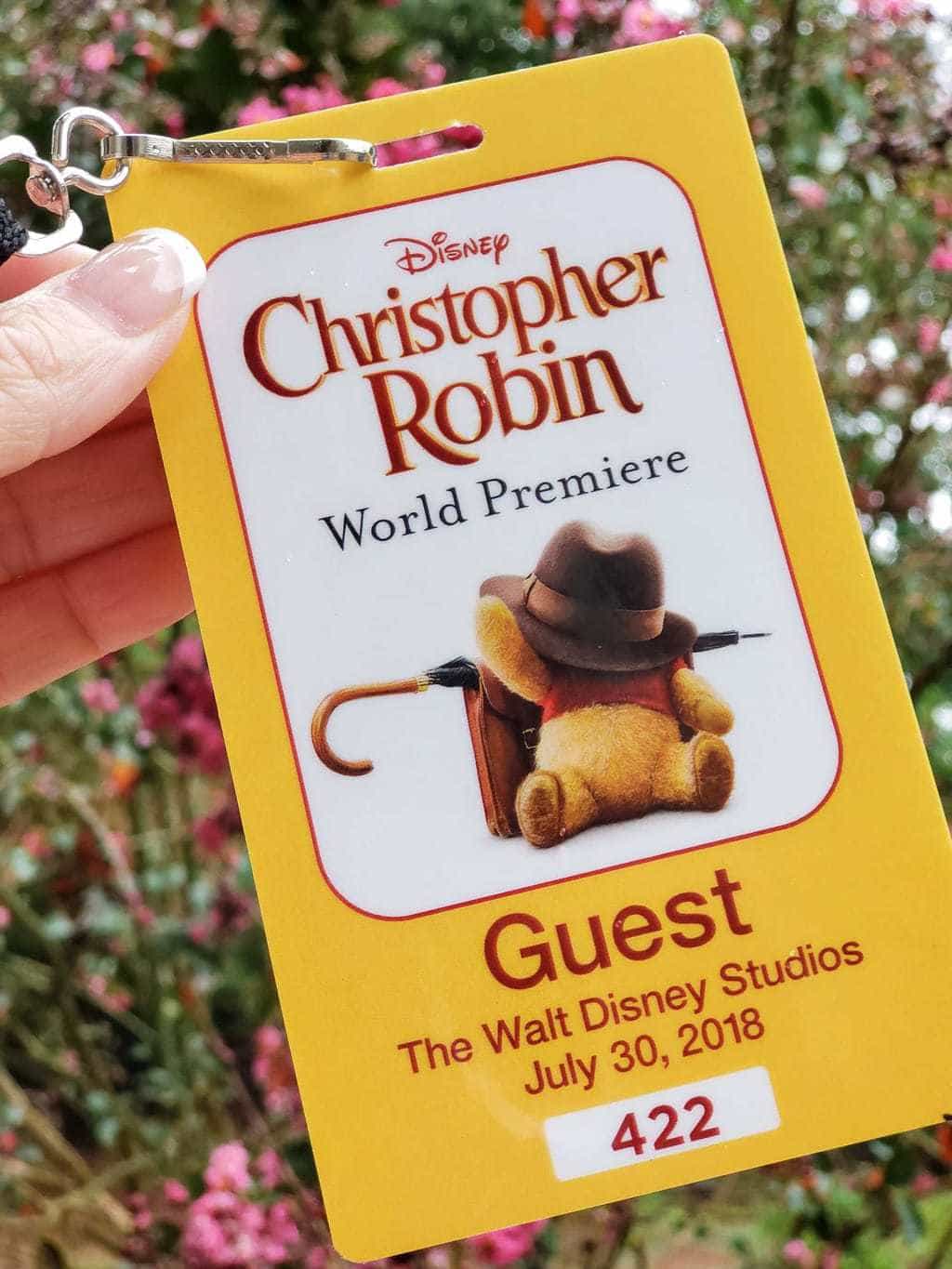 Around the corner before starting our walk down the red carpet were super adorable honeypots with honey sticks for us to sample. As we all know, Pooh loves his honey. (and I do as well!)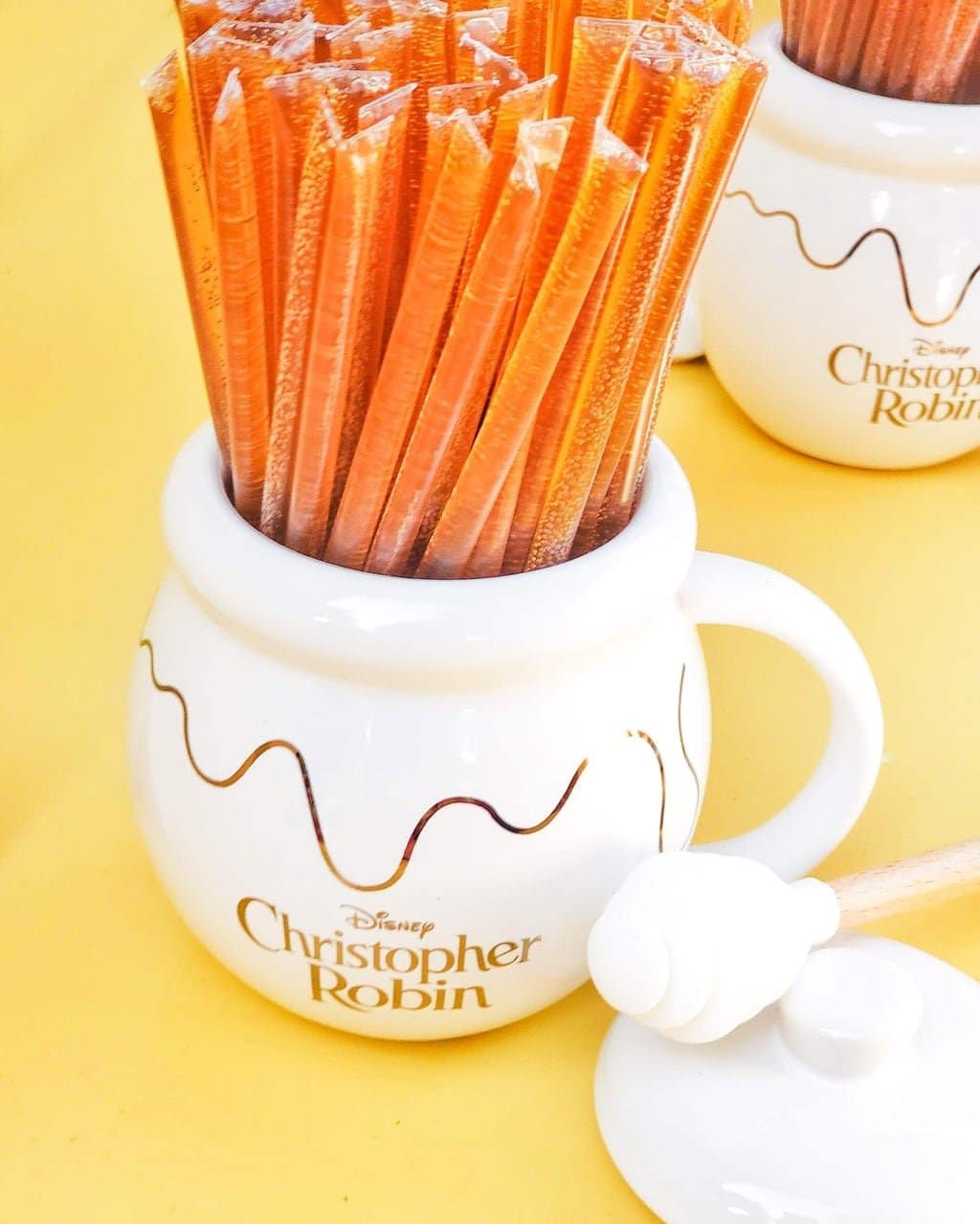 "A day without a friend is like a pot without a single drop of honey left inside." – Winnie the Pooh
We made our way over to the beach chairs where Pooh and all his friends from the Hundred Acre Wood were sitting. Talk about a picture perfect moment!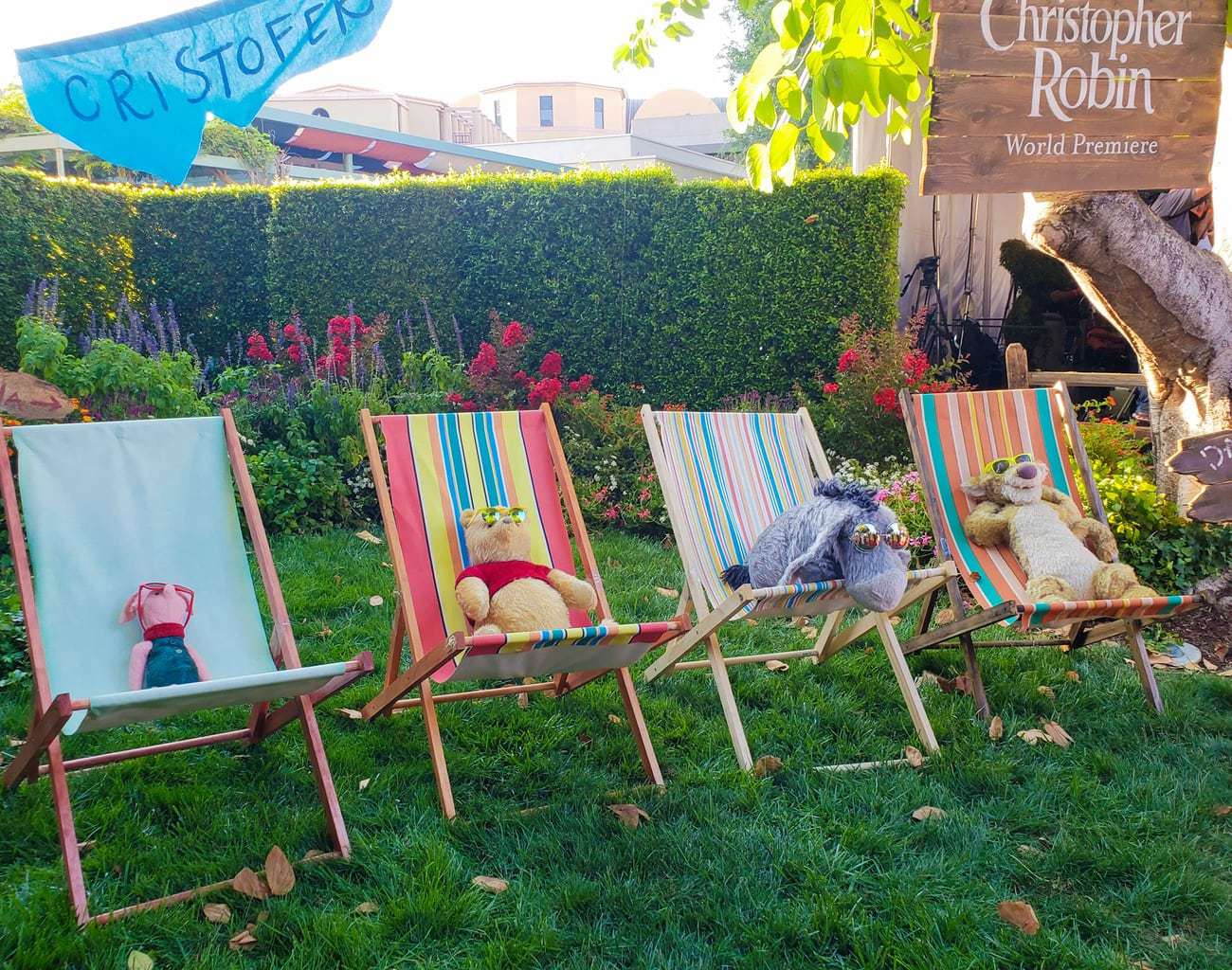 In fact, there were alot of great photo opps along the way.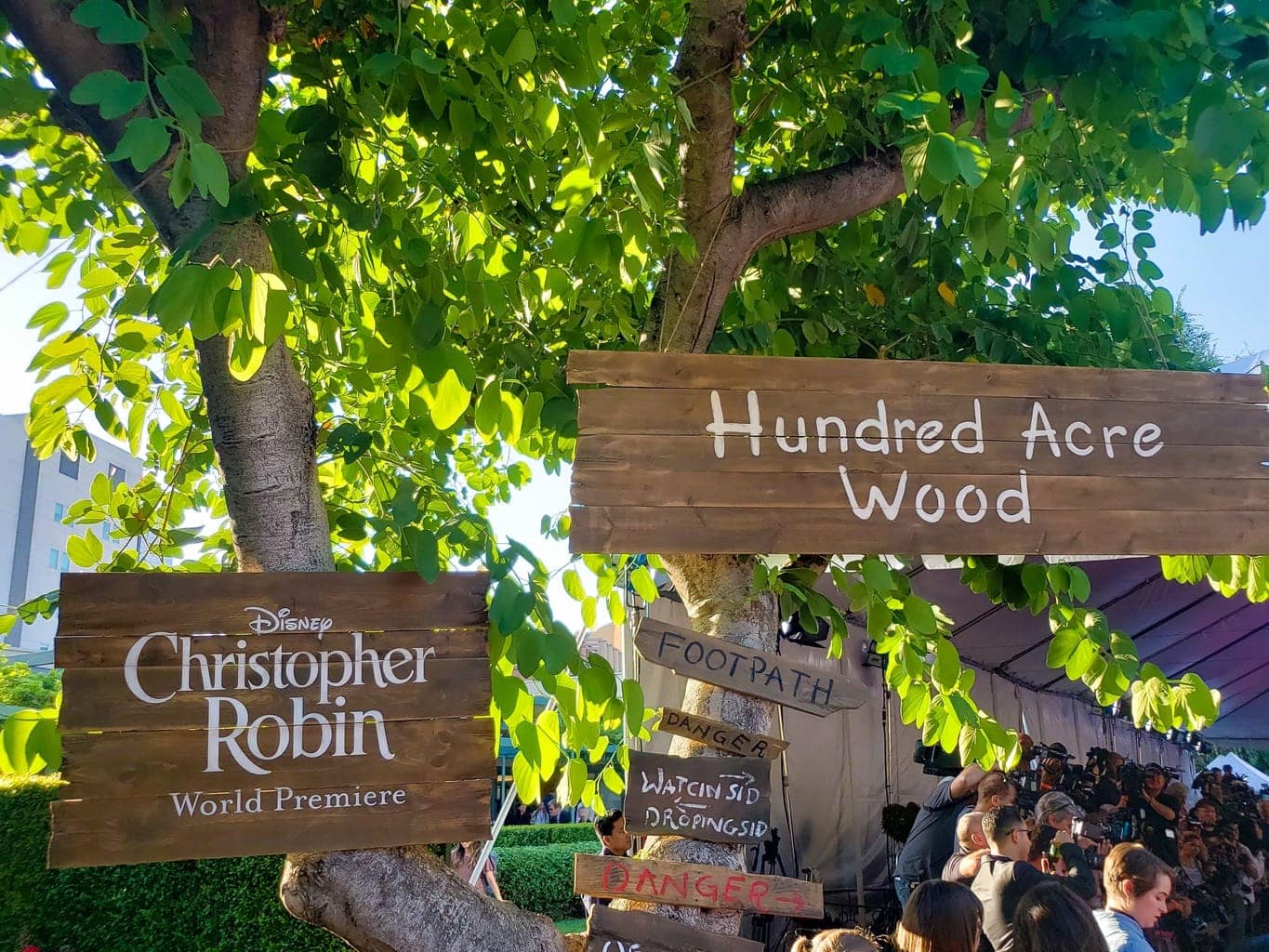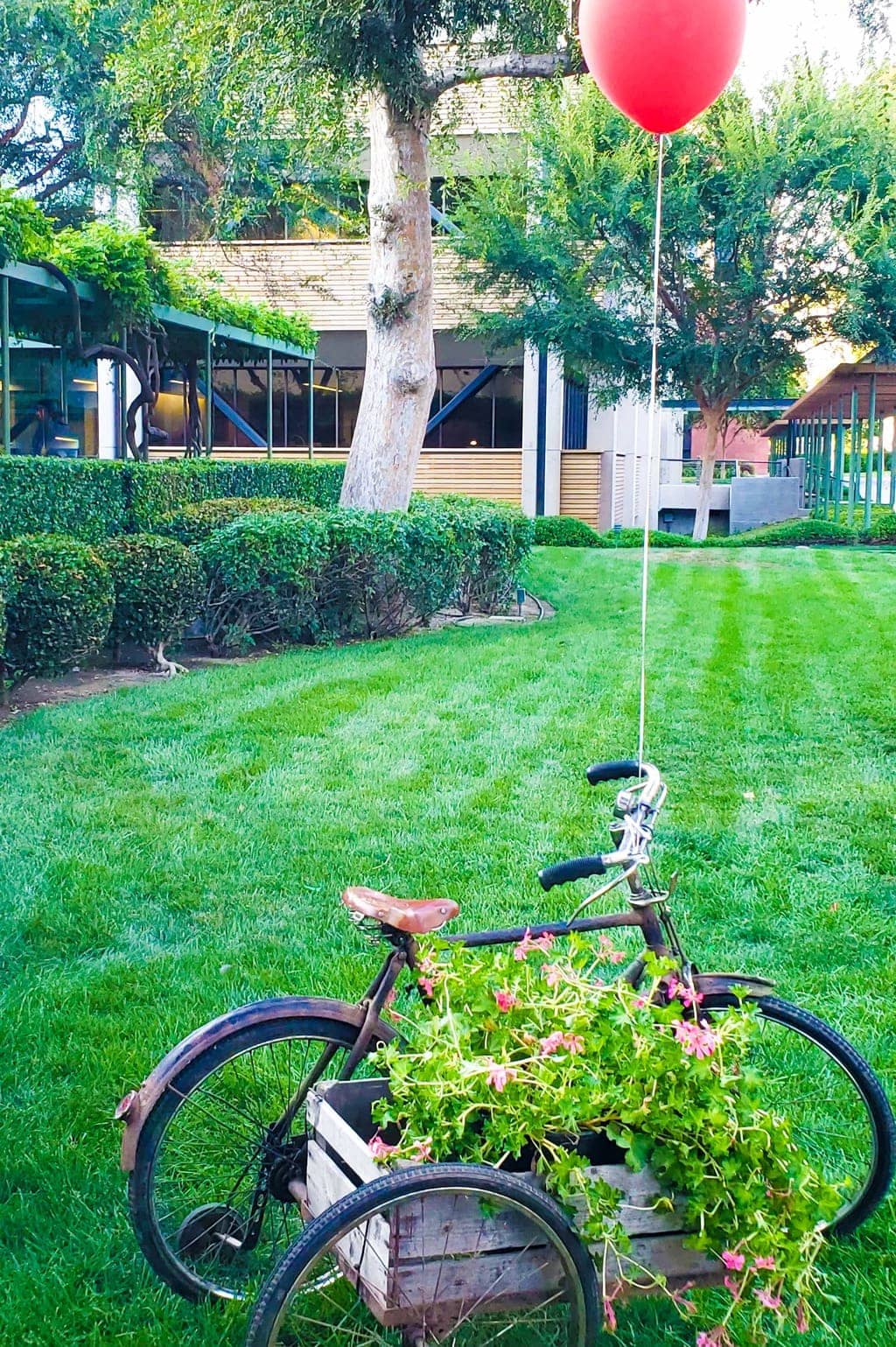 Before we knew it, it was time to enter the red carpet. We each had what we referred to as a "photo buddy" to help capture the pictures of celebrities and ourselves on the red carpet. It is a pretty fast moving experience, so time was of the essence. At that moment, I truly felt like a celebrity.
Celebrities on the Christopher Robin Red Carpet:
Here are just a few photos of the stars who attended the world premiere of Disney's "Christopher Robin" red carpet event:
Ewan McGregor 
Hayley Atwell
Bronte Carmichael and Jim Cummings
Actors Brad Garrett, Jim Cummings, Director Marc Forster, actors Ewan McGregor, Bronte Carmichael, Hayley Atwell and Songwriter Richard M. Sherman
Mickey and Minnie Photo Opportunity on the Red Carpet:
Disney always knows how to make any event even more magical. Seeing Mickey and Minnie at the Christopher Robin event reminded me of all the magic that Disney brings in our lives. Being around Mickey and Minnie for even a quick photo opportunity, helped take my nerves away. I felt instantly at home.
Entertainment and Food Inspired by Christopher Robin Were Provided at the Red Carpet Event:
Did I mention all the food?! The commissary is where we were able to delight on some Christopher Robin inspired treats. They had Honey Pot shaped cookies, Fish & Chips, and cocktails.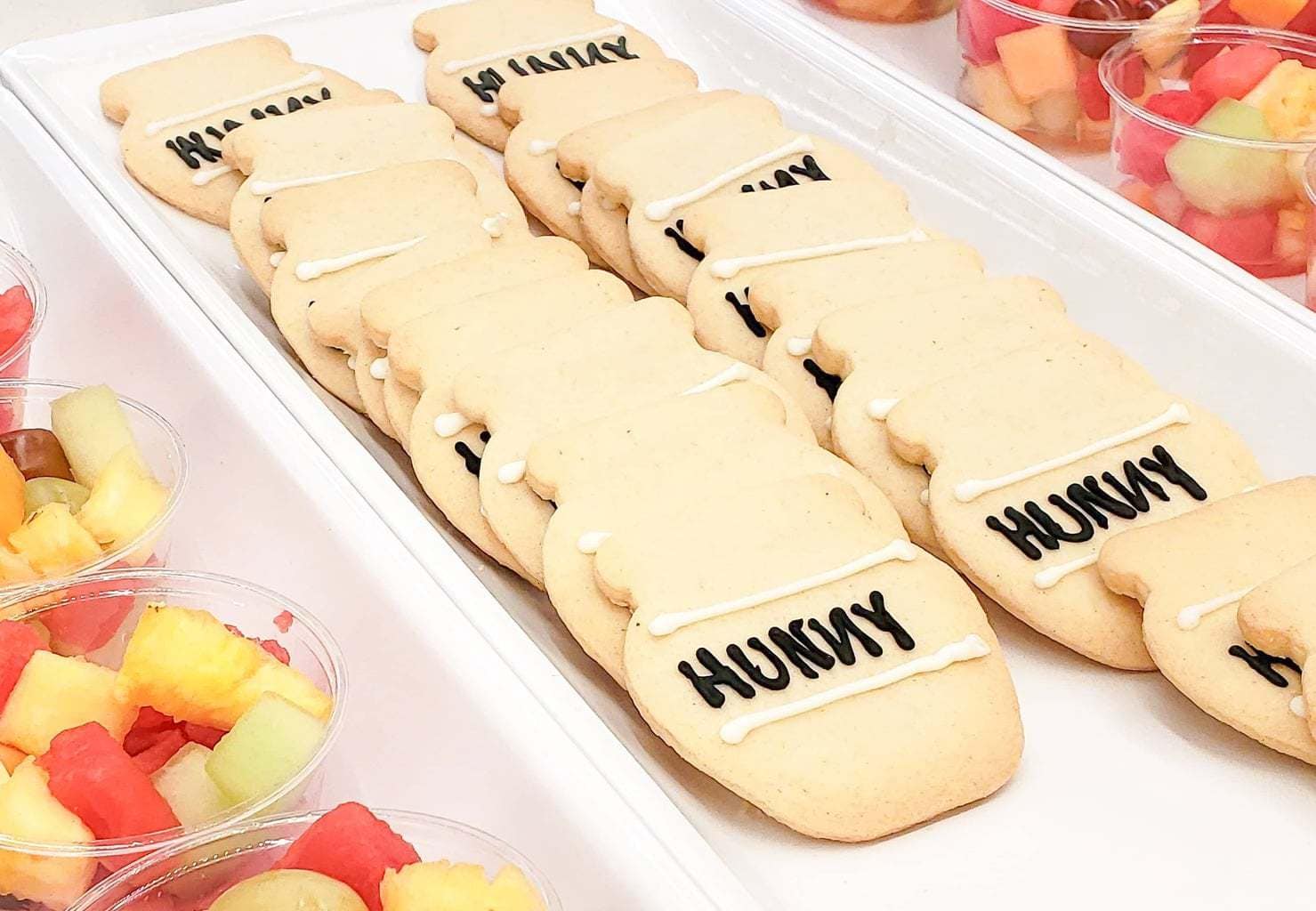 One of my favorite options was that they even had a Christopher Robin inspired cocktail called the Smackerel! While snacking, we were able to enjoy some musical entertainment and if you look around closely, some of the stars from Christopher Robin film were in the same room too!
Watching Christopher Robin at the Main Theater of the Walt Disney Studios Lot in Burbank, California
Afterward walking the Red Carpet and socializing a bit,  we entered through the main theater of Walt Disney Studios. Here is where we watched the beautiful premiere of Christoper Robin movie. Before stepping inside, we had to turn in our phones to security. No sneak peeks for the outside public allowed! Popcorn and drinks were provided during the movie and we shared the theater with the cast and their families and enjoyed watching the film together. Some of the cast members were actually watching it and enjoying it in its entirety for the very first time as well!
My Final Thoughts about My First Disney Red Carpet Experience:
To share this red carpet experience with friends is undeniably the most precious moment. I met many new friends but was surrounded by familiar faces too. Accompanied by 24 other super talented bloggers, we shared this special once-in-a-lifetime experience together!
If you would have asked me four years ago when I first began my blogging journey, if I would ever have a chance to attend a Disney Red Carpet, I would have thought it was impossible. I am not a celebrity, nor am I a big PR firm. I am just a mom who set out to dream big. Even when things seemed too difficult to achieve, I never gave up.  As Walt Disney once said, "All our dreams can come true, if we have the courage to pursue them."
Attending the Christopher Robin event and my very first Disney Red Carpet was my dream come true. I am so thankful that I could be a part of it and share my experience with all of you! I especially want to thank Marshall, Disney's publicist, for helping to make this all possible for me!
Christoper Robin Arrives in Theatres Everywhere on August 3rd! 
Christopher Robin is such a heartwarming family film for both young and old to enjoy.  You are never too old for Winnie the Pooh. The story of Christoper Robin and Winnie the Pooh truly will bring such joy and laughter into your lives, capturing your hearts. This movie is a must see for the whole family. It arrives in theaters this week 8/3. I will be sharing my full review of this incredible film, plus our interviews with the cast of Christopher Robin including Ewan McGregor, Hayley Atwell, Bronte Carmichael, and Jim Cummings soon! In the meantime, check out the Christopher Robin Trailer…
Christopher Robin Official Trailer:
Christopher Robin Poster: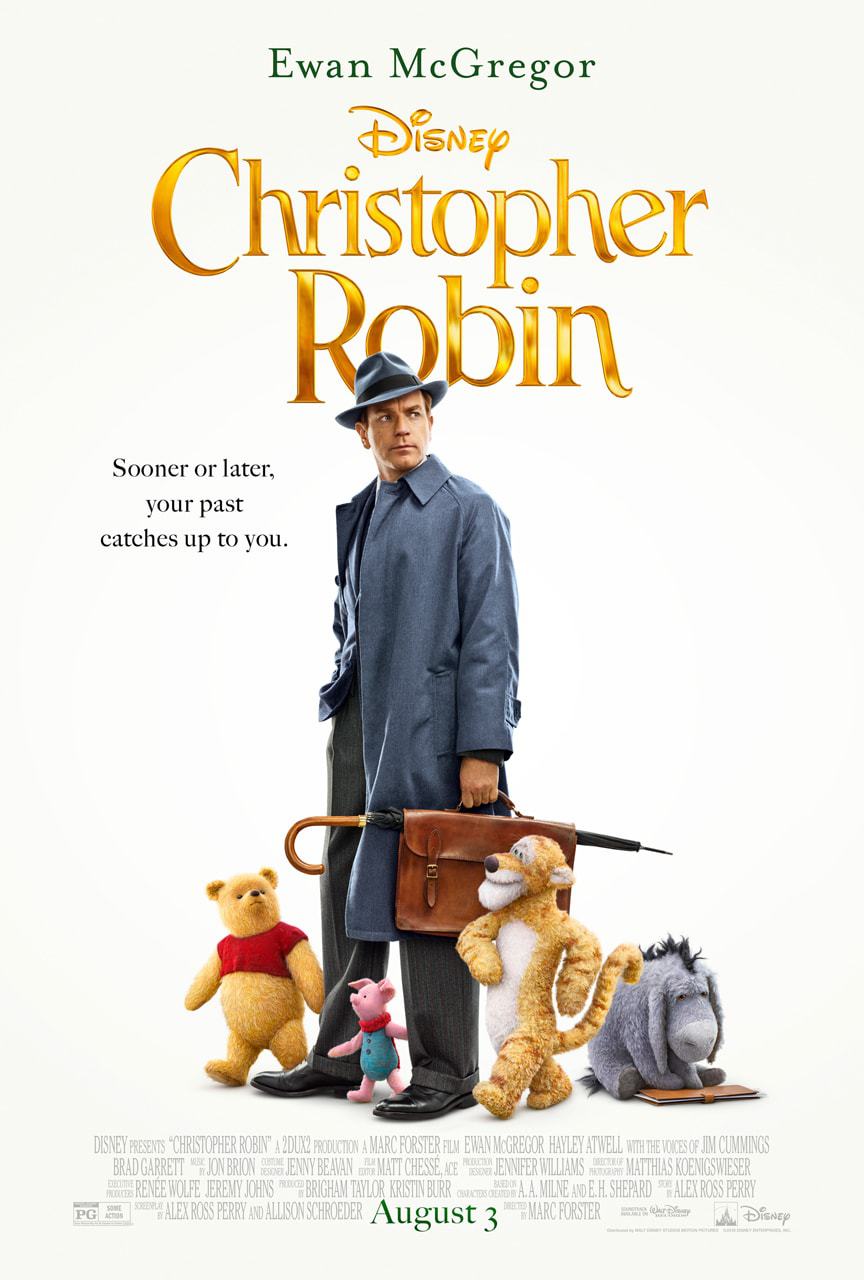 Follow Disney's Christoper Robin on Social: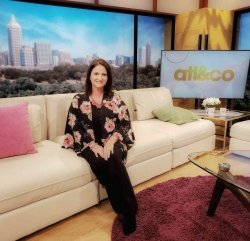 Winona Rogers is the author of Life Family & Fun a national blog focusing on parenting, easy recipes, Home & DIY, Lifestyle, Family Fun and Travel.Her site was nominated as the Top 10 Parenting Blogs in Atlanta, Top Disney Blog, Family Travel Expert and has been featured in media on 11Alive Atlanta & Company. In her spare time, she loves to travel with her family and cook. Winona and her husband have four children and five grandchildren living in Atlanta, Georgia.